There are very few fish one can fit inside a 6g. Not many are suited for such a small house, and those that are tend to be very reclusive.

I would suggest focusing primarily on coral. They're FAR more interesting and challenging to take care of.
Well, here are some pics. It cleared up yesterday but I just wanted to make sure it stabilizes before posting pics. The reef tank is back up, with almost no problems whatsoever.
I credit the filter's GPH the reason why the water is so clear. It turns my water over 50x in one hour. The unit isn't even very loud at all. I love these aquaclears, they never cease to amaze me. I've used 5, each one a durable and capable piece.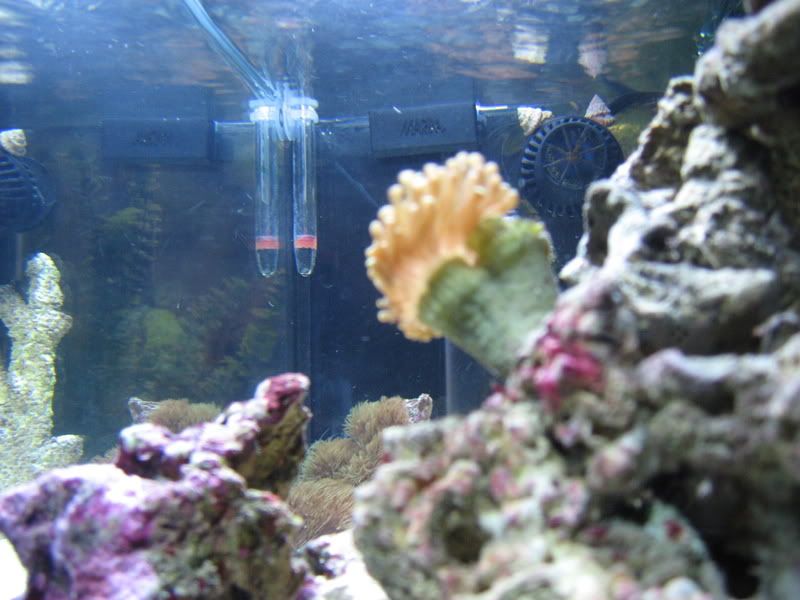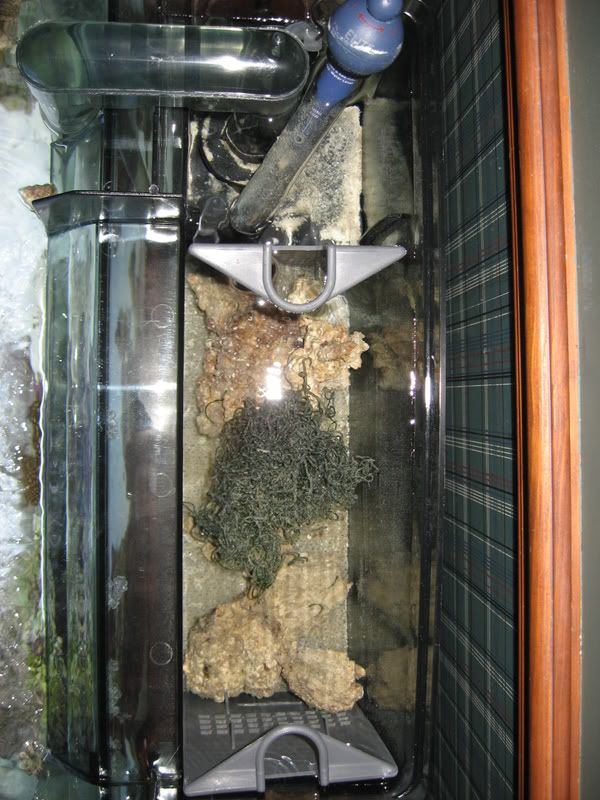 These urchins can really collect. I did some reading and apparently it still is not known why they do this.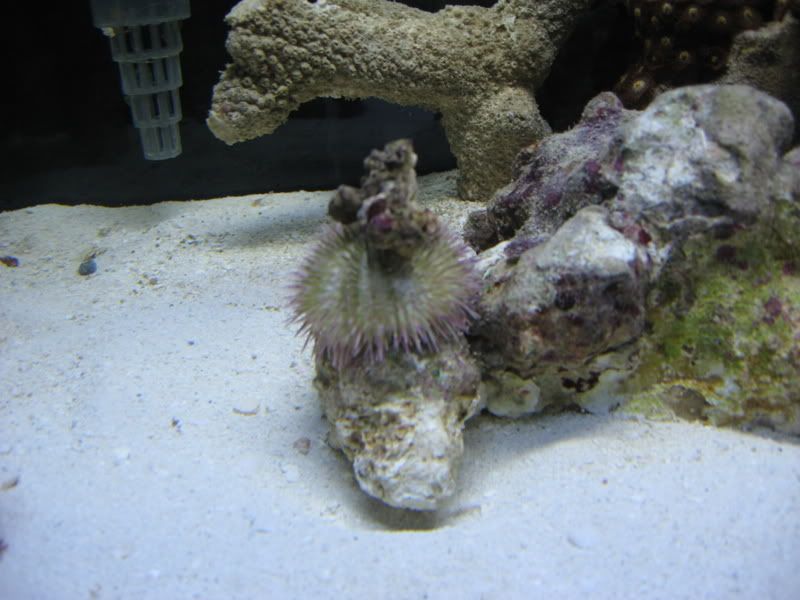 My Zoos. :D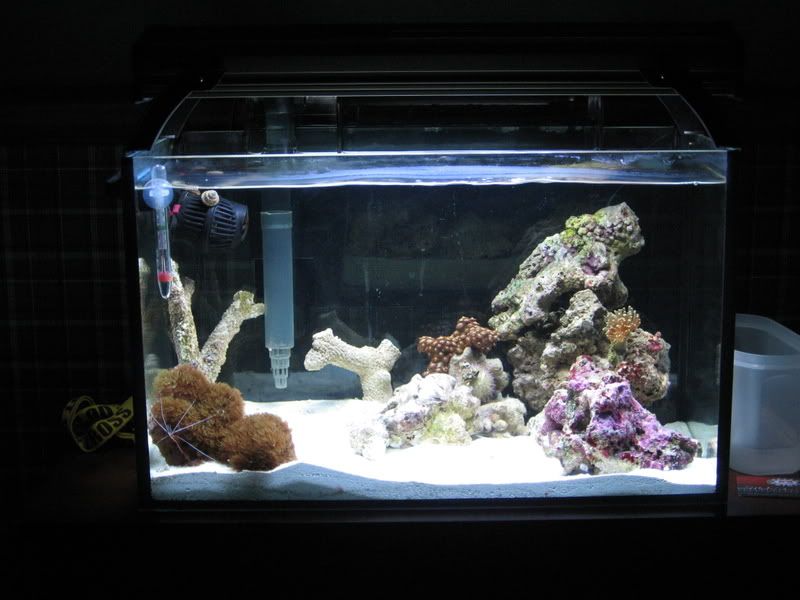 I didn't take pics of my torch because I had just repositioned it and it didn't look that great. It still is only coming out about halfway, and seems very weak. Personally I was surprised it managed to survive the tank change. I came home one night and found that my urchin had removed it from its spot on the rock, I found the urchin at the top rock with the coral nearly out of water. It looked like the urchin was trying to dump it down into the fuge. Maybe they are fighting.
ps I know I need to clean the back glass, salt creep is the worst. :(
Great news! My torch coral is opened and looking great! Today it's opened now more than ever, I am so happy! Here are some pics: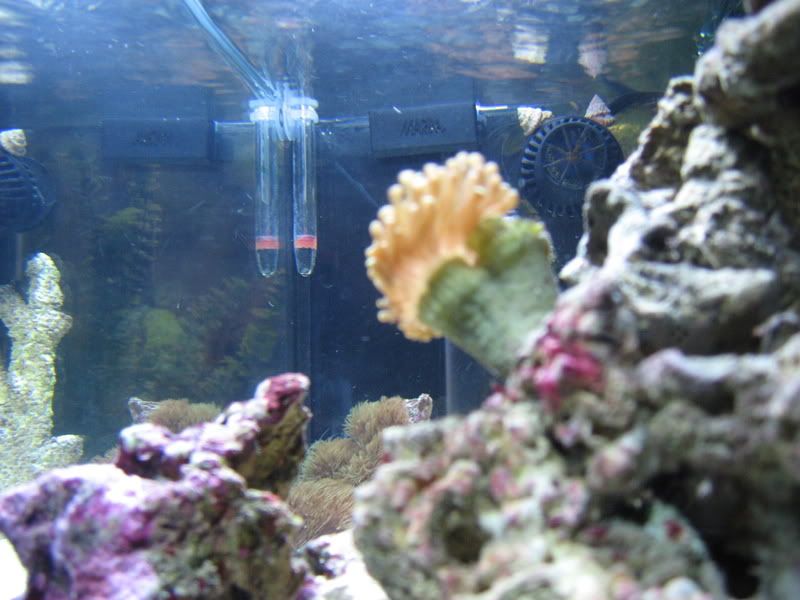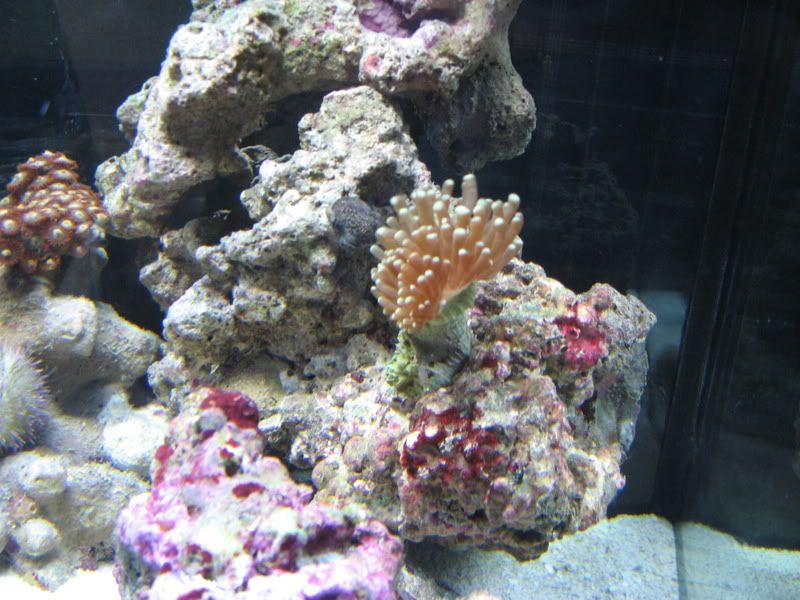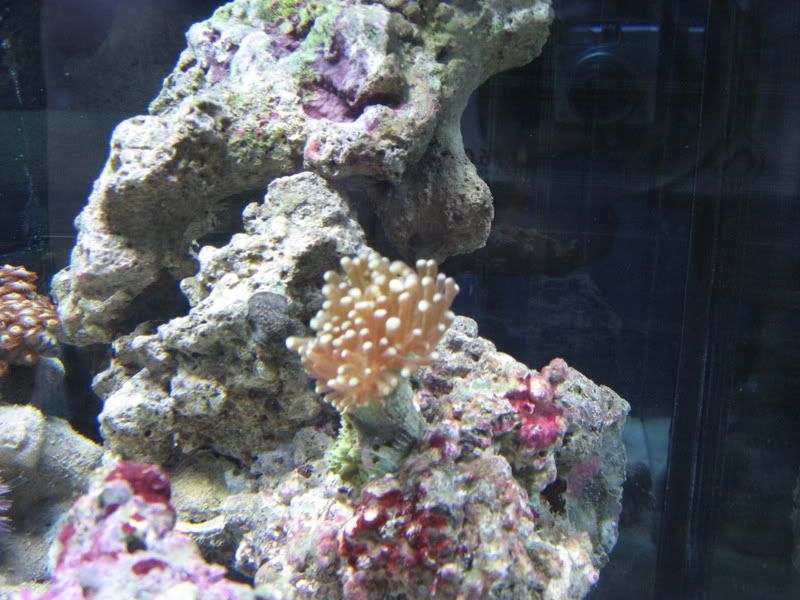 The tank: :D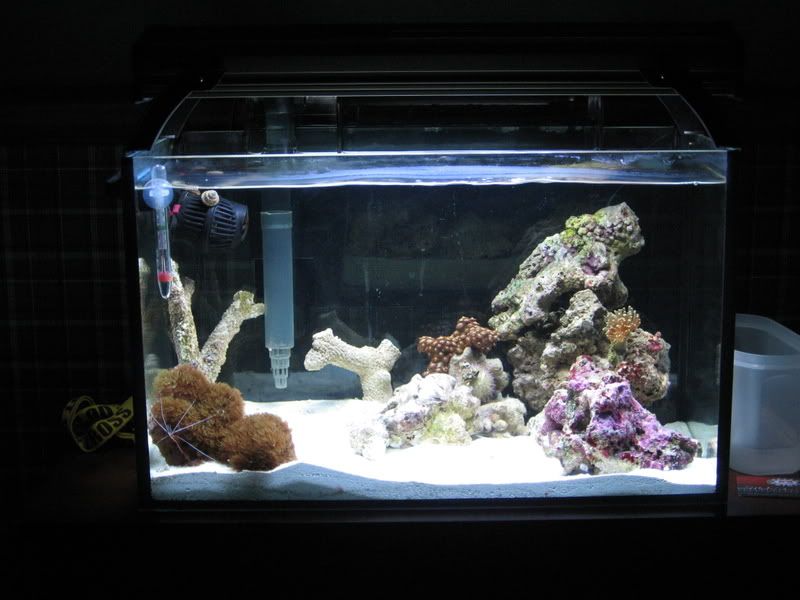 Wow, that looking really nice!! Love the Torch, our tanks are virtually identical, except yours is about 100x cooler then mine right now. I have done the same thing with my aquaclear, but it is a little smaller then yours. Did you add sand to it intentionally? Also, do you not have a light over your mini sump?
Thanks for the post. :D

I did not add sand intentionally, I will need to siphon that out next water change. This pic was only shortly after set up, I wanted the filter to run asap.

Post pics of your tank then. ;)
I'll have too! Within the week I am getting some frags from a friend, and I just added a Zenia today, so once that is looking better I will. Just wondering, how often do you do water changes? I am at once a week but I am not really getting any spikes, I bet i could go two weeks??
Umm, well, after my nitrates hit 0, I haven't needed to do very many at all. The fuge works wonders.

Daily topoffs are required though.
I recently purchased some reef glue to keep my corals in place since my urchin kept pulling them out and off their spots on the rock. They are steadily attached now. I tried to isolate my urchin in the fuge while the glue cured, but he actually crawled out, journeyed the output of the AC unit, and found his way back into the display tank and pulled the torch coral out of its spot. FFS, this is one smart ball of spikes. I have a pic of him carrying the torch and one nasarrius on his back. I'm worried he will do this to one of my astreas and drown it.

I isolated him in the fuge again to let the reef glue cure. It has cured nicely and the urchin is back in the main tank collecting nasarrius and molted shells all day. I will post the pic when I get home today. :D
please post the pics
and I got a question i have a 10 gl tank im probably goin to turn into a salt water tank should i use the water i have in it now or get new water ill take all the stuff out of course but should i use my already cycled water
---
Woo, Matt's thread is alive! :)

Beweeb, in answer to your question, take whatever you have in the 10G out. You cannot use Tap Water unless you want to fill your tank with Hair Algea. You need RO/DI water, which can either be bought as a unit or in jugs at your LFS. I would buy premixed only to fill, then just get a bucket of salt and regular RO water for top-offs and WC's as needed.
Posting Rules

You may not post new threads

You may not post replies

You may not post attachments

You may not edit your posts

---

HTML code is Off

---