8G Biocube with pics!! Also some questions plz . . .
---
Hi!
Well, I just set up my new 8 Gallon Biocube. Here are some pics of it. Nothing too exciting but I want to start recording it from day 1 - setup all the way until when I'm done stocking my tank. Expect many photos from here on. I haven't filled it with water yet, because I still need salt mix.
And we're off: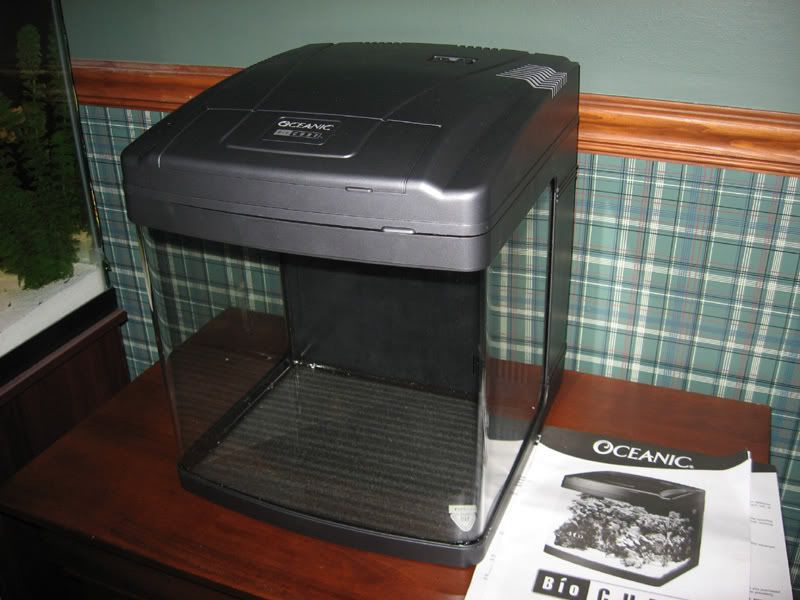 Just the setup from the outside with flash.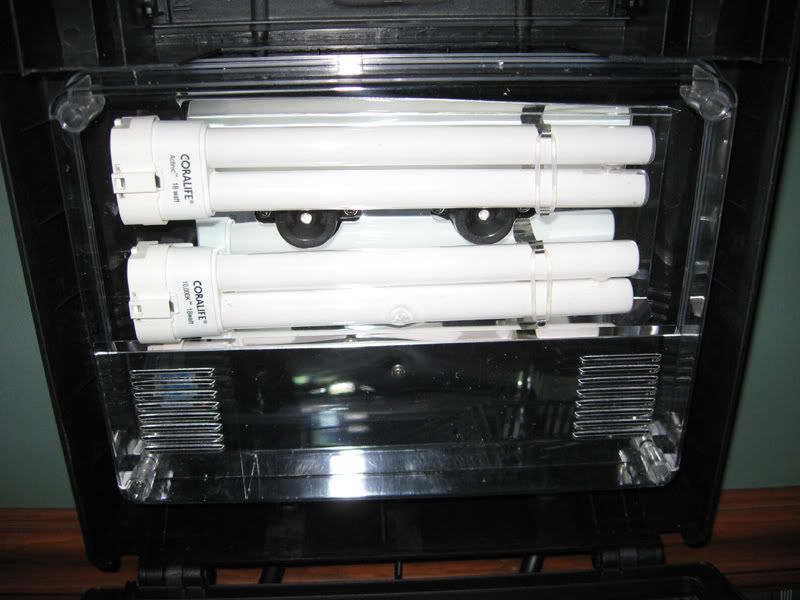 A picture of the stock lighting. 1 18-watt 10000k Daylight, and 1 18-watt True Actinic Blue. It also came with two .75 watt Lunar Blue Moon Glow LEDs. There are also 2 50mm cooling fans in the hood.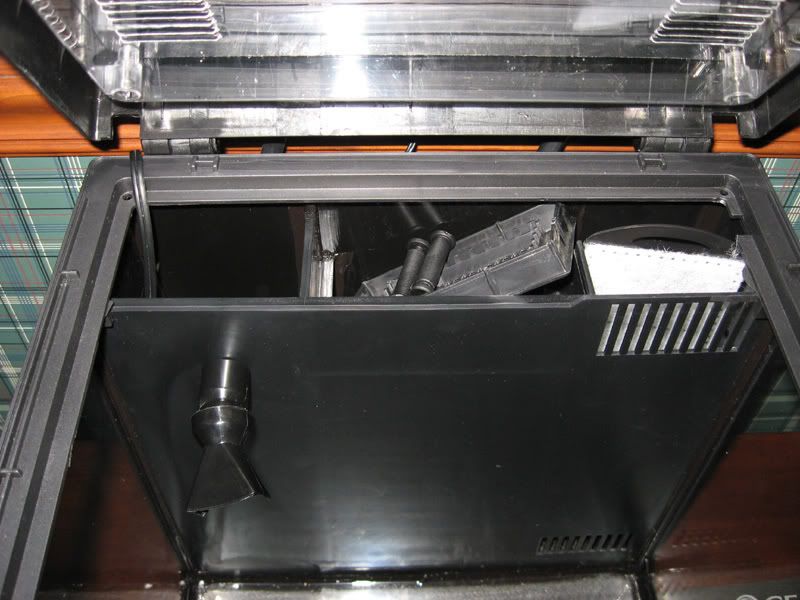 The stock filtration system. Here's one of my questions: should I keep the stock media (plenty of bio-balls), or convert the large compartment to a refugium (in which case I'd need to makeshift some sort of lighting)? I think for now I'll need to stick to the bio-balls because I don't see how I could modify the hood to fit a palmlight in it. I'll definitely be stuffing crazy media into the first compartment which is large enough to fit all kinds of stuff in there. I think that in conjunction with the natural filtration my idea will work just fine. Opinions needed though, please. Thanks. edit - actually upon further investigation, I've discovered that the light encompasses even the filtration system! I suppose I will combine the two then. I will put plenty of bioballs and media in the first compartment, and then convert the second compartment into a refugium! Awesome! :D :D :D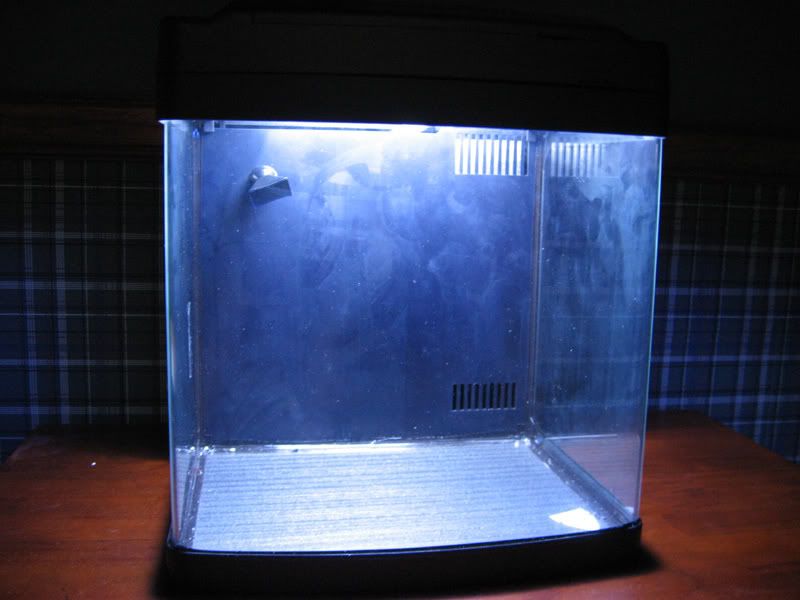 Just a shot of the uncleaned tank with the lights on (mighty bright!), and of the pump. The flow rate is 106 gph, will this be enough for my tank, or should I consider purchasing a submersible pump in the future? I dp fear dead spots, particularly in the far right corner.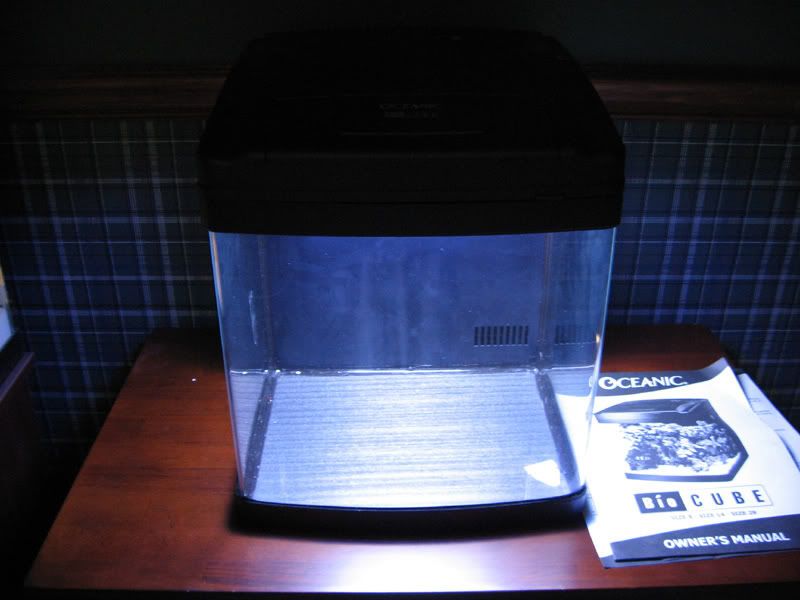 Just an overall shot of the tank. I'm VERY excited about this and can't wait to begin stocking the live sand and live rock. I'll be posting more pics within the next little while. In the meantime, research, research, and more research will follow.
Also, another focus of this thread is to get feedback on the livestock I plan on putting in the tank. I'm not sure which species of coral to put in here yet, however I have had my eye on Zoanthids, Pulsing Xenia (although my lfs says they spread like wildfire), and the beginner's choice: mushrooms. I'd appreciate any suggestions that are suitable for my tank.
Regarding fish, I've decided to go with an Ocellaris, and a Firefish Goby. My CUC will consist of several snails (species recommendation needed please), and possibly 1 Cleaner Shrimp or a
Blood Shrimp. Again, any suggestions regarding livestock are needed and much appreciated.
Opinions, ideas, and advice are very valuable to me at this time, seeing as I haven't started anything yet. Thanks!!
:D :D :D[/list]
keep temperature at 76-82oF, specific gravity at 1.23-1.26, calcium 420-480 ppm, NO3 0, NO2 0, AMMONIA 0, PO4 less than 0.1 ppm, kh 9-l2 and ph 7.9-8.5 best if at 8.3. Strongly reccomend lysmata amboinensis or also called as cleaner shrimp, six line wrase, clown fish amphiprion ocellaris, fire fish, turbo snails and red legged hermit crabs. you must realize it is a small tank so you need corals that do not grow up much, the mushroom anemones will take o ver your tank in no time, as well as the star polyps. you need some polyps that do not propagate too fast. you could use some tube worms, and small fragments of soft corals first until you can manage the parameters. In a small tank ist is very complicated to keep the right temperature. Use the berlin system method , it works much better than other methods. start slowly and donot desperate. do not forget to cycle your tank first by adding the living sand and the live rock first and make 20 % weekly water changes, use good water quality, reverse osmosis oR di water. I use red sea spro salt, ist is great. good luck and saludos desde mexico.
oh i forgot¡ do not use bioballs, they are not necessary, your main filtration will be, your living sand (two inches depht), your live rock and your skimmer, if you use bioballs or other media , it will soar your nitrates.
BCs don't have skimmers. As I said, I'll probably be stuffing the first filtration compartment with various media (sponge, carbon, all-in-one sheets, etc..) and then the second compartment I'll turn into a miniature refugium.
Not sure if the 8g can fit a Starphire skimmer or not. They fit in the backs of the JBJ nanocubes unseen, might check nanotuners.com for more ideas of tricked out cubes.
you really have to manage to set up a skimmer, they are one of the main filtration systems ina saltwater reef aquarium besides you living rock and sand. please do forget about any kind of media ins the filter . you can include a mechanical filter with some kind of a pad, but you must wash it daily ( no soap or detergents, only water) BELIEVE ME, IT IS THE ONLY WAY TO GO.
Well, Here's a small update. Picked up Live aragonite tonight. Just finished setting everything up. Here are some more pics:
Here's the tank, still cloudy as all hell: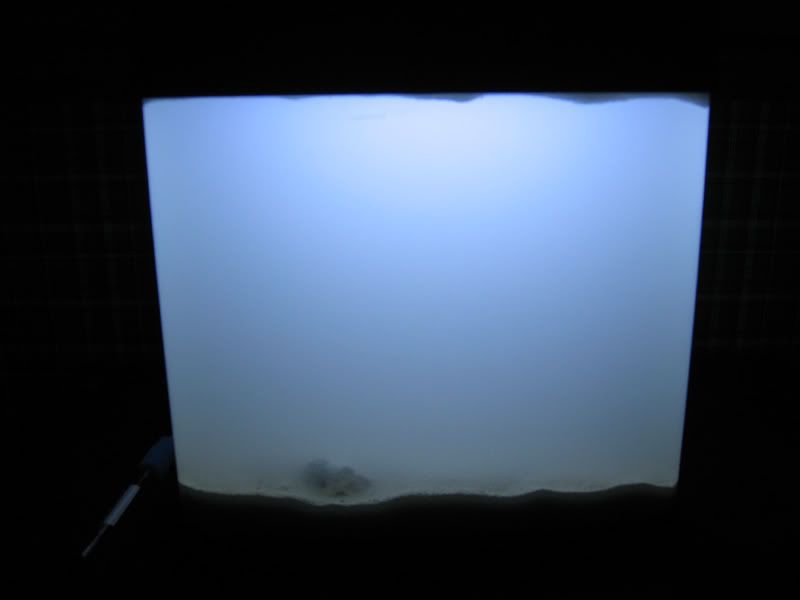 Here's a shot of some free live rock that came with the sand! It was just in the bag, found it while flattening the sandbed. Not really bona fide LR but still, a cool little decoration till I pickup LR: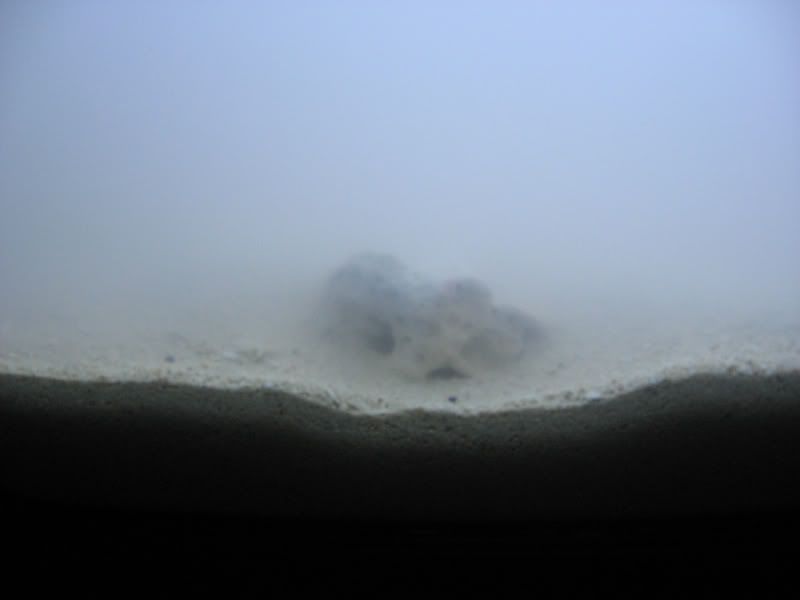 Is this froth normal? I'm assuming it is, and also figure it will disappear in time: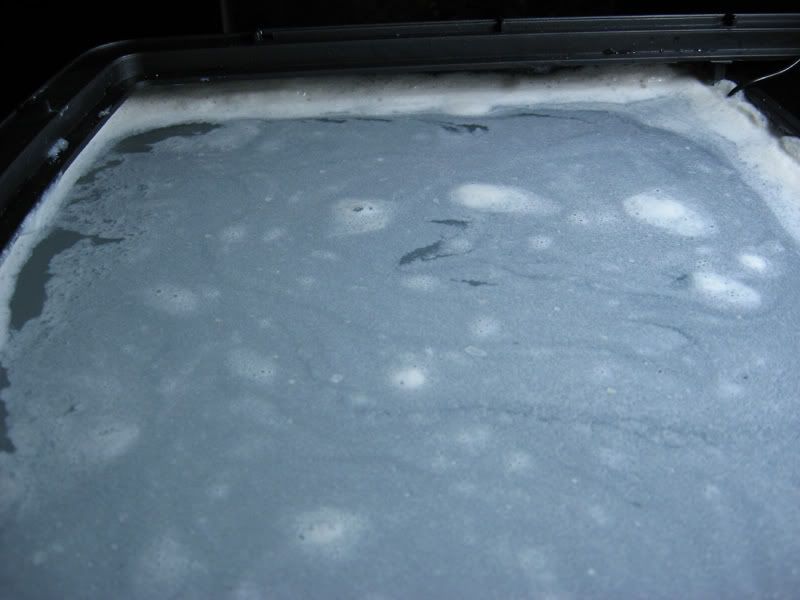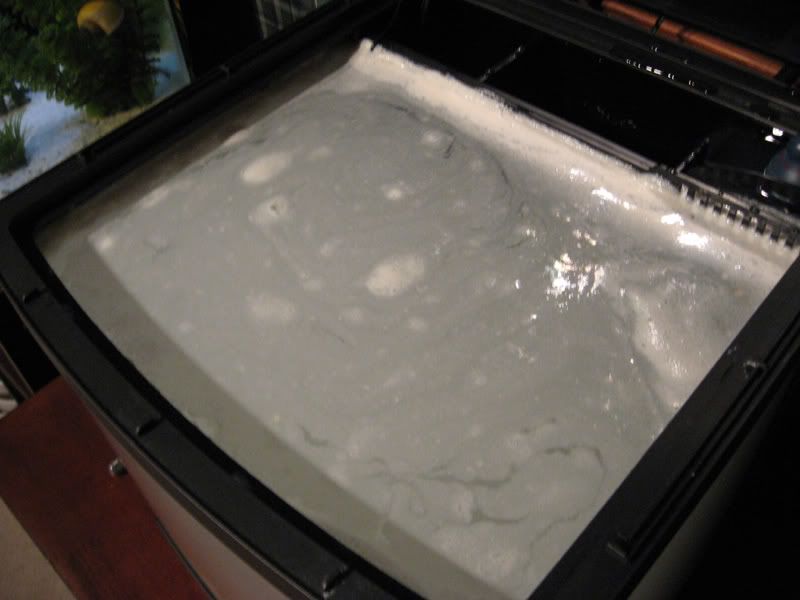 Probably going to try and pick up some live rock within the next few days. Gonna be really cool, can't wait!
I'm not getting a skimmer. Water changes will do just fine if I stay on top of them.
Well I've stocked my tank with rock! Here are some pics of the pieces. I purchased 7 lbs worth, I'll need to go back and get another couple of pounds when the bank account permits. :D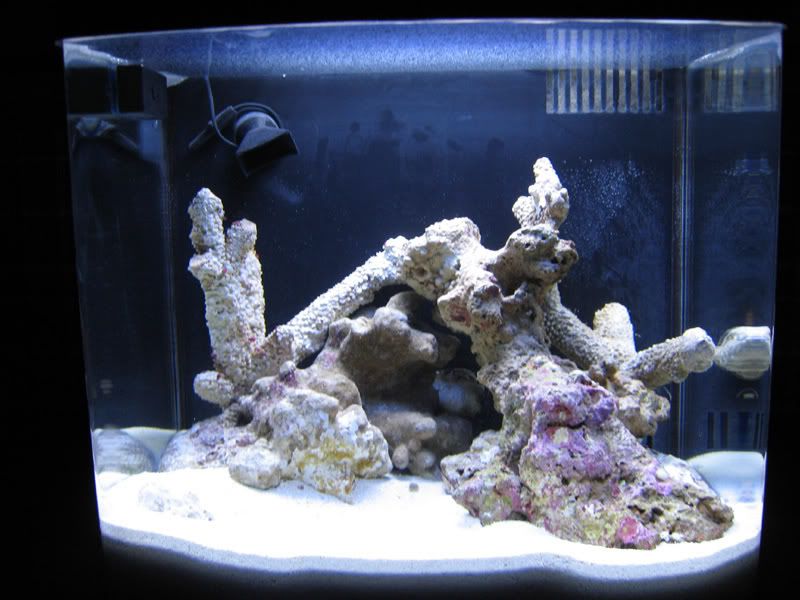 A shot of the whole tank.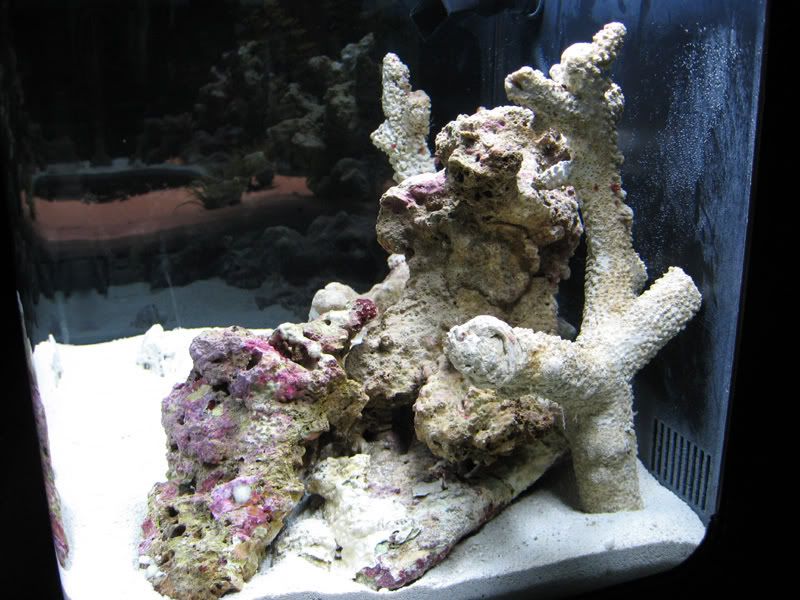 The right side of the tank. Just to give a look at the large stalk overseeing the tank. There are strange red growths on these pieces, looks like they'll turn into some kind of coral eventually.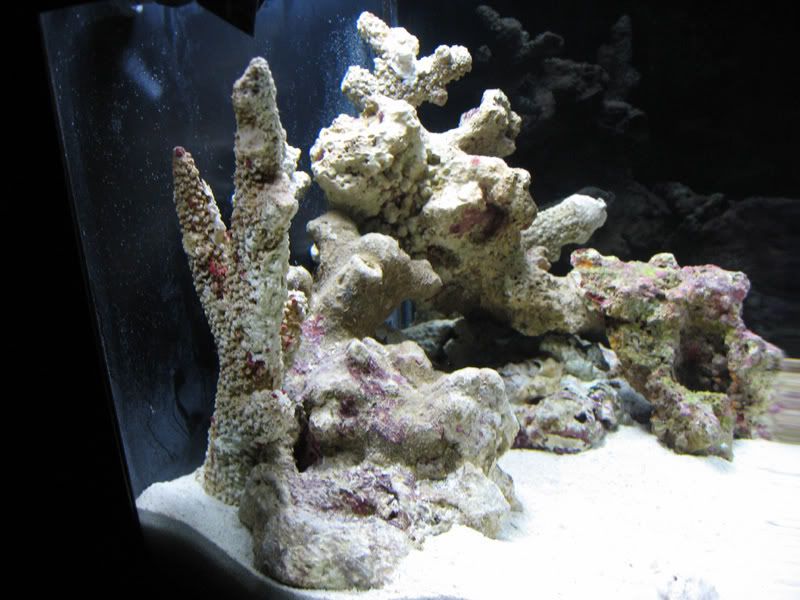 The other rock on the left side of the tank. Also has generous amounts of the red growth. They get larger almost daily.
It would appear that a hitchhiker was in my rocks! The center, you can see the tentacles and a bit of the body tucked in between the crevasse (sorry, bad shot I suppose). This is definitely a brittle starfish, I saw him crawling around when I first put the rocks in shortly after the cloudiness disappeared. Cute little guy, wouldn't mind him surviving the cycle. Think I'll be doing some soft cycling after all.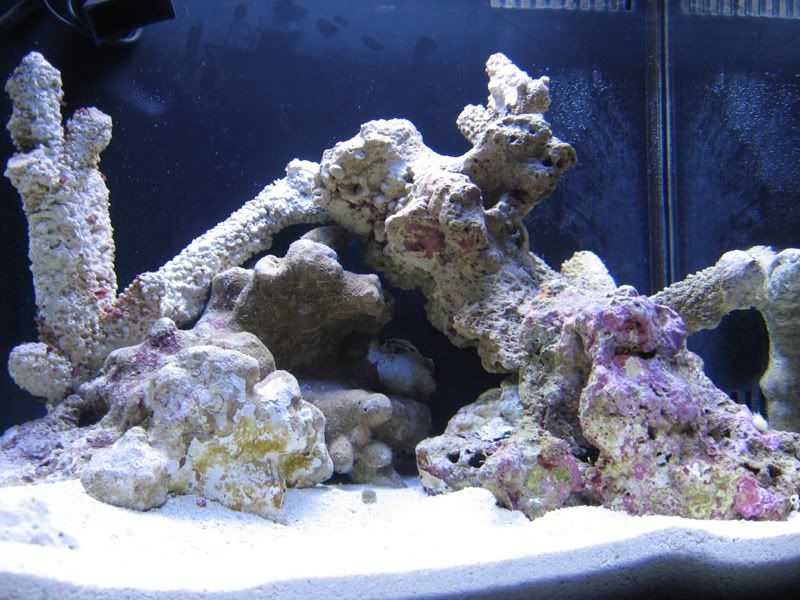 One last look at the tank in its entirety. I put these rocks in a few days ago, and the ones in the rear are beginning to really take on the mauve color that the others were rich with. There is some diatomic algae appearing on a few rocks, I think I'm doing alright so far. These rocks really are amazing, everyday I see new things! Last night I spotted this small stalk with strange extensions waving in the current. When I placed my hand on the desk, the extensions sucked inward, almost like I startled it!
Also, on the front most rock, there are two large white growths. You can see it in the above shot to the far bottom right. They are clear in complexion and appear bubbly. At night their bases seem to lengthen and I can SWEAR the tips are glowing or are illuminated slightly green (I have the blue moon-light LEDS).
Comments? Suggestions?
YOU ARE DOING FINE, BUT THE TANK WITH LIVESTOCK WILL NEED A SKIMMER TO TAKE SOME NUTRIENTS OUT. IF YOU CAN AFFORD THE WEEKLY WATER CHANGES, THEN THAT IS OKAY. KEEP UP THE NICE WORK.
Posting Rules

You may not post new threads

You may not post replies

You may not post attachments

You may not edit your posts

---

HTML code is Off

---