1.5 gal pico tank
---
So Im currently a college student at UNCC. Anyways I have a 100 gal salt tank at home. But I currently live in a dorm at school and Id like to have a fish tank with me. So I decided Id make a pico tank for my dorm. So heres the beginning of my build thread.
What I am starting with:
http://www.petco.com/product/102093/Tetra-...at=FishFC_Tanks
So I decided I was going to drill the tank and make a mini sump compartment for it. I will have the water pumped back through a smaller pipe within the drain pipe . So heres my progress so far. Nothing is glued yet I have done a leak test and it seems to hold water fine without gluing but Im going to be siliconing it just incase.
Note: I am using aquarium safe silicon so no worries.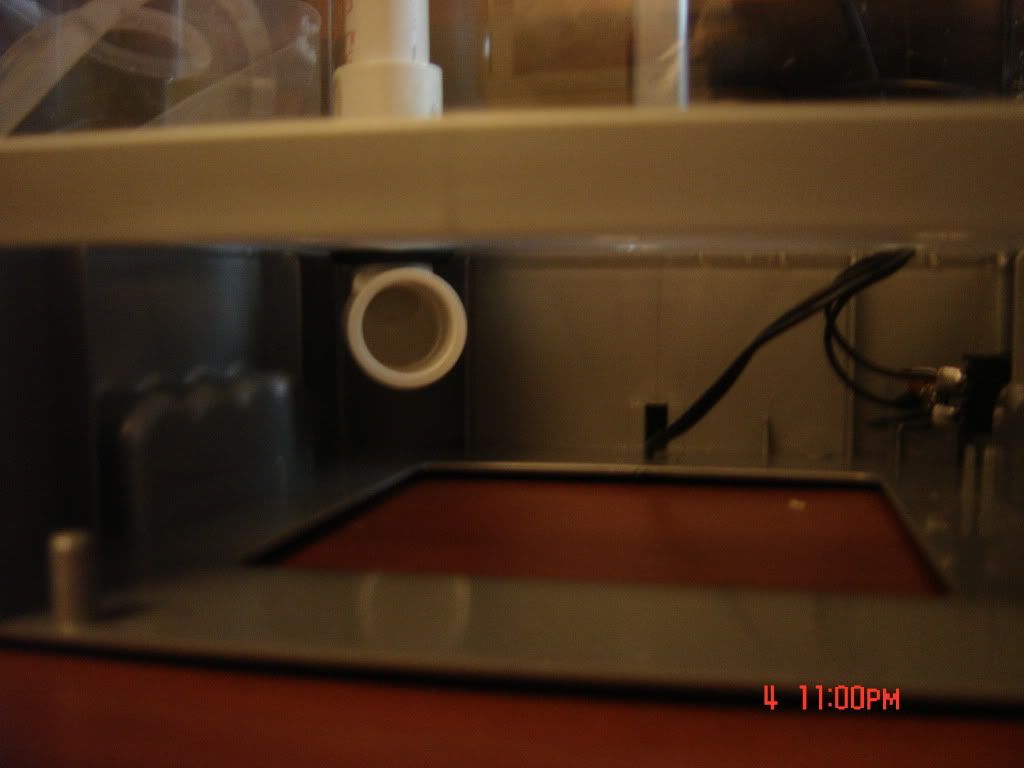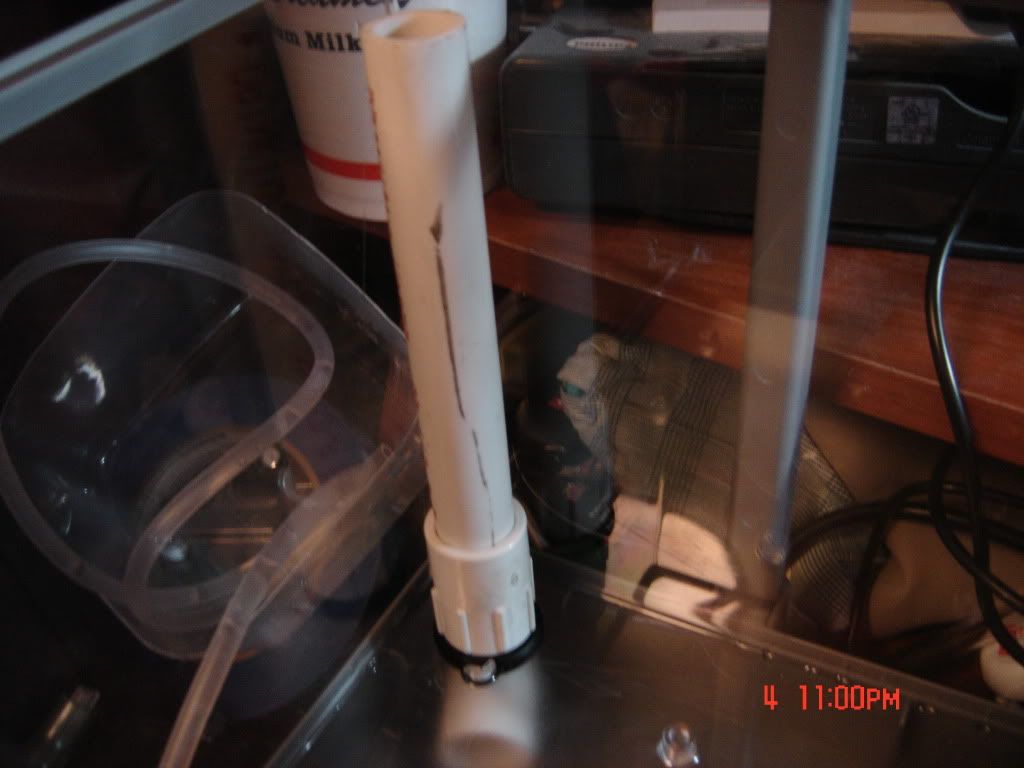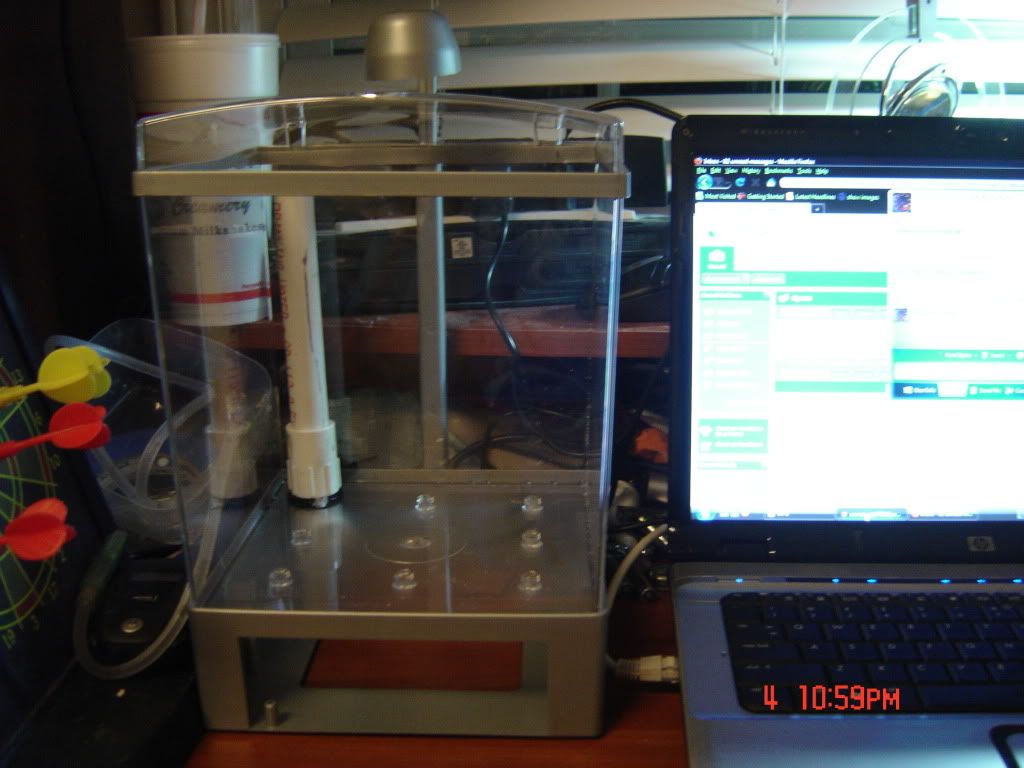 My stock list:
-hermit crab
-yellow goby (once water cycles)
-a sexy shrimp (once water cycles)
I will be using coral, sand, frags, etc from my 100 gal.
So I got the new light put on it, some rocks, sand and water in it. So far it works great. I also added a heater to it. Heres update pics.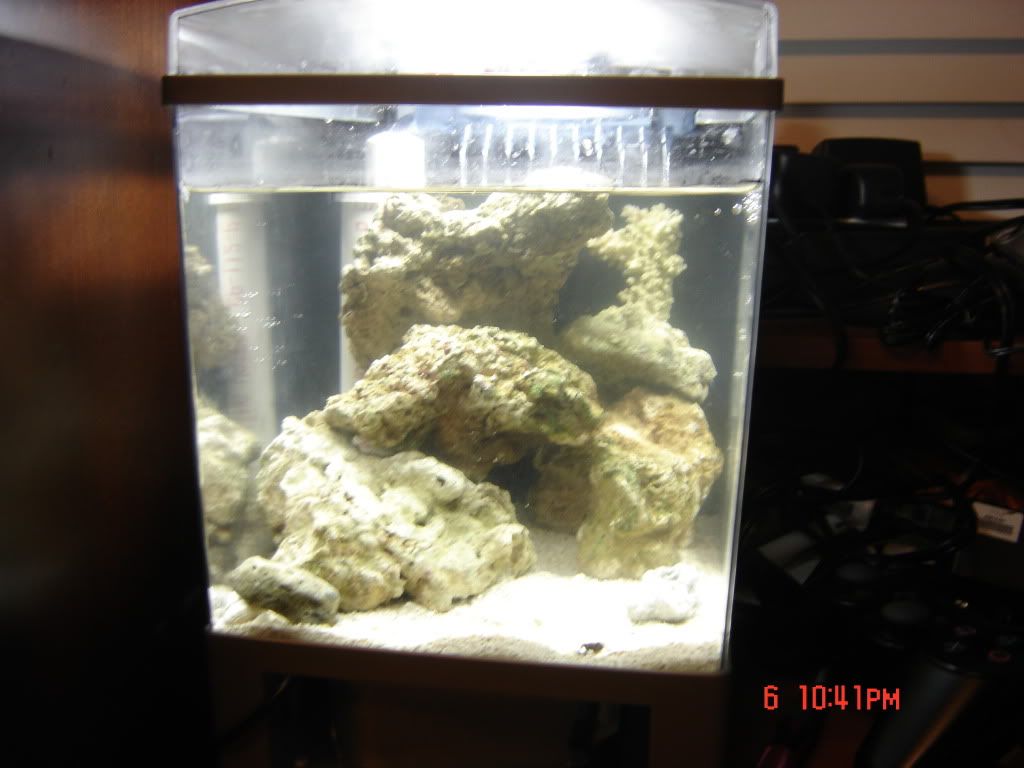 Any and all comments are welcomed.
man this thing is GREAT!!!!!!

i am considering a Pico type myself and wow that just keeps me thinking about my plans.....
---
Back in the Game!!! Live Bearers in a 40 Breeder
So far this thing has been a pretty awesome side project for me. The water is currently cycling a bit. It shouldnt take too long considering all the rocks and sand came from my established tank. I will be keeping an eye on the water parems right now. Only thing live in it right now is a lil ghost crab I got while I was in Florida. Pics of the lil crab later.
Hey there pretty cool pico! Are you planning on stocking corals? My new setup will be in two-three weeks from now so Im stealing ideas where I can.
How much water is actually left in there after all that LR? And what u doing for flow?
Keep them pics comming
does the return come up through the drain pipe? if not, thats how i would have done it. regardless i really like your setup. i dont think i would do the clown goby either but you can prob. get away with it because of the added water volume. speaking of which, how large is your sump? and could you post a photo of that please?
i have not seen this member since they posted this thread last July (2010) ... not sure if they will respond.
---
Back in the Game!!! Live Bearers in a 40 Breeder
Bearwithfish
---
Do you have a saltwater nano reef? i wanna start one like this but what input would you have to make a set up like this?
i do not have one just now (see my thread) but if you have some questions please start a thread in this section
Saltwater Aquariums
and i am sure that many of our knowledgeable members will help out in the conversation.
---
Back in the Game!!! Live Bearers in a 40 Breeder
Posting Rules

You may not post new threads

You may not post replies

You may not post attachments

You may not edit your posts

---

HTML code is Off

---