What kind of platies are these (blue wag??)
---
So I went to petsmart and saw these "limited adition blue wag platies" but they have a orange tail kinda where the "mickey mouse" is on a mickey mouse platy. Are these a mixed breed or something. I got 5, 3 females and 2 males so hopefully I get some babies!!
I got some pictures but I'll post them when I get on my computer.
Hmmm... no replies yet?
Well, then I guess a picture would help huh? I know this is really, really crappy but I had to use my phone because I don't have a camera.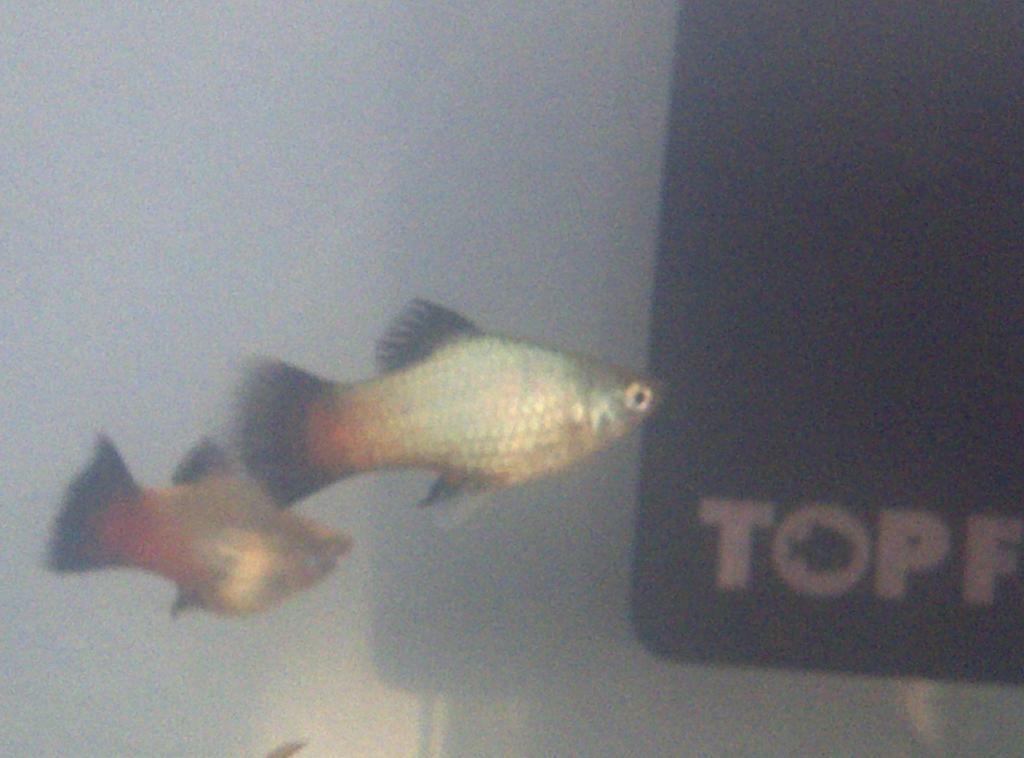 You can't really tell in this picture but they kinda have a blue-ish tint to them, the only thing that confuses me is the orange near the tail.
Can any one tell me what kind of platy this is? I am used to breeding sunburst platies and I thought I'd try something different and I think these are cool looking but I would like to know excactly what kind it is so I can tell whoever wants to buy fry from me, and because I'm just curious... Was Petsmart right? Are these really blue wags?
Gee guys thanks for the replies :l well I'm guessing no one knows what it is then.. I have been searching everywhere and I think I figured it out, I think it's a RainbowPlaty
http://www.tropicalifish.com/v1/wp-c...ow-wagtail.jpg
Also if you just type in "rainbow platy" on google you get many pictures.
A couple of replies would be nice, I feel like I'm talking to myself
---
Last edited by CountryChic; 12-24-2012 at

07:51 AM

.
as far as i know, it's just a color variant. i've seen them being sold as blue wags, neon blue wags, metalic blue wags and blue mickey mouse platy. all of the "blue" wags that i've seen in the lfs in my area just have like a light shade of blue or spececkled blue.
I would call these a "galaxy" wag. (Only because I saw it labelled so on a website a long time ago...) Very pretty fish, If I get back into livebearers I would love some of those!
Looks to me like a cross between a blue platy & a red wag platy. I would ask someone at a reputable aquarium store
I'm in the UK and over here there known as coral platys :):):)
Posted via Mobile Device
Posting Rules

You may not post new threads

You may not post replies

You may not post attachments

You may not edit your posts

---

HTML code is Off

---