Thought endlers were rare/endagered.
---
Don't these look like endlers?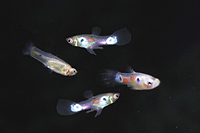 They are sold as feeder guppies.
Might go rescue a few. Would probably revitalise my guppy tank since they're been inbreeding for a while now.
they look like endlers to mee :)
---
190L Tropical Aquarium
a wise fish keeper said to me "your not a fish keeper , your a water keeper the fish just live in it"
5 Pristella Tetra
2 Bristlenose Plecs
5 Angels
The same company sells endlers for $4.
Feeder guppies are 8 cents each, or .50 if I want to choose specific ones.

Probably guppy hybrids, but still they're too pretty to feed to something!
The tails don't look like Endler's to me...
---
If you don't stand up for something you'll fall for anything...
They appear to be hybrids. Pure endlers are very rare, even a lot of hybrids are indistinguishable from pure endlers. There are many endler-guppy hybrids, ranging from fish that look completely different from endlers or guppies to hybrids all but the best trained eye could mistake for an endler. But garden variety endlers (all of which have about 1 zillionth part guppy) usually sell for $3-6 depending on region. They are rarely seen in stores in some areas but they breed like rabiits (like guppies without the fry-eating) so even one hobbyist could pretty much supply the whole region.
Yea, a lot of places only sell males... but there's a kinda easy way to tell whether a female endler is pure or not.
If it's silver/gray/brown/ etc then it's a hybrid.

If it's got golden scales, it's likely pure (or close to it)

And Kymmie, I thought that endlers could have different kinds of tails... lyre, sword, upper sword, spade, etc.
They look like spade-tails to me. *shrug*
Usually any endler you see with a tail variation is a hybrid. The only exception I know of is the painstakingly selesctively bred endlers sold by adrian of SwampRiverAquatics. But yeah there are tons of sweet-looking hybrids with all tail types. I personally think the hybrids look awesome.
I saw some Endler's (well, at least that's what the tank label said) yesterday at the LFS and the colors were so crazy looking I swear they were dyed. I was assured thay they were not. I'd never seen fish with that crazy type of coloring before.
---
If you don't stand up for something you'll fall for anything...
Those are wild type guppies. They look like endlers, because endlers usually have a much more natural pattern. However I've never seen a endler that colorless. Endlers are uncommon in most places, but depending where you live they can be common.
i dont even know what endlers look like and my lfs doesnt sell them.
---
MY TANKS:
36 GALLON- PLECO, 2 CORIES, ANGELFISH, 2 SILVER DOLLARS,FLY FOX
20 GALLON- 2 female guppies, 20 fry(born 11-26-10)
Posting Rules

You may not post new threads

You may not post replies

You may not post attachments

You may not edit your posts

---

HTML code is Off

---