Male Platy harassing Female
---
So, I thought I had a good ratio of male to female Platys in my tank.. I have one male and 3 females. However, he seems to be obsessed with only one of the females and follows the poor girl around incessantly! I was thinking that I'd try to get more of a similar color to her so maybe he'll divide his attentions. I just think it's really weird that he follows her but for the most part ignores the others.

For some more background info, the one he's following around is a yellow "mickey mouse" platy, he ignores the sunburst and red wag females that I also have. Also in the tank are a pair of mollies, and a small school of zebra danios. It's a newly established 29 gallon tank that I fishless cycled in the past month and have been slowly building up residents in. What does everyone think of the strange behavior of this male?
They don't care about color variety .Best guess is that the one he's chasing has not yet been "hit".
Ah yes, if she is pregnant and not wanting him, they will often harass. Especially if she's near to giving birth, they tend to let off a scent...this can actually end up a constant thing because of their ability to store sperm, pause pregnancies and have multiple broods, so pregnant or not, they can breed any time, and if she's giving off the scent, he'll ignore the others unless you can find one receptive. I'd suggest you find a platy, if you can find one of the same color that's fine but not a must, where a male is chasing her. This will hopefully divide his attention allowing for at least a bit of a break. If you can find two being chased by males, so much the better since you only have the one male. That's not a guarantee...but it could work. I had it work before when I purchased two females being paid attention to by ALL the lovely males...lol With only one male of my own, took a lot of stress off my other single receptive female.
Recently I had a male who wouldn't leave my female alone, these were mollies but it's the same thing with them...I have large homemade nets and I popped her in there...after a day or so he started paying attention to my other girls. =) If you can get a good sized basket and net off the holes(I took a normal basket and sewed window screen, mesh works too, in the holes VERY well, it takes time, so no babies could get out and it was safe), hang it in there, plant it for less stress(floating plants, java moss or stem plants work)...you can pop her in there for a few days, give her a break, usually if it's big enough they wont stress out too much. Just make sure it's at least a foot long and six inches deep and at least six or more inches wide, if that fits(tad smaller is ok, but nothing smaller than six inches all around, they're just too small!), she should be ok. You can even put another female in with her if you so desire so she's not stressed and lonely.
My homemade net as an example. The big yellow one is twice as long and almost twice as wide as a large store-bought breeding net, so much happier of a place. I dunno if you can fit one that big in your tank, but you can probably get one longer and a tad less wide: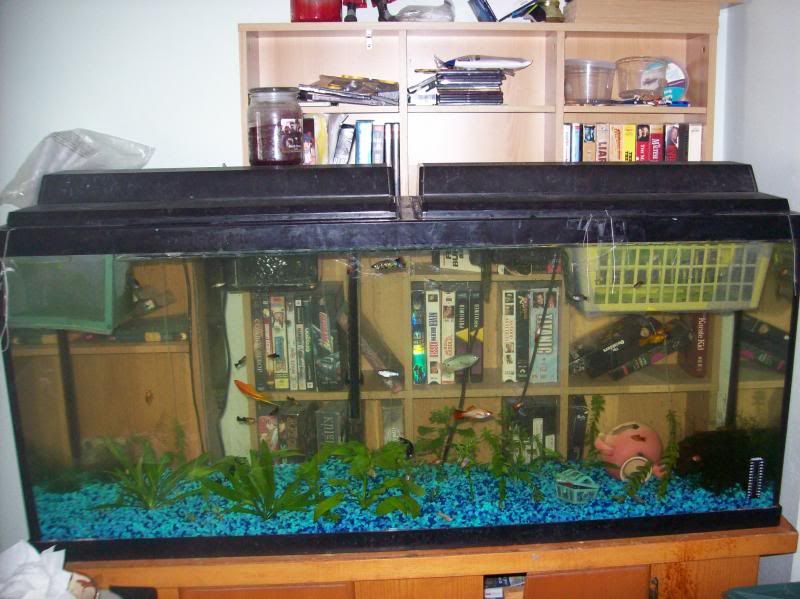 ---


Turning on the Aquarium lamp in the morning is MY cup of coffee.
---
Last edited by Sylverclaws; 03-21-2014 at

04:56 AM

.
Posting Rules

You may not post new threads

You may not post replies

You may not post attachments

You may not edit your posts

---

HTML code is Off

---