Halfbeaks: An interesting experience.
---
After reading all the horror stories of these fish, I was still quite enamored by them at the fish store. I now have a mixed sex group of 5 of them living in my 20 gallon long.
What I read about Malayan halfbeaks before purchase (also yea, after reading all this stuff, a normal person probably wouldn't go out and buy them anyways)..
-Very skittish and sensitive at first
-Prone to darting and breaking their beaks on the sides of the tank walls
-Can live in acidic-brackish water conditions
-Males will fight each other for space
-Newborn fry tend to be still born
-Trouble adjusting to prepared foods, best food is flightless fruit flies
-Will be aggressive towards other top dwelling species
What I have found about Malayan halfbeaks (or wrestling halfbeaks)...
-Mine adapted to their new home VERY quickly and fit in right away
-None of this crazy darting I read about
-Never seen the males fight in the space they have (there are at least 2 of them)
-Ate prepared foods like crazy right away
-Never bothered the marble hatchet fish in the tank
I LOVE these fish. Mine have the craziest personalities ever, they lunge at anything that goes into the tank. As soon as I stick my hand in they are there in a flash biting at me as best as they can. They are in a very clean tank, and I'm sure that's vital to keeping them, as they are wild caught generally. The males of the species have orange on their dorsal fin while the females do not. I am hoping they will start to breed eventually (gasp, a livebearer that isn't easy to breed!)
If you are looking for an interesting top dweller and happen to see them, I would go for it.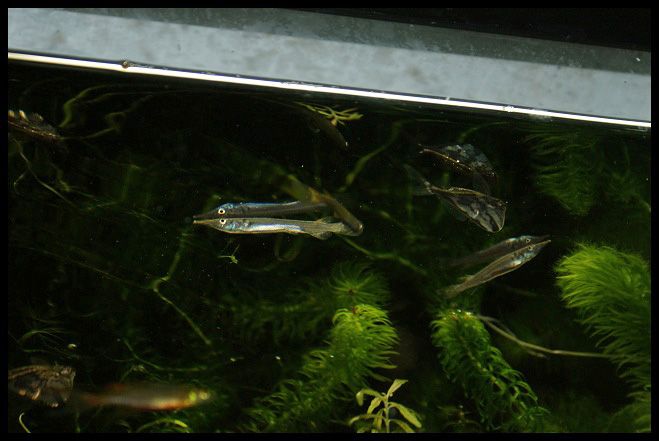 ---
taking a break from fish-keeping.
3 lovely male betta still keep me company.

Very Cool!! I've never heard of them.
---
Every kid, regardless of what they are going through, is ONE caring adult away from being a success story. ~ Josh Shipp, Teen Behavior Expert
Glad you've had good experience with them! Maybe you should try to set up your 15 gal as a tank dedicated to breeding them? Imagine that! TRYING to breed a livebearer!
I had one once. I heard also the stories about them fighting, so started with one. He managed to jump out of the 2" opening off the back, and I didn't notice till it was too late
I didn't like them enough to get more, but they are pretty funky looking.
---
Just because animals can't talk, does not mean they should not be heard
I had 3 of halfbeaks because they look like the coolest little fish ever. They were great to keep but one did a bit of dominating against the other two. I had them in the same take as Platys and Mollys. The lasted a while but them i went on a holiday for 2 weeks and had some feeding blocks in the tank but for some reason most of my fish died (my guess disease from neglection). I now have a few small platys and a few neon tetras, im going to the store in few days to see if any more halfbeaks are around and get some more platys
I would love to breed halfbeaks to watch the fry grow
---
18L Fry and guppy/endler tank
4 platy fry, 3 guppys, 4 endlers

10G Molly tank
1 Female dalmatian, 1 female koi, 1 female platinum silver,1 female platinum silver lyretail, 1 male koi lyretail

17G Community tank
3 Harlequin Rosbora, 1 female galaxy blue platy,1 male bronze gold platy, 1 female hawaiian platy,1 female sunset platy, 1 male twin bar platy, 1 male two tone(blue and red) platy, 1 female red wag platy, 2 platy fry, 1 bristlenose catfish
Happy that you decided to post your experience with these guys, Lympie. They're really cool fish, and don't seem to be kept very often - kept properly even less! I hope you'll continue to post as things develop with them in your tank. . . it can be so frustrating trying to find personal feedback from a good fishkeeper on some of the 'oddball' fish out there.

*luffs half-beaks - even if they're bloodthirsty and try to eat you*
Posting Rules

You may not post new threads

You may not post replies

You may not post attachments

You may not edit your posts

---

HTML code is Off

---