Fish ID?
---
Guppy perhaps? And please excuse my use of 'he' and 'him' if this fish is a female guppy. I've gotten so used to calling Remmy 'he' that it's stuck, whether he's a female or not.
I was wondering if any of you could give me a definite idea of what this guy is. He came to me with rosy red minnows. I didn't really take a closer look at him until the first night I brought home the three fish and got them set up in the tank. He's definitely not a rosy red, and not a comet goldfish, which were the only two types of fish being sold in the tank holding feeder fish. I swore up and down that he's a guppy, and a she for that matter, but my dad, who has extensive experience with tropical fish, says this is not the case.
So, guppy? If so, than I paid 12 cents for a fish that should have been around $2.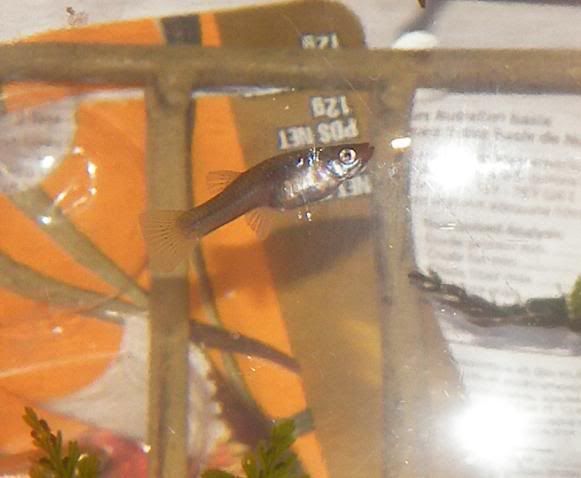 [/img]
Female mosquito fish to me.
---
Sent from my desktop or phone or whatever else I am holding on to

I'm ready for the pressure.
The drama and the pleasure!

If there is one thing I want to see here, it's HUMOR.

I believe I can fly!
I believe I can touch the sky!
I think about it every night and day!
I stand in awe of my body.

Did an image search. I think you're right on the money. Some of the photos coming up look just like my fish, and would explain a lot. I couldn't understand how a guppy would've been able to survive the horrid conditions of the feeder tank, but I did a lot of looking around and guppy was the only thing I could come up with. But this makes a lot more sense. Also, I don't see how a guppy could get mixed in with feeder fish anyway.

Thanks for the help.
I've had guppies for 2 years and that's why it looks like to me
---
"Cycling best friend is a good liquid regeant test kit, and a good barber to fix your hair after you pulled half of it out."
although it has a liking to a mosquito fish
it is, in my experienced opinion, a female wild (or f1) guppy
Whatever he is, I've had to put him in a separate tank. He's shown some cranky attitude lately, nipping at my black molly and chasing around one of the minnows almost non-stop. Do either guppies or mosquito fish commonly do that?
Posting Rules

You may not post new threads

You may not post replies

You may not post attachments

You may not edit your posts

---

HTML code is Off

---