Fat Platies
---
It appears as though my three platies got fat in the last 8 hours.
Here they were this morning (I wasn't necessarily aiming at them, so it's not real close or well focused.. but you can still see)...
And this evening.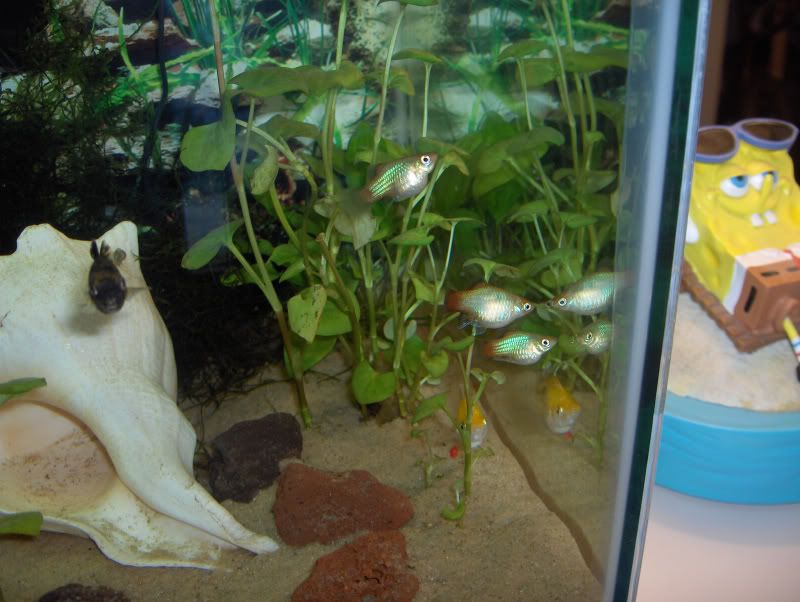 I would think they're all just pregnant, but the male is big, too.
Pretty strange...
---
3 Platies, 1 molly mut, 1 Siamese algae eater, 2 Neolamprologus Facicula cichlids
Looks like it might be a platy balloon molly mix. I think that you will be having babies soon by the pictures. They will stop eating just before having the babies maybe even 3 days before.
How soon are they mature to breed? I got all three when they were much smaller... Maybe one-half to one-third this size. That was about a month ago.
Maybe they're 2.5 month old? I don't know how old they were when I got them.
---
3 Platies, 1 molly mut, 1 Siamese algae eater, 2 Neolamprologus Facicula cichlids
Just as I figured, it's not a platie/molly mix, nor do I have pregnant platies.

Turns out it's one of the different types of food I have.
Dainichi baby sinking pellets makes them bloated.

It's not diagnosed by a "professional" I just deduced it by feeding habits.

By varying the flake/pellets ratio over time, I noticed that more pellets causes them to bloat.

Perhaps it's just because the pellets are more dense taking up more space in their stomachs, I don't really know. But to solve (or minimize) the problem I will feed more flakes first and wait until they've all been consumed keeping their attention to the surface.
Otherwise, the falling pellets diverts them to the bottom and they eat more of them.

The loaches actually come to the surface for flakes, too, but I'm sure they'll dive back down for the tasty pellets when it's their turn.
---
3 Platies, 1 molly mut, 1 Siamese algae eater, 2 Neolamprologus Facicula cichlids
Similar Threads
Thread
Thread Starter
Forum
Replies
Last Post
does anybody else have these platies?

otgarza

Livebearers

7

11-07-2009

03:43 PM

Platies

Follow It Home

Livebearers

1

08-30-2007

05:39 PM

Platies

Marco

Livebearers

6

07-29-2007

08:06 PM

platies

reverendred

Livebearers

8

05-29-2007

10:34 PM
Posting Rules

You may not post new threads

You may not post replies

You may not post attachments

You may not edit your posts

---

HTML code is Off

---