does my white Molly fish look pregnant?(picture)
---
she has gotten fatter in the past few days. Is she just fat. she eats a lot.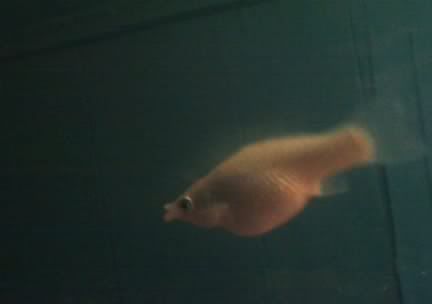 I would agree with the answers already given in your last 3 threads asking the same question.....Yes! I believe she definitely could be, if she was in a tank with males at the LFS. Female Livebearers can also store sperm for months, so even if she hasn't been with a male for some time, she could still produce fry. She looks like she might drop fry soon, but they decide when the time is right and it is often just a waiting game.
Try not to overfeed her or your other fish anyway!
My Molly fish is skinny now, bu no guppies ?
---
In my other post you could see my fish have a huge belly but now its down to the size of when i first got her. i don't see any little guppies, but shes still a little fat. What could this mean?
She's a female silver molly and they tend to have a fatter body shape. in the photo I do not see the black area of fry that she would have if pregnant by her lower fin. She might have had fry and they were eaten. Watch her closely and when she gets a big dark area by rear lower fin think about putting her in another tank or in a small plastic breeding attachment that you can hang in your community tank. Right now based on the photo I think she has thrown her fry.
Posting Rules

You may not post new threads

You may not post replies

You may not post attachments

You may not edit your posts

---

HTML code is Off

---