New Snail!
---
hello all!!!
i went to the lfs yesterday and ended up getting some snails! one i paid for, and one was free (they accidentally gave me the little one) i'm not sure what kind of snail they are though. i think they are black mystery snails. (apple snail?) since i have two, only wanted one, do you think i will end up with tons of babies?? anything else i should know??
Also, i got some guppies, so if they end up getting ich (lfs had ich in one of their tanks) what should i do to make sure i don't hurt my new snails??
another question, should i be doing daily water changes since i got new fish and new snails??
thanks!!!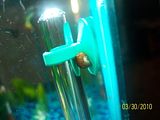 ---
Have a 30 gallon tank with:
Angel fish
Neon Tetras
Various Danios
An algae eater
Those look like mystery snails to me. They can only lay eggs above the water line so unless you keep your water level lowered or have some kind of open canopy I wouldn't worry about them breeding.

If the guppies do have ich, could you move the snails to the betta tank temporarily? You absolutely don't want to use copper-based medications for ich if you ever want to put the snails back in the tank as copper is quite toxic to inverts. The heat + salt method should work just fine for guppies, should ich rear its ugly head, but you wouldn't want the snails in the tank during this treatment.
---
4 8 15 16 23 42
Similar Threads
Thread
Thread Starter
Forum
Replies
Last Post
To snail or not to snail?

DustyBZoo

Beginner Freshwater Aquarium

3

11-16-2009

05:53 AM

Snail help

cerius

Invertebrates

11

12-31-2008

01:05 AM

pic of my snail!!!

cory dawg

Freshwater Journals

8

06-06-2007

09:25 AM
Posting Rules

You may not post new threads

You may not post replies

You may not post attachments

You may not edit your posts

---

HTML code is Off

---