My Electric Blue Crayfish - As It Grows
---
So a few months back I was given an electric blue crayfish as a surprise gift. It was...I dunno, inch and a half long when I got it. I need to get a belly photo, and will eventually, to see if it's male or female. I'm thinking female, but it's pretty aggressive...started out a real sweety, now it threatens me through the glass. It's a neat little creature!
So first off, some photos from the day I got it. Some are not the best, so I apologize. This was either day one or two, I can't recall, after it arrived. Real small, eh? :3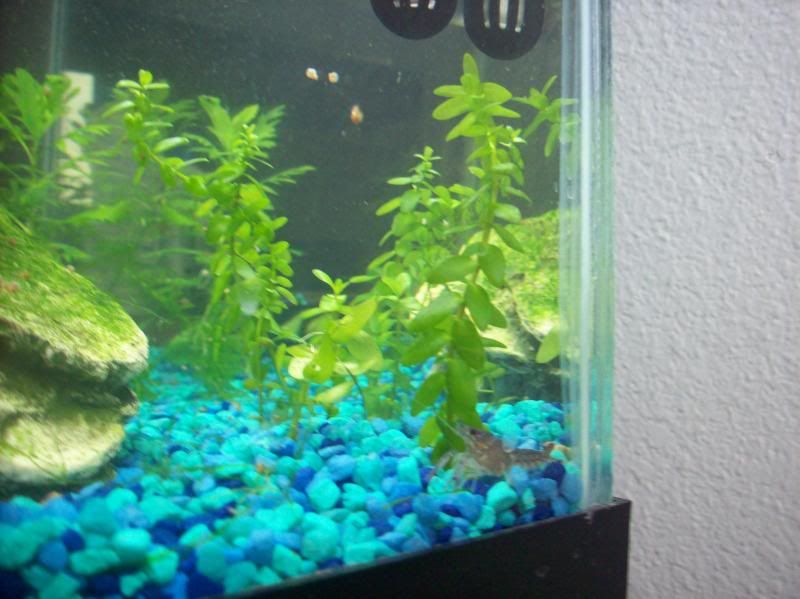 This is a couple weeks later. It had shed three times within two weeks. Wow. Ate most of my java moss and some snails, I was only feeding it every other day. Flakes, shrimp, bloodworms, fresh greens and the occasional bit of algae wafer it stole off the snails. S/he was temporarily in a different tank, and that light colored sand really brought out the colors. S/he was about three inches here. This tank is murky, yes. It was an algae bloom. Thankfully that's just about gone now after much work!
Back in his/her own tank again! Shed once more. Still roughly three and a half inches or so. Often has a snail on his back. lol You can't see the snail though.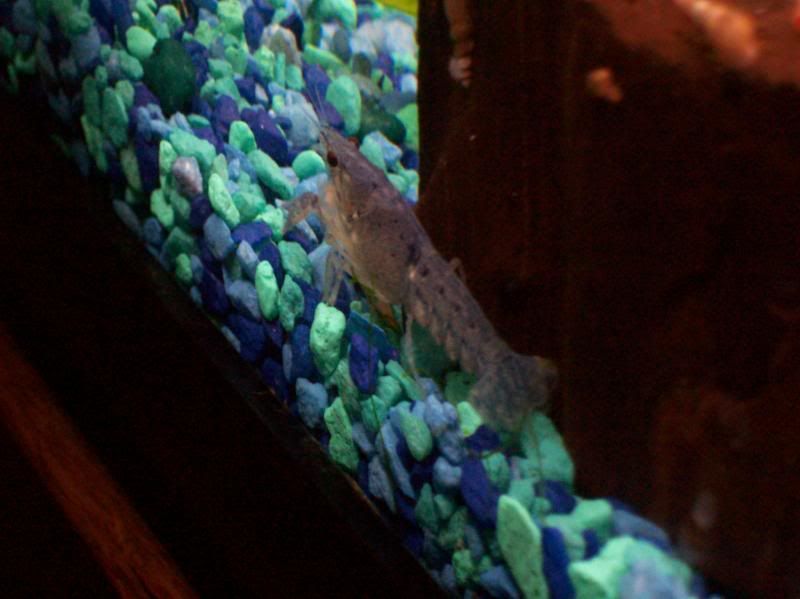 Here's a bottom view from a couple weeks ago. Was trying to get photos to see if anyone could tell me if it's male or female, but I was told they weren't good enough. lol S/he's roughly four inches now.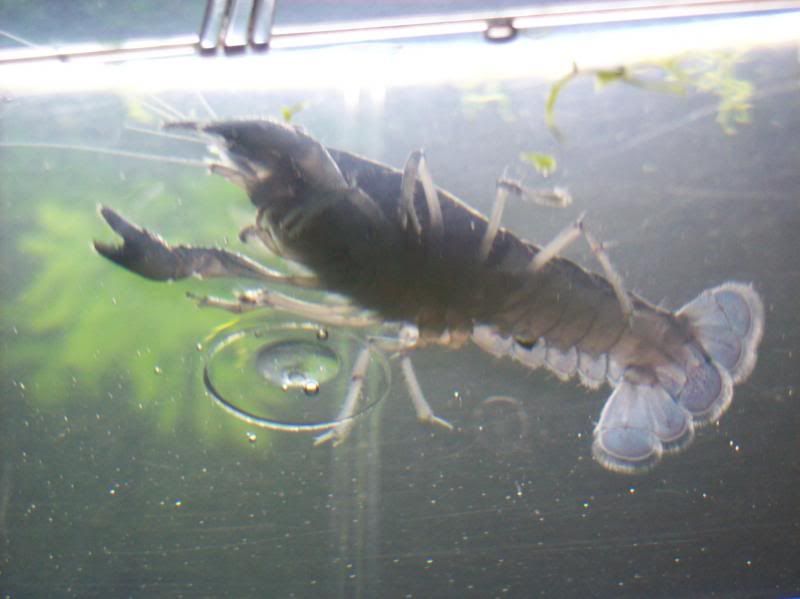 And this series of photos were taken a few days ago, about a week after its most recent shed. Just a bit over four inches. It doesn't shed as much as it did when I first got it, maybe once or twice a month now and not once or twice a week. lol S/he is after my finger!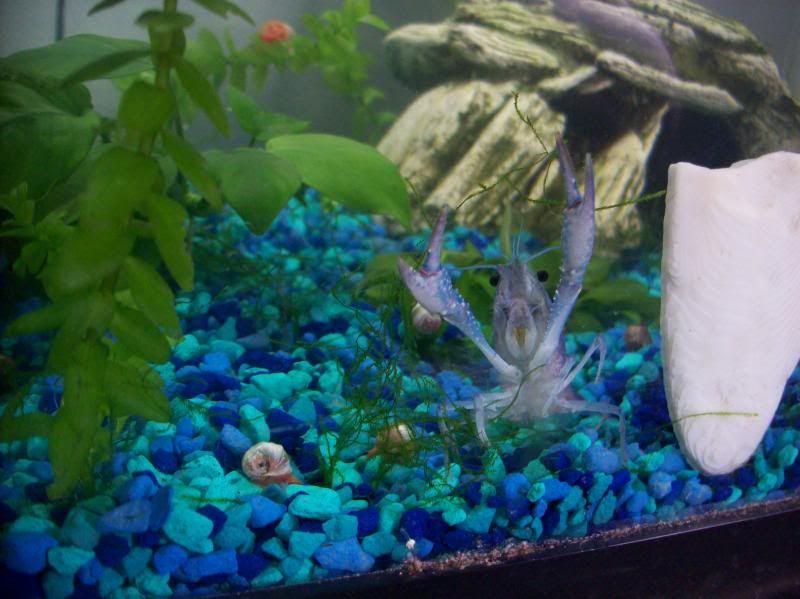 And here...there was an intruder, temporarily. Thought it may work out, but nope. Well actually I got a crayfish, MUCH smaller, for him/her to eat, but I got soft. x.x That reddish color appeared when the intruder was spotted and run off(tried to eat it lol), it's gone now. How cool is that? I didn't know they could do that! A blush, perhaps? LOL Or anger most like. You can see it's barely visible in the other photo, that was JUST after anger happened...S/he got brighter for a while then went back to normal.
See intruder...yeah, kept her for my crayfish project instead. Wasn't as small as I thought, but it is about half Baby Blue's size. lol
And this is a view of the whole tank from about a week ago. The orandas were temporaries, they already have new homes and the gourami is back where she is happy(the male I have beats on her, so she's been living in the twenty by herself where she seems most happy).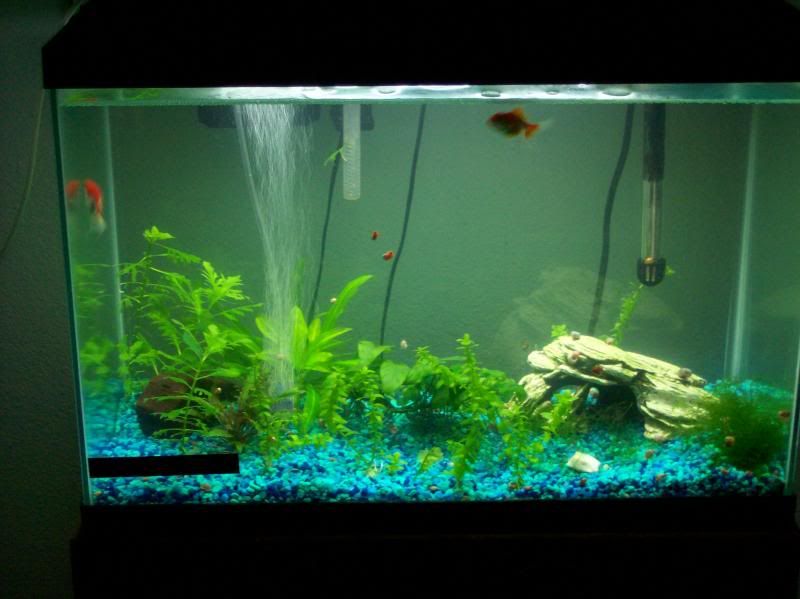 And there it is up until now! Baby Blue is much loved, usually has the tank to him/herself...aside from a female gold gourami. Used to get on with neon tetras but I found them room in another tank before the worst happened. So yeah, he shares it with the gourami, which I plan to keep since they get along perfectly and have for months...and hopefully stay that way. Also some ghost shrimp in there. Two that I know of, used to be six...
Funny, Baby Blue really hasn't done much damage to the tank, though the java moss has been downsized A LOT. Everything else he occasionally bumps out of the way, but hasn't trashed anything. We all had a thing going before...about how fast he'd destroy the tank. After several months, I rather think it's going to be fine. At least...so long as I keep java moss in there for him to eat, he leaves all else alone(aside from knocking things loose, which once he did walk through and rip every single stem plant out and release it without doing damage, it was funny he did that over going around them).
---


Turning on the Aquarium lamp in the morning is MY cup of coffee.
---
Last edited by Sylverclaws; 05-26-2014 at

04:17 AM

. Reason: Typos and added info...accidentally posted a photo twice
Ah, sorry. I accidentally uploaded two photos in the wrong place. I had checked to see if it messed up the links, but that decided not to show up until later.
So here are the two missing photos. =) First the...uh, blush he had going there. That's gone now, by the way. Anyone ever have theirs do that color change when miffed? And yeah, taking it out on my java moss. You know I had a ginormous clump of that stuff, dwindled down to about...a few puffs. LOL It's coming back in some spots, I have more growing in three other tanks and a pool. I hope to never run out, they love to eat it and make safe nests in it, especially after they shed they go make this odd tunnel thing and sit in there after dragging food back with them.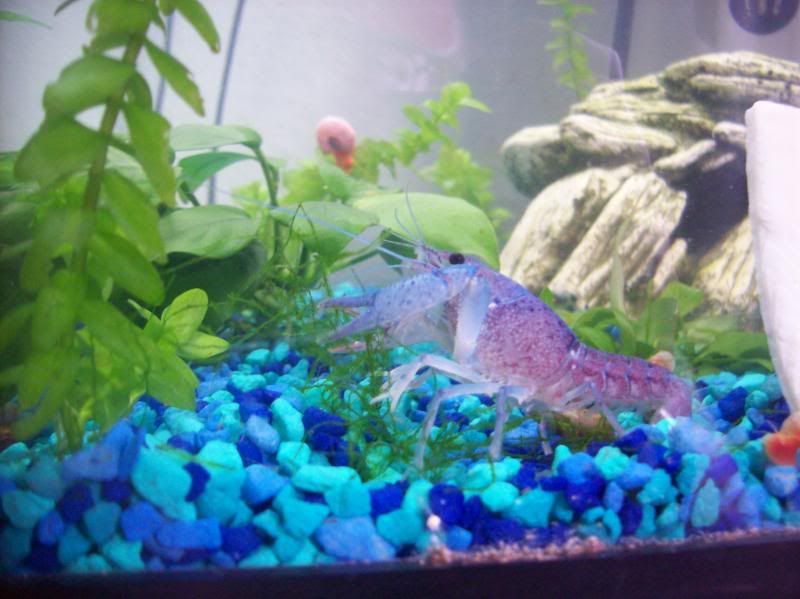 And Blue with "The intruder" who is in her own home and doing quite well. lol I have a soft spot for these guys and shrimp. :3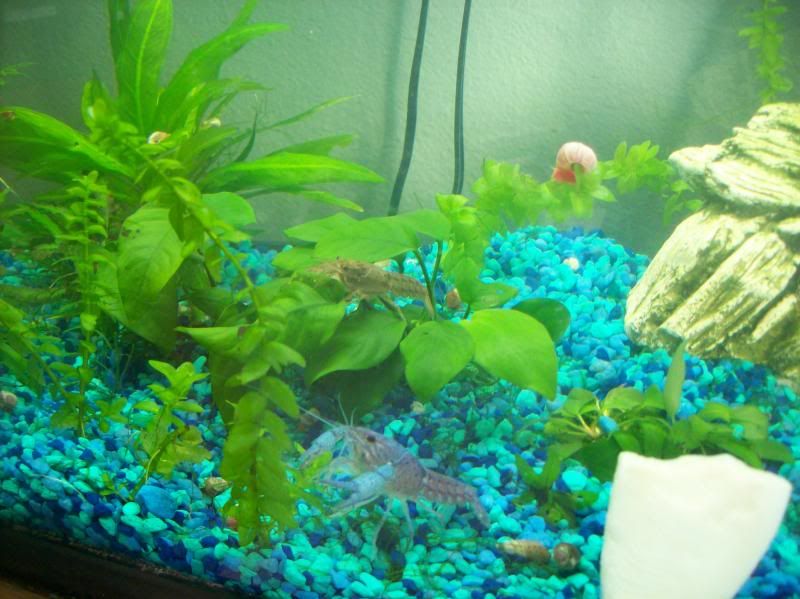 ---


Turning on the Aquarium lamp in the morning is MY cup of coffee.
---
Last edited by Sylverclaws; 05-28-2014 at

02:17 AM

.
Posting Rules

You may not post new threads

You may not post replies

You may not post attachments

You may not edit your posts

---

HTML code is Off

---