little snails appearing!
---
Hi - got life plants for tank a couple weeks ago, with a little tiny brown snail and a couple of white pointy shelled snails. not seen much of the white snails but noticing quite a few tiny baby brown snails so I'm guessing they reproduce by themselves and quite quickly. I read on someones post to put a bit of veg. in and lift them out when they gather. I'm guessing it's a bad idea to keep them in tank. but what do I do with them? do they need a heated tank? and how fast do the little guys reproduce does anyone know?

just when i thought all was going well :o)
Do the brown snails look like this: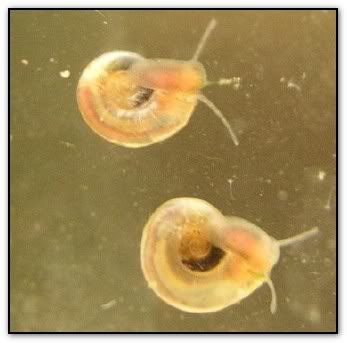 If so, then they're ramshorns and you'd be better to get as many out of the tank as possilbe. This can be done by picking them out as you see them and also weighing down some veg overnight and removing it with attached snails in the morning.
---
ʎɐqǝ uo pɹɐoqʎǝʞ ɐ ʎnq ı ǝɯıʇ ʇsɐן ǝɥʇ sı sıɥʇ
if they're common pond snails they can reproduce fairly rapidly

alot of snails are hermaphidites which means it only takes one!
hi sorry for not replying sooner didn't get email notification, probs cos sites changed its look.

They're pretty small still but i think they are like the ones in the pic.

I do live in England, near Newcastle and I really don't want to have to kill loads of little snails, I quite like the little guys :o( but i don't want my tank ruined after working so hard to get it right. But I'm guessing fish shops don't want them.

If they reproduce this quickly I really don't think I can get a tank big enough!

There should be a BIG section for beginners warning about getting snails when you get life plants (ur gonna tell me there is?) I can't believe I actually thought the little snail was cool and there only being the one didn't think there was a problem, looked out for him every day til i realised I wasn't seeing the same snail lol

It's a shame the fish/shrimp don't like them
hi
how about getting a small tank and get some dwarf puffer fish,
they would like the snails.
hi, unfortunately I can't get another tank yet have to wait, just have to get the little guys out and hopefully that'll be it done.

I've also got some cherry shrimp (3 which hide a lot) and 4 (can't spell this :o)) ponocio shrimp - I don't think that's their proper name they're the ones with the long noses. Do they reproduce quite easily cos I'm sure either they're shrinking (yeah I'm kidding) or they are having littlies?

Also I've got some bog wood which had green all other it which they've completely cleaned off! - in like no time at all. and they're working on my large plastic plant which had a covering of stuff (not sure what on) but I'm thinking maybe they're going to run out of stuff to eat soon? Do they eat left over food? should I get some food just for the shrimp and is there something you'd recommend?

thanks
shrimp i think will eat most left over foods,
not sure if anyone here feeds them special foods. ?
ok thanks - that's cool. The cherries are out and about now and they've grown so I don't think the fish will bother them anymore :o) and they'll be out more.
Posting Rules

You may not post new threads

You may not post replies

You may not post attachments

You may not edit your posts

---

HTML code is Off

---