Kuhli Loaches will make short work of any shelled underwater organism. You could invest in a pair if these snails begin to overwhelm your tank. They only grow up to 4" max and are quite interesting to watch when in pairs or more. They 'dance' with eachother, it's quite amusing. They're also very friendly to other tankmates.

However they are nocturnal, and will often disappear for months at a time (not completely, they will come out at night for food and to hang around). Many people have been cleaning their tanks and found themselves face to face with a fish thought to be lost long ago. They are very crafty and notoriously difficult to catch once in a tank. To observe Kuhlis, I'd recommend a 'moonlight' fluorescent tube, which should coax these loaches into coming out.

For you 7Gallon Betta tank, Kuhlis may not be an option. You could try a Dwarf Puffer, as they only need about 3 gallons to be happy and will effectively control your snail problem. Although there is the potential of conflict with the Betta since some, not all dwarves, are pretty aggressive.
Thanks Matt. I might consider the Kuhlies but I'll need to have a bit of a think about it. As it is, they look like worms - and that is terrifying! Silly I know but we all have our phobias.

I think I'd rather not get a puffer to go with my betta. If it got too much, I could always just remove some and put them into the tank with the Kuhlies and keep doing this periodically.

Thanks for the suggestions.

I don't know why but I really didn't think Kuhlies would eat snails!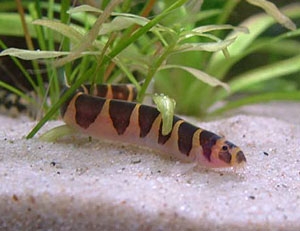 More like sea snakes than worms. It could help you get over your phobia, loving a 'worm'. :D
Good grief!
Quote:
More like sea snakes than worms.
Yes well, I'm pretty terrified of snakes as well, though not as bad as worms. At least snakes have a head, and face, worms have nothing! Something terribly sinsiter about the whole set up of a worms body! It terrifies me to the bone (if that is even an expression).
I feel really bad about this phobia. Worms are harmless creatures, and snakes are clearly not evil either. They have as much right to be on this earth as I do, but I just can't help being absolutely scared sneseless by them. I hoped I would grow out of it but TBH I have got worse as I have got older.
I have recently noticed another type of snail. There are 2 of them and again, they hitchiked. These are golden in colour, their shell has a definite spiral but not so much a point, and the shell is really flat. ATM it's bout the size of a pea, a little smaller actually. Any ideas? I'd take a picture, but I have no camera (next birthday present maybe :) )

Thanks.
That sounds like the typical mystery snail. Not as big of a neusance as the others and won't multiply as fast. Keep an eye on them, if they are mysteries they will grow quickly to the size of a marble and be easy to identify.
Thanks a lot F4A. There are 2, but both in different tanks. Can they breed on their own?

Also, will they grow bigger than a marble eventually?

Sorry for the questions, I just know virtually nothing about snails. Like I said, they hitchiked so they're here by accident but now that they're here, I want to know what they are so I can look after them.

Thanks a lot.
If they are mystery snaisl they are not assexual which means you need a male and a female. As for size, if they are Mysteries then they can reach the size of a golfball or a little larger. The ones I have are the size of large shooter marbles and are finally becoming more active.
Good grief! Well, they are small just now and in a 30g or 35g tank. As I said there is only one in each so they won't breed. Would they be OK to keep in these tanks then at full size? I realise that snails don't need the same room as fish for their size but like I said I'm pretty cluel;ess about snails. My knowledge only really covers fish.

Thanks a lot F4A.
Posting Rules

You may not post new threads

You may not post replies

You may not post attachments

You may not edit your posts

---

HTML code is Off

---