Shot shrimp....was meant to be ghost shrimp. I don't know how I did that. lol

Ah, I went to check on him last night and pop a little food in there, his shedding was -gone- can't see it anywhere, I think he dragged it into his hole and probably ate it since I see -none- of it anywhere. lol That was kinda neat.

Mmm, earthworms. Yeah I heard that one, but can you buy good ones somewhere, or do you catch them yourself? If you do, is there a way to make sure they're safe and wont bring nasties to your tank? Wild caught things freak me out. .-. Although I am seriously considering catching some minnows later this year once it warms up. QT them elsewhere first. I figure he'll likely eat some of those too, but kinda hoping not since they're neat little things, I think they're wild cloud minnows but I'm not sure. ^^;
---


Turning on the Aquarium lamp in the morning is MY cup of coffee.
I just bought trout worms (smallish earthworms) for other fish and would give the cray fish one or two a week as a snack.I also kept him with some of my swordtail culls to add some motion to the tank and there was never a problem
Alright, I'll see about that. He enjoys glassworms for now. Boy does he. And flakes, I popped one in for my neon tetra, who is temporary until I either get her buddies or a new home...and he came out and shoved them in his face, was funny.
Anywho, got some new photos, he decided he would not be shy last night, but went back to being skittish today. Kept poking at the glass near my face. lol This was an odd angle, but it came out kinda neat.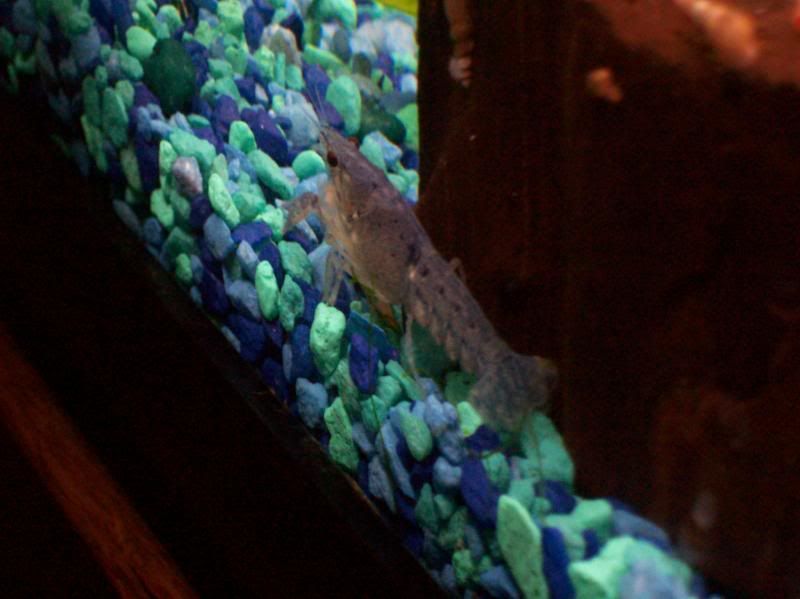 This was when he discovered the big face looking at him through the glass. He looks purple almost in the shade of the log, but he's almost the same color as my lighter blue gravel in the full light. You can see he's got plenty of snails to eat, and has been. Just not that big black one who came with him. It has a shell like a buckeye. o-o; I dunno what it is, if it's a type of pond snail, it's not like any I'm used to. It's got super extremely hard and smooth shell. No bumps, no twists, though Blue took a bit of his black off one spot.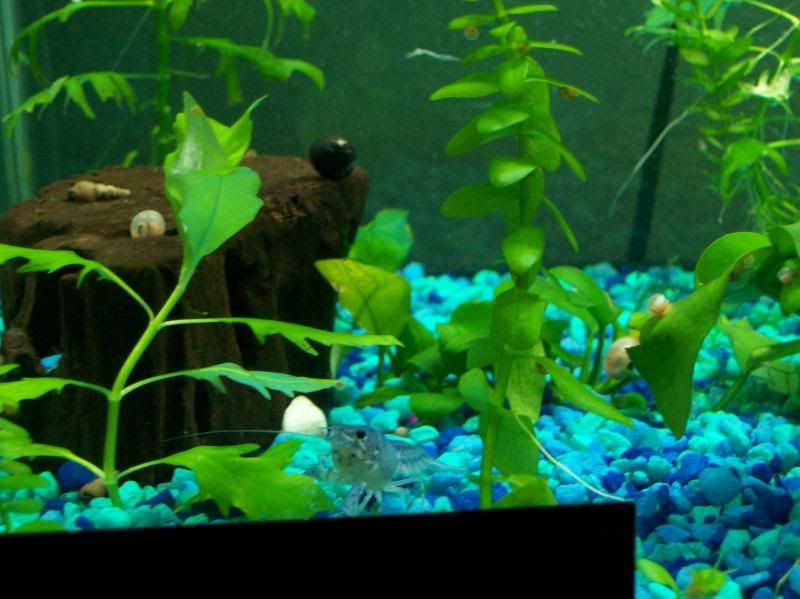 Oh yes, did I mention he redecorated? It was more of a demolition. He was walking around the back of the tank where I have the stem plants, when he got to one he'd yank it up, let it go, walk away. Did that to four of them in a row, it's like they were in his way and he's too grumpy to walk around them. It was so funny.
---


Turning on the Aquarium lamp in the morning is MY cup of coffee.
---
Last edited by Sylverclaws; 03-03-2014 at

06:26 PM

.
Haha! Mine storms around the tank.. Then gets mad at a plant in his way and demolishes it in a rage it seems . They're really very funny. I have a video I should dig up for you of mine sinking his floating plants and weaving it onto a piece of wood . I was really artistic . Lol
Sent from
Petguide.com App
---
Please do, I'd love to see it!

I'm tempted to kill that log and dig a bit of a hole half way through to make it a secure cave instead of a tunnel and then use the extra in my big tank with my pleco or something. lol
---


Turning on the Aquarium lamp in the morning is MY cup of coffee.
He shed again today, few minutes ago to be precise. That's two in a weeks time. .-.; Do I need to worry about over-molting?

He's visibly bigger this time around, he looks like he grew nearly an inch...I'm surprised he fit in that molt. lol He's really getting big muuuch faster than I thought. Perhaps he is over-eating...do they get fat? lol He sure looks buff if nothing else. He likes eating my snails I have living in there. I pop in a bit of brine shrimp or blanched cucumber or Kale here and there for him and for the snails. I popped a small chip off an algae wafer in there the night before for my snails, but he decided it was his. He literally brushed the snails off with a claw and then held it to him while he ate, and then he ran off with it and stuck it under the log, where he took it out this morning to nibble at before returning it. I sucked it out. >>; I didn't want it to get yucky.
---


Turning on the Aquarium lamp in the morning is MY cup of coffee.
over molting?never heard of that but you'll probably worry about it anyway(lol)Maybe he's an electric blue lobster yum
If he was, he'd be dead and not getting bigger in a pure freshwater tank. lol He's not THAT big, but he is growing very fast.
---


Turning on the Aquarium lamp in the morning is MY cup of coffee.
Electric Blue Crayfish help
---
Mine molted CONSTANTLY for about a yr. both of them. (Female died recently.. Old age or killed .. Don't know. I was out of town) . Female topped out at about 5inches(I wasn't about to pick her up and measure that psycho!) . Male still molts but not so frequently now that he's huge. REALLY big.. My kids like to call him a lobster and joke about eating him for dinner lol. Probably a hefty 6 inches
Can't see his size fully but you can see the claws are the length of my pinky but fatter . ( yes I'm crazy
lol . I've messed with him enough that he doesn't attack when approached right )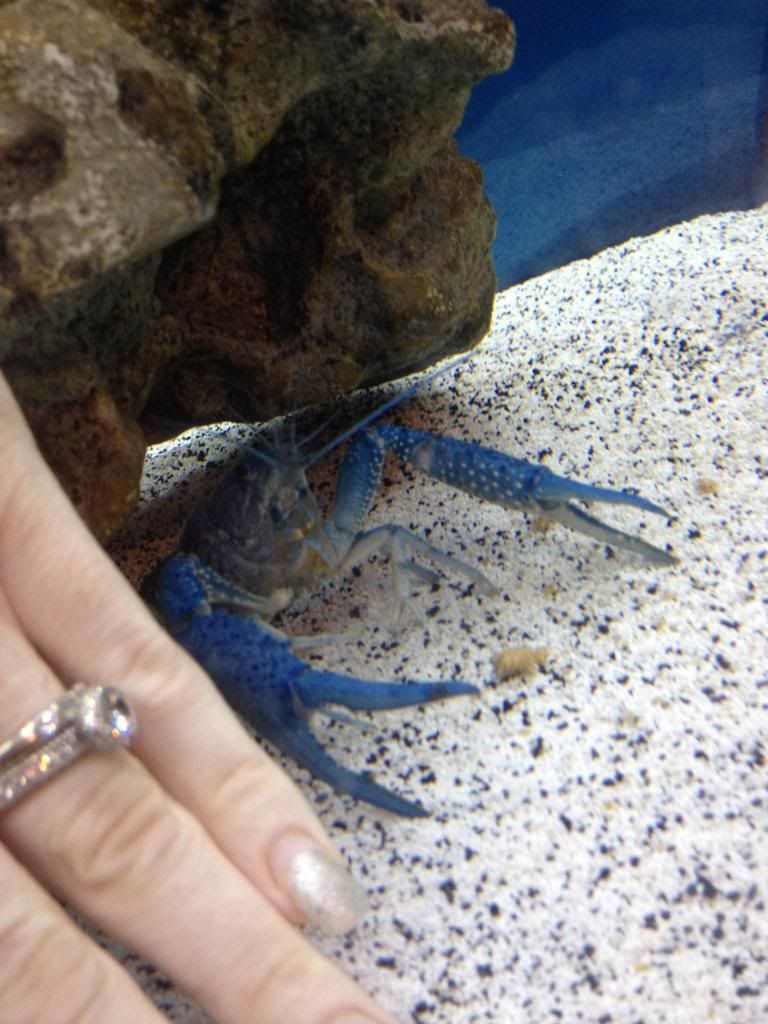 Sent from
Petguide.com App
---
---
Last edited by Agent13; 03-08-2014 at

09:57 AM

.
Ahh...I realized last night that I hadn't seen my crayfish in almost two days, scared me. I went looking around, couldn't see him in the plants(actually I think it's a her, I have to update my photos on my ask thread, but it looks like all the parts are at the center of the belly/area where the tails hits the body...), so I reached in and lifted the cave. I almost got sick, there on it's back was what looked to be my crayfish, dead...and then I saw a shadow skitter by in the back. There s/he was, safe and sound! And muuuch bigger. Boy when they shed, I swear it looks like they double in size. The skin was blue and not white, so it really freaked me out. Nice one too, looked like a dead crayfish. >< I think he dragged it in to eat it at home. lol Often he hangs out in the Java Forest(bunch of java moss)...first shed found there, second was behind the log. :3

Whew, so, alive and well, bigger(I don't believe it's shed since the last time I posted it did), and it went from a lighter blue to a very dark blue. That may go back after a bit I am assuming. .-.


I do have a question though: He has this little white bump on his head on one side. It's going away...but what do you think it is? Shell damage maybe? Calcium issues? He did eat a ghost shrimp and soon after it started fading...but then he did just shed and it's about gone.
---


Turning on the Aquarium lamp in the morning is MY cup of coffee.
Posting Rules

You may not post new threads

You may not post replies

You may not post attachments

You may not edit your posts

---

HTML code is Off

---