Well, Baby Blue arrived alive and vicious...cutely vicious. lol It was love at first pinch through the bag. lol He's about an inch and a half, maybe two inches, was active soon as I got him out of the very well insulated box. Got him acclimated, and he's done his zoom around the tank and now is in the cave and staying there. He peeks out every so often. :3 Came with hat I THINK is Willow Moss, not positive, may be java or some other moss, and a snail for food he didn't eat. He seems happy with the place and is FULL of attitude(I was pleased to find), as he should be. Or possibly she, but I saw little legs under the tail, though I didn't take a really good look, his water was murky and he was in one of those dull colored breather bag things.

Thank you so much for the help and info, all. :3 He seems happy, as happy as a grumpy crayfish can be, and I hope to keep him that way. He's just adorable.
---


Turning on the Aquarium lamp in the morning is MY cup of coffee.
Oh yay ! You have your little psycho already. The attitude is great.. I love mine . Mine is currently pacing the whole tank and flipping out because the power is out.. Perhaps it's time for another watersprite weaving project to keep him occupied.
Update with pics of yours once he's settled in and destroying plants
Sent from
Petguide.com App
---
Alright, got some photos. They're not the best though, sorry. He's small and getting close is hard without him bolting for the cave. He came out to say hello today though, investigated the whole area near his cave, ate a snail for breakfast, or I should say he was eating one when I turned the lights on this morning. lol He's a cute little thing. Yeah, blue gravel...it's what I had, but some day I may change it over to black sand. I got the top blocked off with some netting, still trying to figure out how I'll do the area around the filter, but I blocked off one side. How to do it without blocking the flow area and not stick it to the lid? I suppose I could, I'd have to re-do it when I clean the glass area though.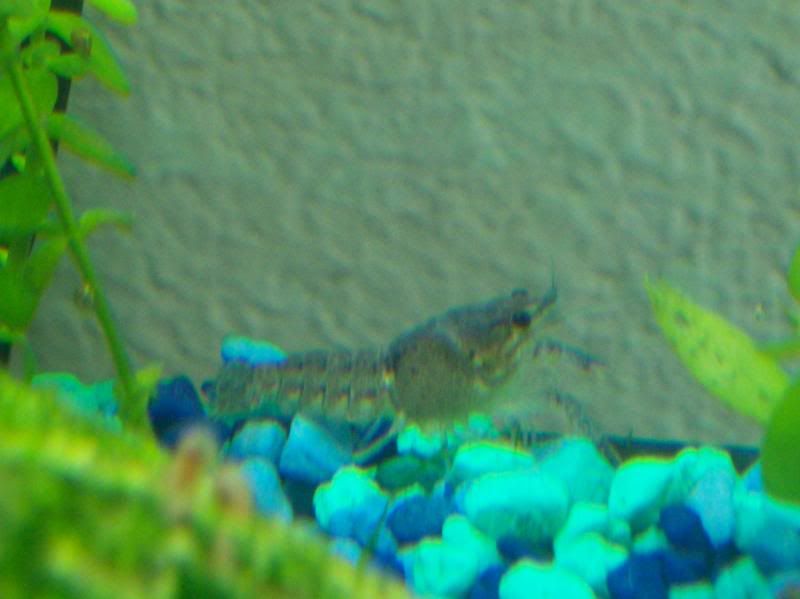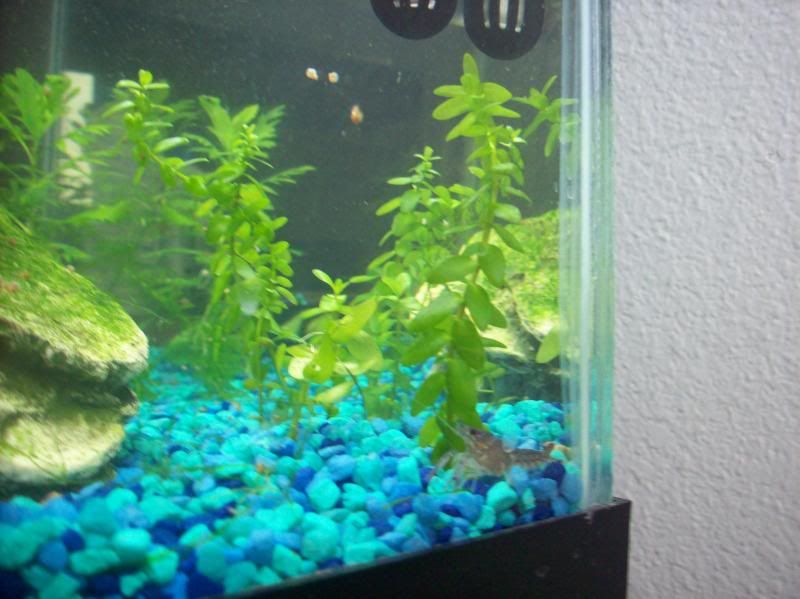 ---


Turning on the Aquarium lamp in the morning is MY cup of coffee.
Omg.. So tiny! Makes mine look like a giant. You can expect pretty constant growth from one so young .
Sent from
Petguide.com App
---
I found his first shed today. Woot. A shed in the first four days is pretty good, right? He's bigger already and brighter...well, darker. He's hiding out in his cave again. I thought I lost him the other day. Didn't know how, but I couldn't find him, then I saw a claw poke out of the java moss tangle. He seems to like it in there more than the cave most days. lol Scared me!

Anywho, he shed. I'm leaving it in there so he can eat it if he wants to...how long is too long to leave it in there if he doesn't eat it though? Will it rot and get gross after a few days and release toxins in the water?

I popped a little blanched kale in there for my snails, he had a few snips of it too. Are there other goodies I can put in for him and the snails for extra calcium and vitamin benefits that are good and wont fry their kidneys like spinach? Stuff that will help keep their shells and exoskeletons nice and healthy! And if so, how often should these things be fed?

Please don't recommend shot shrimp. >< It's nigh impossible to get healthy feeders here(I also adore them, but will if I can find a proper, healthy provider!), I do a lot of frozen foods like brine shrimp though, will that work?
---


Turning on the Aquarium lamp in the morning is MY cup of coffee.
Electric Blue Crayfish help
---
You can leave the shell in indefinitely. Might make a mess of it but it will eat all the pieces eventually. Will not rot or anything. When they are small like that the molts will be frequent - perhaps 2 a month. As it gets bigger they will get farther and farther apart until it's long enough for algae to grow on it. If you can't do ghost shrimp then I would just do shell on frozen raw cocktail shrimp. Little ones.
---
125 - BGK, chanchito cichlid, pictus cats, silver dollars, palmas bichir

125 - cichlids (severums, bolivian rams, chocolate), rainbows ( turquoise, red), loaches (angelicus, zebra, kuhli and horseface), plecos (BN, RL and clown), denison barbs, tiretrack eel, pearl gouramis, betta
90 - Congo tetras, african knife, upside down cats, spotted ctenopoma, kribensis, delhezzi bichir
2.5 - betta

---
Last edited by jaysee; 03-01-2014 at

10:11 PM

.
Posting Rules

You may not post new threads

You may not post replies

You may not post attachments

You may not edit your posts

---

HTML code is Off

---