Richard Bennett - Introduction
---
Hi there,

Iím new to the forum and to fish keeping. My name is Richard Bennett.
Iím an Englishman who lives in Manly, Australia.

I currently have a 10 US GAL / 38 Litre freshwater tank with one very small and beautiful Oranda.
Sheís about 4 months old and about 4.5 Ė 5cm in length.
I change the water weekly at the moment (every Sunday) and add appropriate measures of Stress Zyme and Stress Coat.
Between changes I also add the appropriate dosages of Stress Coat and Stress Zyme.

I Feed Mona once a day and give her 1-2 small Sera flakes and 3-4 Tetrafin Orangey coloured, ball shaped tiny pellets.
Then every 3-4 days I give her a pea which I break up into smaller pieces.

I have purchased a 153 Litre / 40 US GAL tank that I will get going as soon as I move out of my current (and tiny) flat which will be in about 8 weeks.

I have had a rocky road to the relatively stable conditions Iím currently experiencing being as Iíve lost 2 moorís and another Oranda while I learnt the hard way about new tanks and the nitrogen cycle as well as appropriate care. To this day Iím gutted Iíve lost the previous fish but I take this very seriously and plan to keep 2 Orandas (hence the new tank) for a long period of time.

Iím currently struggling with aquatic plants being as they are all developing black Algae stops and generally look crap and Mona currently has half a pea stuck in her mouth which Iím worried about but I just want her to hold out for the next 3 months while I can move into my new flat and spend a month setting up my new tank.

I look forward to communicating with you all

Rich
Welcome to the forums Richard!

Learning the hard way mean's you dont have to learn the lesson twice. Look forward to seeing your tanks, especially your new tank to be. Throw a thread up in the plant section if you haven't already. Be sure to add some photos so you can receive good help.

- Aqua Jon

p.s. I'm trying soo hard not to make a punny remark about manly, australia...
Hello Rich and welcome to the forum
---
Animal testing is a terrible idea; they get all nervous and give the wrong answers.
Hello, welcome to the forum. Looking forward to seeing your current and new tank.
---
Caught the bug in 1990, been in the hobby ever since.

Current tanks:
75 Gallon freshwater.
Hi all, thanks for the posts - i'm going to grab my girlfriends camera and put some pictures up in a bit so you can see it... there's a few before and after as i've now removed all the plant life from the tank in an effort to keep things clean until we move into the new tank.
Hello and welcome! Can't wait to see the pictures. I bet she is beautiful.
---
You will always be my best friend,
.
Hey Rich!
Glad to hear your adorable little oranda is getting a bigger home!
Goldies are special little (big!) guys.
---
taking a break from fish-keeping.
3 lovely male betta still keep me company.

Here it is finally - this is my set-up
---
This is my little tank with Mona the Oranda
Its a little bare as we've just removed the dying plants.
And this is a close-up of Mona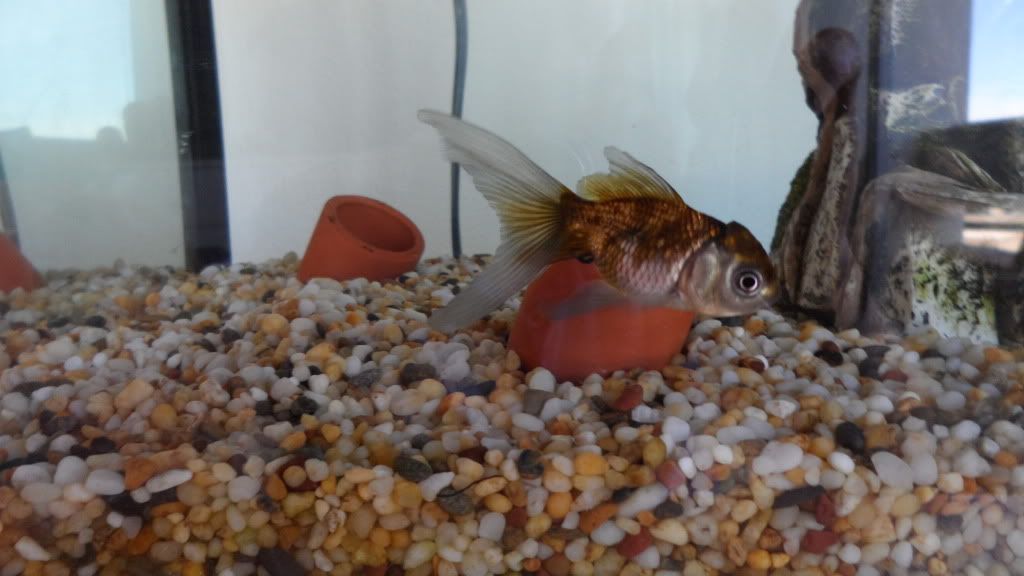 ---
Last edited by beano129; 08-04-2012 at

08:59 PM

.
Hi everyone,

Sadly Mona Fishy passed away yesterday.

She was loved and will be missed.

Thanks for everyone's help!

Rich
---
Thanks very much,

Rich Bennett

153 L / 40 US Gal Tank with:-
- 11 x Widow Tetras
- 2 x Clown Loachers
- 2 x Bottom Feeders
- 1 x Koi Angel

15 L / 4 US Gal Tank with:-
- 1 x Very Small Beta
Posting Rules

You may not post new threads

You may not post replies

You may not post attachments

You may not edit your posts

---

HTML code is Off

---