My intro..
---
I suppose I should do an intro thread seeing as I am new here... I currently live in the top of the rocky mountains of Colorado, and moved here from Florida. It has been a huge change! I live on a non profit animal rescue farm that my Mother in law runs, and help out with all the rescues. right now we have 8 horses, 4 goats, 4 alpacas, 1 pet steer and sevearl dogs, cats and other various indoor pets. some are for adoption, others are here to live out their old age in peace and were saved from slaughter.
I personally have 2 dogs, 1 owned cat and 2 foster cats, 2 guinea pigs and soon to be 2 tanks, a currently setup 10G planted tank with harlequin rasboras and a male betta, and my newest currently empty 29 gallon tank. I Live here with my husband and 2 kids.
I got into hobby fishkeeping about 12 years ago and have been hooked ever since, it has def been a trial and error learning experience and i am always trying to learn more. In Florida i had some amazing tanks but the move would have been to long to bring them along, so i had to make the hard decision to part with them, I had a 55g rainbow community, a 25g tall with a Jack Dempsey named Beefcakes (husbands fish), a 10G with German Blue rams, and 5 individual 1 gallon betta tanks. It was a lot of work, but i loved it!
I think that's about it for now! here is some pics of my backyard (so to speak) and some of the resident rescues.
Behind my house...
Hello and welcome to TFK
Most definitly a beautiful view you have. With all the rescues I am sure you all are kept very busy.
few more pics...
my dogs.. Jengo fett the doxie/beagle/viszla mix and Rippy the basset hound/german shepherd/mastiff mix
my very fat cat Ryu..
and my 10g tank... looking rather sad at the moment, i need to clean off the glass!
Hi Sabledog - welcome to TFK
Your pics. are gorgeous. It must be nice to wake up to those views every day. And having all of those animals around must be great too.
I had to share this youtube link with you. It's the first thing that popped into my head when I saw Ryu. This just makes me laugh every time I see it.
---
Animal testing is a terrible idea; they get all nervous and give the wrong answers.
hello and welcome.
the views are something i dream of !
and how good on you to help theses animals,your pets are super cute too.
---
when you set up a new tank,hide an extra
sponge or two behind some decor,that way you have
something seeded for you next filter.
It is def a lot of work helping a rescue, but very rewarding. Me and my kids feed all the outside animals at night, and then i help with grooming and a lot of farm work. Most of the horses are not Ridable, we have 2 with founder (very bad feet) 1 that is far to old to ride, he is almost 40 years old, and a baby and momma who are quite a handful, they were rescued from people who bred too many and decided they no longer wanted them (momma was still prego when we got her) same with the alpacas they were leftovers from a breeder.

Before we moved here to help, we fostered dogs for a privately run dog rescue, I love getting updates from their new owners, I still keep in touch with several of them even though it was over 3 years ago! very very rewarding!
Hi Sabledog....
---
Welcome to the forum! WOW!!! That is some backyard lol, I just love your cat and dogs! I used to have a cat that would sit/sleep just like Ryu....so adorable!!! Great pics...Thanks for sharing!
That would be my dream job, as you say...it would be so rewarding, but I can imagine there would be a lot of sadness at times too.
@ Romad....
at the Kitty dance!!!!
figure i will post a few pics of my previous tanks I had in Florida.. I really miss my 55 gallon, i had that same tank for 8 years and it never gave me a single problem!
Beefcakes, met his demise by my cat, he made it all the way from Florida to denver in a 10g tank with an air pump, only to die in the hotel room 2 hours from our destination, we brought him in because it was too cold to leave him in the car.. RIP beefcakes!
this was his 25 gallon tall tank..
my home bred baby rainbows, they turned out amazing as adults.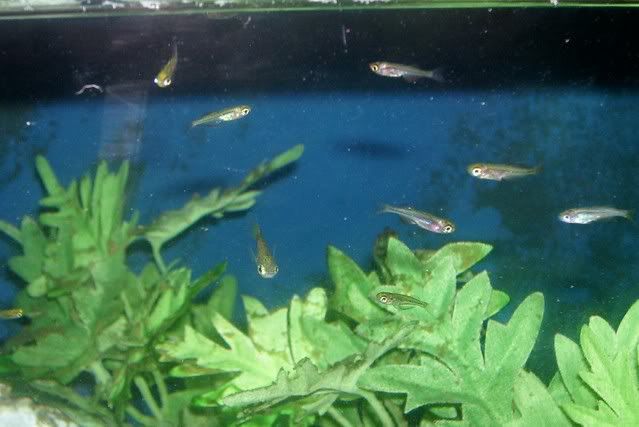 one of my turqouise rainbows..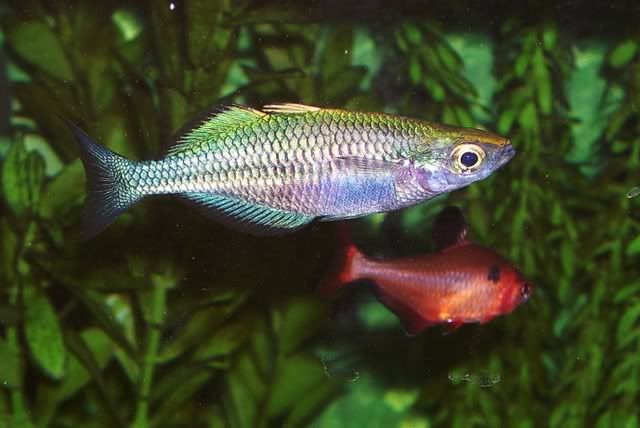 one of my aussie rainbows..
and a bad pic of my 55g before i had to part with it..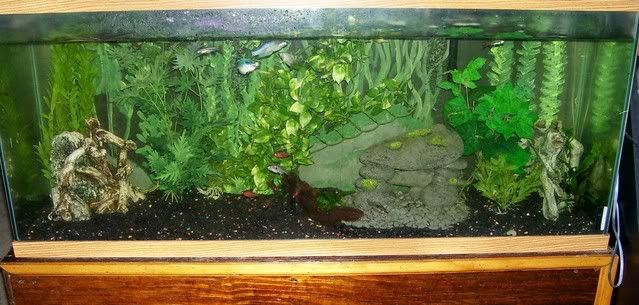 Welcome to Tropical Fish Keeping forum. Nice to have you join us.

Byron.
---
Byron Hosking, BMus, MA
Vancouver, BC, Canada

The aquarist is one who must learn the ways of the biologist, the chemist, and the veterinarian. [unknown source]

Something we all need to remember: The fish you've acquired was quite happy not being owned by you, minding its own business. If you're going to take it under your wing then you're responsible for it. Every aspect of its life is under your control, from water quality and temperature to swimming space. [Nathan Hill in PFK]
I'm sorry to hear about Beefcakes, but this reminded me of when I moved from Iowa to South Carolina. We moved in the middle of August, so it was as hot as you can imagine, and I owned a pet hamster. We had to make a lot of stops because we also had a baby making the trip, so it took us like 3-4 days to make the trip as a whole, and I took that hamster everywhere I could. I also couldn't bring it into restaurant so I had to hide the hamster outside in the shade. We managed to get the hamster all the way to the new apartment, but I was so excited to see my new home, and that my brother and his kids had come for a visit.. I totally forgot about the poor hamster, only for about 5 minutes, but it was enough for the poor thing to cook. I felt so, so terrible.. But I was young, so I just have to laugh now.. Poor thing.
Similar Threads
Thread
Thread Starter
Forum
Replies
Last Post
Intro

coldplaying

Introduce Yourself

6

06-07-2009

06:15 AM
Posting Rules

You may not post new threads

You may not post replies

You may not post attachments

You may not edit your posts

---

HTML code is Off

---