yes Laki the paddy field is getting a popular idea online for beta aquariums tho im not finding a gd ansa for how high the rice grows .maybe ill nip and buy him a zen garden tank for the time been as ur all sure its goin to end in disaster keeping him in with the female's
Welcome to the forum!
Always nice to have another betta lover around. You should check out the Betta subforum.
Betta are different than other gourami in that they have actually been bred to be more aggressive (they're not called fighting fish for nothing). The wild
Betta
species can be kept in male/female groups as they aren't nearly as aggressive as our domesticated
B. splendens
; another betta keeper here has lots of wild
Betta spp
. LittleBettaFish is her user name; she has some gorgeous tanks and fish. It sounds like wild
Betta
are more up your alley than the domesticated ones.
All might be peaceful right now, but don't be surprised if you wake up to a surprise spawn or a dead fish. We're not 100% convinced that it will end in disaster, but most of us are worried for your fishes' safety.
Ok thanx il take a look at her home page and chat a little maybe the wild beta is a better option for the large tank, as im sure i do wont to make a 300-600lt tank of beta's .
here is my set up now tho the day light photo's show less plants than there realy is but u get the idea (
micro beta tank Siamese Fighting Fish - 27 gallon Freshwater fish tank
)
This was a blue halfmoon and after a few hours with my female, i found him on top of an Indian Almond Leaf looking like this: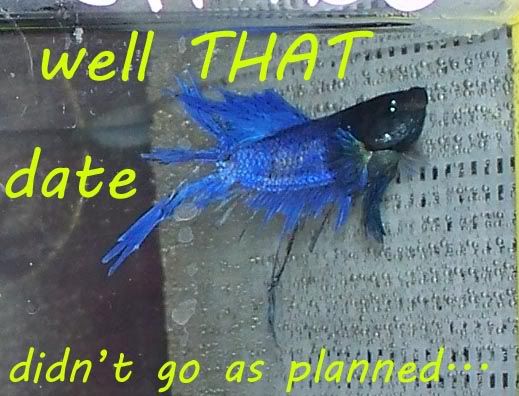 I was trying to breed him but gave up after that. His fins and scales grew back in a few weeks though.
---
I'm glad he recovered. He was one of the lucky ones.
---
You will always be my best friend,
.
AWCH poor fella .. ok ill keep a close eye on them .. glad to hear he pulled threw and recovered my male betta splendens has fantastic fin's when he shows them im low on photo's atmo the day time 1s have to much reflection's on and the light's poor of a night time
best pick iv got is him eating its my profile pic (
micro beta tank Siamese Fighting Fish - 27 gallon Freshwater fish tank
)
He is a very pretty boy. I think veiltails are undervalued. My first was a blue veiltail; they will always have a special place in my heart.
Betta communities CAN be done but ONLY by experienced betta keepers with very large (20gal or ore) tanks that are very heavily planted and usually with siblings who have grown out together. It is not recommended for most setups. Trust me on this.
Posting Rules

You may not post new threads

You may not post replies

You may not post attachments

You may not edit your posts

---

HTML code is Off

---