Hello from CT.
---
Hi I'm Brian, Are there any others close to Danbury CT.? I started out 5 years ago with a 36 gal. mixed reef tank.I added the live sand, live rock, a few corals and 4 fish, after 6 months, my tank shrunk. I looked at the space where the tank was and realized that I had a max. of 4 feet to utilize, so I bought a 55 gal. and sold the 36 gal. tank, at a loss of course. I then added the live rock and corals and fish and sand. Obviously, I needed more $and, rock, corals and fish. After the additions I was finally happy, it was perfect, UNTIL I tried to clean the front glass and realized that I couldn't squeeze my hand into the 4 inch space that was there between the rock and the glass. I lived with it for a year and then, keeping with my 4 foot max. size tank, I upgraded to a 75 gal. I could have fit a 90 gal. but after selling my 55, at a loss of course, I kept my same 390 watts of PC lighting. I swapped out the 130 watt PC section of my light for a 108 watt T-5.This tank has been going strong for 3 years now and I can FINALLY say, I'm done and I love it. Here's a pic. I like to trade corals so any locals, give me a shout.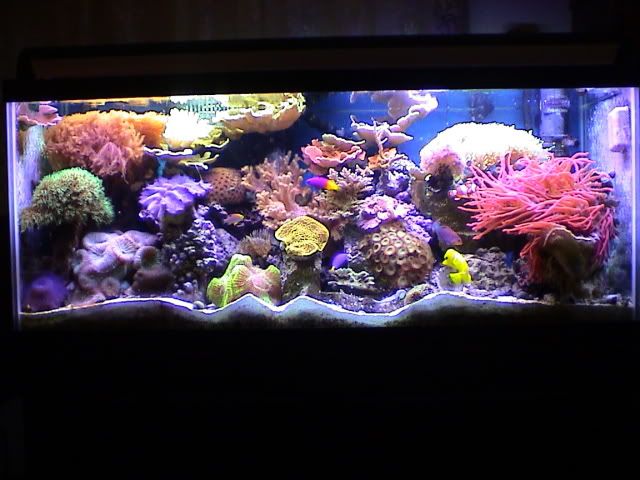 Wow, that is one very colorful vibrant looking tank. Nice job.
Welcome to our forum!
---
If you don't stand up for something you'll fall for anything...
hello and welcome. :)
gosh,your tank is stunning.
---
when you set up a new tank,hide an extra
sponge or two behind some decor,that way you have
something seeded for you next filter.
---
Thanks people. I showed you mine, now how about a pic. of yours. I love this hobby although sometimes I can,t believe what I get away with. You guys might know what I mean. Like last week, after going weeks without testing my water, I finally break down and do it only to find that my PH dropped to 7.6. After a moment of panic and then a quick check of my water pets I realized all was well and fixed it. Then of course, I beat myself up a bit for being lazy and swear that I'll test at least weekly, and I will, for a while lol. Happy reefing guys. If you have time, don't forget the pics.
I do have one question, Why do the threads run from last to first???
---
Last edited by briang; 11-24-2008 at

06:56 AM

.
Hi, welcome to the board, and that's a beautiful tank you have!! I am about a half hour away from Danbury, although to protect my privacy I won't say exactly where I am. I have three fish tanks; a 29g, a 14g, and a 10g. None are as pretty as yours, though. And I don't know the first thing about corals, but they are sure beautiful. I just have your basic community aquariums.
Maybe it was just my comp. but it was showing the last post first and I had to scroll to the end of every thread to read the first one. Well since my post, it is now fixed, I don't know how but if someone did something to fix it , thanks, Brian
Beautiful tank, and welcome to the forum!

It's probably a good thing that you went with the 75g rather than the 90g. A 90g is exactly the same size as a 75g but is a taller tank. The problem there is that you won't get as good light penetration and your corals will suffer.
---
4 8 15 16 23 42
Posting Rules

You may not post new threads

You may not post replies

You may not post attachments

You may not edit your posts

---

HTML code is Off

---