What to do with fish?
---
I have a lonely fish that came from a pond. I believe it is a some type of minnow, but I don't know anything about pond fish. I'll post a picture.
For now it is sitting in a little container of water. Does it need a filter and air circulation? Could I temporarily place it in a tank with just a few tetras until I can do something with it? Should I find some more fish like it so it may school? (If so, would I need the same type of minnow, since I don't know what kind it is?)
Should I maybe just find a pond and release it back into the wild?
I can get my hands on other minnows from around here easily enough if I need to. But I'll release him if I must, too.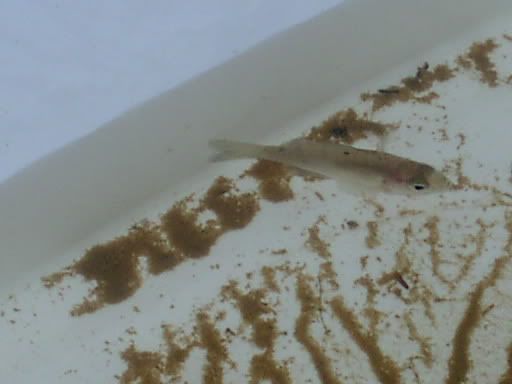 A tetra tank is probably quite a bit warmer than the fish's natural environment. If you want to keep it you should figure out the parameters of the water it came from, then replicate those levels. I.e., pH, hardness, temperature, alkalinity, current, salinity, etc. That will take a while to set up, so it's probably best to put it back where it came from until you can get that tank running.
well im pretty sure you legally need some type of liscense to cath those guys. and yes he will need some type of water circulation/aggitation so that the gas excahnge can occur. if i were you i would honestly throw him back.
I found out today that someone I know got some little guys like this over the weekend and she is keeping them in a large filtered tank with no heater. She had these guys before and can be trusted with them, although she still hasn't told me what they are. I asked her if she would take this little guy because she still has a lot of room in her large tank for a few more. She agreed. This works for me because she has a good place for him to be and I can still visit him and see how he's doing. 8)
Posting Rules

You may not post new threads

You may not post replies

You may not post attachments

You may not edit your posts

---

HTML code is Off

---