Well IT happened..
---
Thinking I have it figured out.. Here is the story.. Last week I noticed on of my cichlids not acting right. Was lethargic, breathing heavy, being picked on by my other cichlids so I did a 20% water change. No change, should have tested my water but didn't. Next day did a larger 40% water change.. Over the next 36hrs all my cichlids died.. My 2 upside down cats and pleco are fine and acting normal. I finally tested my water. Nitrate spike. Even after a couple more water changes my nitrates are still at 40ppm. Ammonia and Nitrites are at 0.
After talking to a LFS guy I trust and he said it was the type of food I switched to.. That's the only recent change to my tank. Plus the food brand is not good to use. So I will no longer be using that type of food.
Got tank cleaned up, cats and pleco are doing good. I did buy a couple of plants and plan on getting more in a couple of weeks. Then I am going to go a different way with my fish. Not getting cichlids this time. I also got more Prime since I was out and dosed my tank this evening. Going to test water again tomorrow.
---
Sorry to hear about your fish losses :(

Curious as to what type of food would actually kill off fish?? Did they die of malnutrition?
Good luck with your new fish.
---
Animal testing is a terrible idea; they get all nervous and give the wrong answers.
It's not always easy diagnosing what kills fish. Some fish can take greater % of water changes than others. Stressed fish might be able to take a greater change, if they hadn't been stressed. Fish food correlates but may or may not not be the cause. It might have been a catalyst, however, that pushed things in a fatal direction. I'd also be curious as to what food was being used.
---
Matthew 22:37-39
37 Jesus replied: "'Love the Lord your God with all your heart and with all your soul and with all your mind.'[a] 38 This is the first and greatest commandment. 39 And the second is like it: 'Love your neighbor as yourself.'[b]
http://s106.photobucket.com/user/str...?sort=3&page=1
They were not malnutritioned. They always ate and were getting big. And I will not be using Omega One food anymore. The LFS owner that I talked to has had many issues with this food. Said it used to be the best but they have gone down in quality and others have reported the same problem to him with same results.
My fish didn't act any different then normal until the ammonia spike. Like I said it happened rather fast.
---
Did another 20% wc today. added prime. Will run another water test tomorrow night to see if nitrates are down to a more favorable level. We are still at 40ppm before I did todays wc. I now have a total of 4 plants, less rock. I will be getting another HOB filter soon. I am currently running a Penguin 350 with only the 3 fish still in the tank.
Pre WC test were: ammonia-0, Nitrites -0, Nitrate-40ppm. Any suggestions? Also just thought about it, I did change out my filter catridges, well I put on new fiber. I also have charcoal behind the fiber. I have not touched the bio wheels though. Never have had a problem doing this before. This is a 50gal tank, 78-80 F. Here is a pic as it sits now.. so empty looking..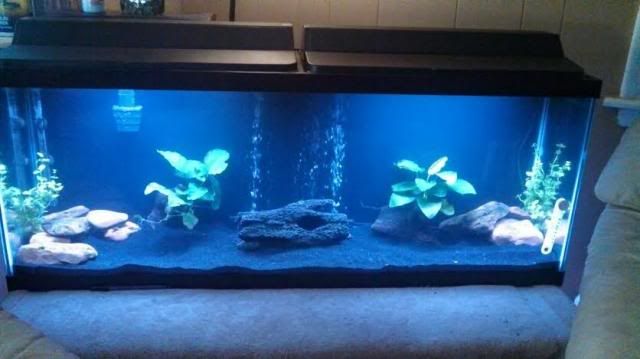 ---
Sorry about the losses..... Out of all the fish I've had over the years, I found my cichlids to be the hardiest and death usually caused by fighting. I don't think I even had one just die due to water quality and there were times where I left the tank unattended with a auto feeder for weeks and months due to working out of town. I'd always expect to come home to dead fish but that was never the case.
Sounds like ammonia swing to me. If you don't change water regularly that might be what happened. When you let a tank go for a long time without water changes, ph drops and ammonia is converted to ammionium. Ammonium is a non-toxic form of ammonia. Then you add water and the ph rises changing the ammonium backto the more toxic ammonia. Fish die suddenly and in numbers . Regular water changes keep ph high and stable so there are no swings in water quality.
I'm a little confused by your test numbers though- nitrate poisoning is usualy slow and water changes usualy quickly lower the levels.

This might not apply to you so...
Good luck!
---
"Be the change you want to see in the world."

---
Last edited by rsskylight04; 02-10-2014 at

03:52 PM

.
Posting Rules

You may not post new threads

You may not post replies

You may not post attachments

You may not edit your posts

---

HTML code is Off

---