The problem is not the plants - it's the fact that its a 10 gallon tank. There's not much you can do with the small tanks. Real or fake plants, does not matter - fish just want some cover.
---
125 - BGK, chanchito cichlid, pictus cats, silver dollars, palmas bichir

125 - cichlids (severums, bolivian rams, chocolate), rainbows ( turquoise, red), loaches (angelicus, zebra, kuhli and horseface), plecos (BN, RL and clown), denison barbs, tiretrack eel, pearl gouramis, betta
90 - Congo tetras, african knife, upside down cats, spotted ctenopoma, kribensis, delhezzi bichir
2.5 - betta

Quote:
Danios it is. :)
Though now I have to think about what to put in the 10 gallon with my marbled crayfish. I was thinking some type of tetra or barb, the problem I keep running into is that most fish I research prefer planted tanks. I cannot have plants with her because she will eat/destroy live plants and possibly escape with fake ones.
Here is what the 10 gallon looks like (though now there is a tiny fake plant on the front right):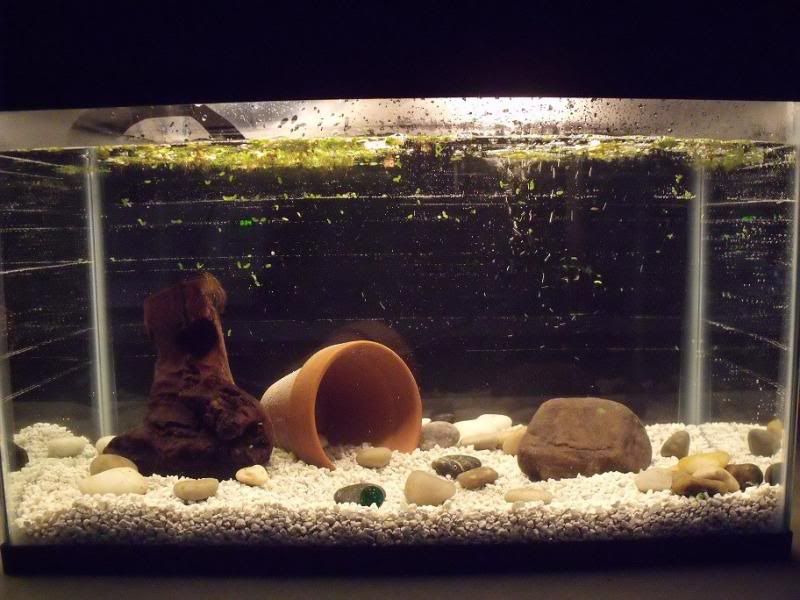 Honestly.. I would just give the crayfish some plants to play with and skip the fish. My blue male cray loves interior decorating. And the female gets bored without something to destroy. Banana plants.. anubias and Java fern tied to a rock or some wood, and water sprite have all been pretty entertaining for my crays. (but watersprite gets messy when they are feeling extra destructive). Then throw in a bunch of cheap ghost shrimp. Your marbled cray will hunt them but thats the only thing you can fit in the tank that size.
Well I got 6 Pristella tetras for the 29g and I got 10 WCMM for the 10g (I know 10 seems like a lot, but they were in the feeder tank and my lfs would not allow me to get less than 10 at a time).
I hope I chose right. :)
---
Weatherby - Delta Tail

WCMM don't put out much bioload because of their size. Keep an eye on your ammonia levels for the first week though, since often adding 10 fish at once can cause more ammonia than the biological bacteria can keep up with. If you get an ammonia reading over 0.25ppm, just do a small water change.
Posting Rules

You may not post new threads

You may not post replies

You may not post attachments

You may not edit your posts

---

HTML code is Off

---