man those things are weird looking......i like them better when they are small lol!
Definitely get that Pleco into a bigger tank and for god's sakes, buy more female guppies. You
have to have a better ratio to satiate the males and prevent a problem in the future.
ok, ok, i am currently cycling a second 29gallon tank which will strictly be for my guppies. i have added some more females. i now have 8 females and 3 males. they seem to be getting along quite nicely. before the addition of the new females one of the former ones was getting a nasty beating from the males but she seems to be making a speedy recovery in a separate tank.

Now that i am going to have 2 tanks up and running, i have decided to stock some cheap, flashier fish in the original. i already have a few tetras; 2 neons and 2 red eyes, all of whome seem quite settled. any suggestions for stock in this tank would be great.

i also still have my pleco in there but i have back up accomidations for him when he gets too big. You are all very helpful.
Quote:
Originally Posted by okiemavis
The first result for "pleco" in google images: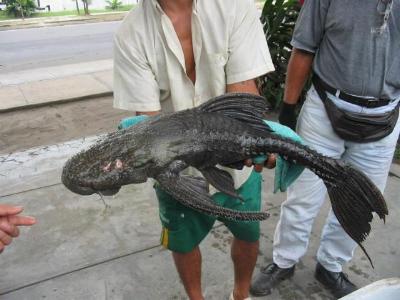 Okiemavis, that pleco is not a common pleco but
Acanthicus adonis
which grows at 3 feet and is one of the most aggressive loricariids. No other loricariids apparently can survive their wrath regardless of the tank size.
---
Sent from my desktop or phone or whatever else I am holding on to

I'm ready for the pressure.
The drama and the pleasure!

If there is one thing I want to see here, it's HUMOR.

I believe I can fly!
I believe I can touch the sky!
I think about it every night and day!
I stand in awe of my body.

Hehe, yeah, I didn't actually think it was a common. Mostly just pointing out what you DON'T want in your tank.
i think you should get more neons in the original tank and add a few larger fish (not so large that they will eat the neons though
)
ya for heavens sake give the little guys a nice school.....and then after youget rid of your pleco you coulod to 4 or so otto cats for bottom dwellers and maybe a gourami
---
\/\/\/\/\/\/\/\/O---/\/\/\/\/\/\/\/\/\/\/\/\/\/\__
/\/\/\/\/\/\/\/\____D_______________D_____\ Alligator with half of tail missing :D
once the pleco is out you could also get some kuhlis for the bottom. i like the idea of a gourami too. also some cherry barbs would be nice.
Posting Rules

You may not post new threads

You may not post replies

You may not post attachments

You may not edit your posts

---

HTML code is Off

---