need help with moving
---
we are moving about 10 miles away i have a 55 gallon tank with a pleco, oscar, rainbow shark and blue zebra chichlid.what would be the easiest way forr me to move them and not kill them in the process?
Get a container, box or something big enough to comfortably hold each fish separately...fill the box with tank water and then put the fish in, covering it (this will help reduce the stress caused to the fish).
Remove as much as you can from the tank...decorations etc, keep the substrate in tank water in a separate container...the filter and decorations is where all the beneficial bacteria are..you want to keep them moist. Remove the fish before removing the substrate.

10 miles is well within a range that the bacteria will survive with no ill effects. Move the tank and get it setup again in the new position as quick as your move will allow. This will help reduce the stress on the fish...take into account how much water you have roughly in each container...you will want to refill the tank with the substrate in and decorations set before adding the fish back in.

Refill the tank and treat with dechlorinator as you get it up and running again. Set the temperature and allow the tank to get to your "working temperature" before adding the fish. If you can move the tank in the morning, this will allow ample time to get to temperature.

I would recommend not feeding the fish for 24 hours before and after the move, they will be fine...keep the lights off in the tank as well, this will keep them calm.

Best of luck and I will add anything else if I have missed off recommendations.
---
10g Fry / Hospital / QT tank (as needed)

75g Saltwater Reef, Ocellaris Clownfish, Lyretail Antias (baby), Lemon damsel, Longtail Fairy Wrasse, purple dottyback, snails, crabs and a few LPS corals.

220g Still sitting empty (come on Lottery I need the numbers to come up!)
---
Last edited by Tazman; 02-10-2012 at

11:21 PM

.
ok one other question then, what about keeping the individual "tanks" warm enough and with enough air in them while i am waiting on their main take to become ready for them to put back in.
Lots of good advice from Tazman! Just to add a couple of things...

I want to emphasize the parts from Tazman about keeping the fish in the dark, and not feeding. Both VERY helpful things! I would even say not to feed them for 2 days beforehand, because you have some fish that produce a lot of ammonia, real "poop machines".

5 or 10 gallon buckets with lids would be ideal for you, I think you can find them at big chain hardware stores. The lids are also helpful for keeping the inhabitants in the dark, which will help lower stress, as Tazman mentioned.

You can get an adapter for you car's lighter to run an air pump to multiple air stones or, better, sponge filters. If you use the buckets, you could drill a small hole in the top for the air line. But honestly, for 10 miles in the car, I wouldn't worry about it. You could, however, run stones or sponges in the buckets while the tank is being disassembled at the old house, and during re-assembly at the new house.

I don't know that it would be practical to have a heater in each bucket, so it may be best to make sure the car and new house are pre-heated before the fish go in, and stay at the appropriate temp.

When you get them to the new place and get the tank set up and heated to the proper temp, I would drip-acclimate them to equalize the temps. This time of year, despite your best efforts, their water temp is probably going to drop somewhat during transit. A drip-acclimation will account for this. (I know that it dropped for me this past weekend when I brought some new fish home from my local club's swap meet. My fish were bagged in a styro cooler, but they were still seriously chilly by the time I got them home. Yikes!)

Plastic storage bins, like Rubbermaid brand, or more of those 5-10 gallon lidded buckets would be good for moving the wet substrate. Just be aware of how much you fill each container, the wet substrate will probably be the heaviest thing to move.

Another helpful thing would be to do 50% water changes each day for a few days before the move, and a 50% water change right before packing everybody up. You have some fish that are known for producing a lot of ammonia (oscar, pleco, etc.), so clean water might be difficult to maintain without heavy water changes.

Be sure that the aquarium in completely empty before you move it. It looks like you have a 55g, and those are really easy to spring a leak on if they're moved with anything in them.

You can make sure to leave a level unpacked, put it with your fish stuff. That way you'll have it handy to level off the tank in the new place without having to dig through all your packed up boxes of tools.

I know there have been a number of threads here on moving fish, so you could use the search feature on this site.
---
"My dither fish need dither fish!"
its only ten miles lol dont think a bubler is necessary i would leave the gravel in the tank and enough water just to cover the gravel to keep the bacteria alive

put the fish in a bucket or container but make it as shallow as possible that will make the water spash around and diffuse O2

i have moved about 5 55's with gravel and some water perfectly fine with the help of my 100lb girlfriend and had no problem with leaks or even weight of the tank
---
i have a dog named fish
30g long
55g -planted
125g 4ft long octagonal
55g
MALAWIS COMING SOON
10g hospital
-empty- :]
Please note what I said: "But honestly, for 10 miles in the car, I wouldn't worry about it. You could, however, run stones or sponges in the buckets while the tank is being disassembled at the old house, and during re-assembly at the new house."

Sure, some people have moved a tank with gravel and water before with no leaks. But that doesn't mean that everyone who tries it won't have leaks. The safest way to move a larger tank is completely empty. I have had a leak on a 55g before, and believe me when I say- It was a complete nightmare! It was a week of hell, and a ruined floor. I wouldn't wish that on anyone!
---
"My dither fish need dither fish!"
I have moved my 90 gallon twice in the past 7 years, once was a 50 mile move.
Get those 18 gal storage totes with lids from any of those big box home improvement or walmart, depending on the size of your fish you have theres no problem putting a few together in one.
Keep filter and substrate wet, I would empty the tank completely.
when you get tank in place at new home try to make water temp the same as the water in your totes, add fish in and I always try to use 50% of the old tank water. then let your heater warm up to temp you want with the fish in there. work quickly to get them back in asap and you dont need to worry about air and heat in buckets.unless your new place is like 50* or something, try to have the new place heated up a bit.
Just try to plan it all out so once you start emptying the tank your 1st priority is to get it moved and back up asap, hopefully you have enough time to just concetrate on the tank for a few hours and a buddy or two to help with the lifting.
I would just use bags. Panicked fish can hurt themselves on hard containers. Only larger fish or ones with spines should go in a plastic container. Fish can survive for days in bags so don't worry.
If its cold out put the bags in a cooler to keep them warm. Don't bother with heaters. Also keeping them in the dark is the most important thing you can do. Its not air or temp you should worry about it is stress.
IMO the #1 thing is to actually NOT rush. Instead take your time, fish are harder then most give them credit for. All mine have gone through at least one 8 hour bag trip if they are lucky, some have gone for days. A tear down 10, minuet drive, and setup isn't gonna be the death of anything.
Here are some pics from my 55 gal high tech planted move(also about 10 minuet drive). I moved it last July. Probably gonna end up moving again before the year is over
. I move 3-4 tanks every time I move though 55 gallon is just the biggest
.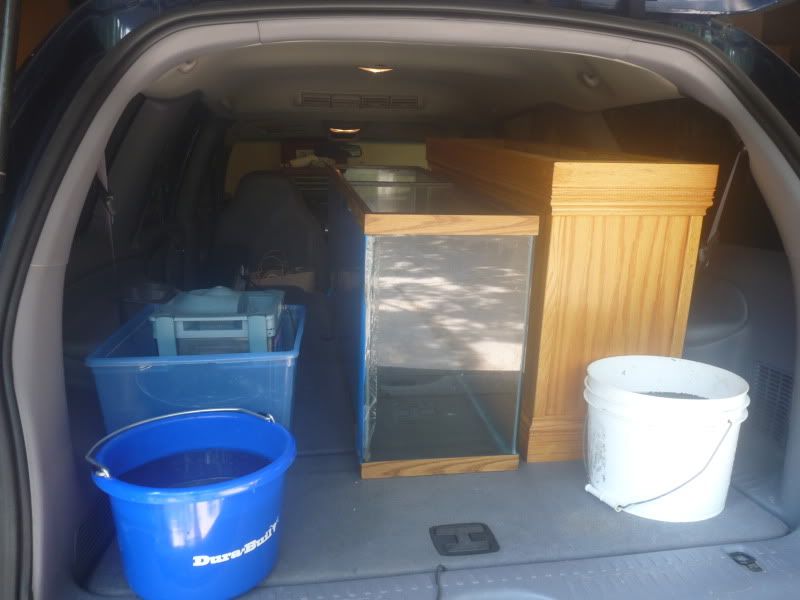 Posting Rules

You may not post new threads

You may not post replies

You may not post attachments

You may not edit your posts

---

HTML code is Off

---