ID please
---
What kind of fish is this? i got it with my last bag of feeder ghost shrimp... stupid petsuppermarket... they the reason i have so many guppies...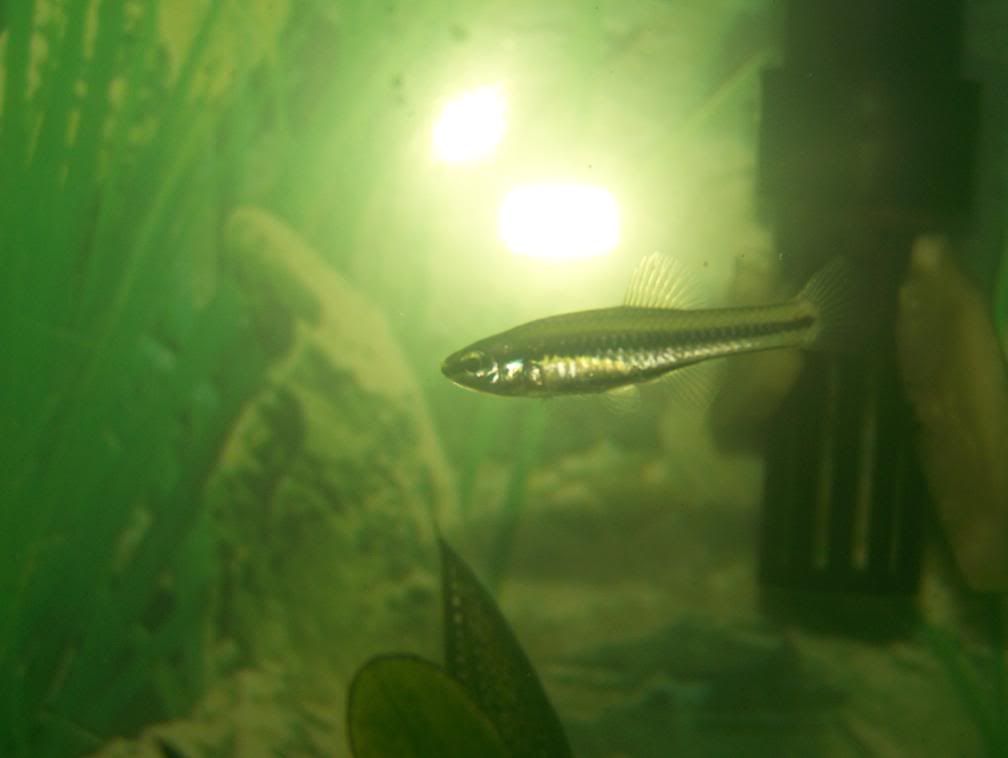 ---
http://img374.imageshack.us/img374/2559/bf2kingnq9.png
Signature Created By Codey
Oddities Aren't Wrong, Their Addicting
my first thought was a rasbora of some kind (R.daniconius or R.einthovenii)
but neither the tailfin or the anal fin fit any kind of cyprinid.

I think it is a livebearer of some kind and that is not my area of interest.
hope someone with experience in livebearers can help you ID it
Quote:
Originally Posted by Cody
I want to say Mosquito Fish.
Mouth isn't pointed up enough. They get these guys with ghost shrimp at the LFS I go to as well. He hasn't any idea what it is either. Sells them for 99¢ as "Darters". Could be a tetra of some sort; they don't all have adipose fins.
---
Logic is only the beginning of wisdom
Why is the fish oddly familiar to me? I think I'll dig the books and websites but it appears to be a cyprinid to me. Hmmm...
---
Sent from my desktop or phone or whatever else I am holding on to

I'm ready for the pressure.
The drama and the pleasure!

If there is one thing I want to see here, it's HUMOR.

I believe I can fly!
I believe I can touch the sky!
I think about it every night and day!
I stand in awe of my body.

It looks a little like a least killifish (Heterandria formosa) but the head shape's off and the markings seem to be cleaner.

Looks a lot more like a juvenile Bluefin Killifish - Lucania goodei. That's close enough for me.
---
Logic is only the beginning of wisdom
the smaller one in this pic looks alot like it but i think the coloring is a touch off... maybe not as i cant c it right now ill check by tomorow more throughly.
thanks
---
http://img374.imageshack.us/img374/2559/bf2kingnq9.png
Signature Created By Codey
Oddities Aren't Wrong, Their Addicting
Posting Rules

You may not post new threads

You may not post replies

You may not post attachments

You may not edit your posts

---

HTML code is Off

---