I'm Back and bigger!
---
Hey guys! I haven't been on here in ages! Well, I upgraded! I now have a 20g tank and pitched the 10g! Lots of pics soon to come. I have an underground filter and it looks really nice with a flouresent lightbulb. Very royal looking but its so heavy and its not going anywhere. I lost all my guppies but I have 1 neon left out of the 7. A Dalmation Platy, 15 or so sunburst platies and I have an underwater frog. His name is Kermit he's a goof! I lost a lot but I plan on getting much more variety in the future but I'm holding out great! Pics to follow!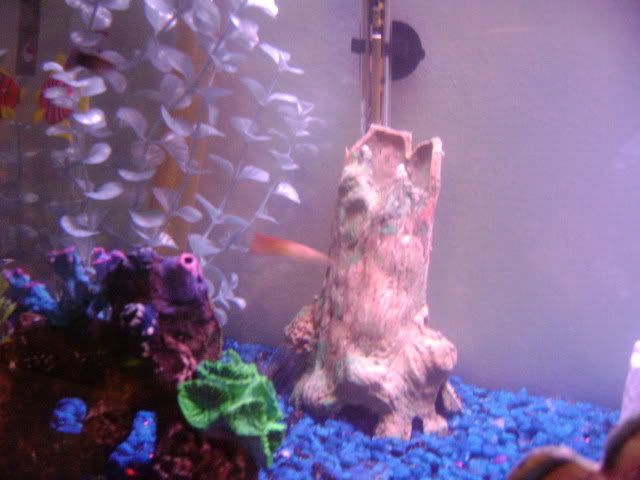 I must have deleted most of mine but New pics comming!
I hope your add more. i really want to see them. Was there any certain way your fish died so we can help prevent it in the future?
---
55 Gallon Aquarium
1 Black Kuhli Loach
3 Black Skirt Tetras
4 Angelfish (3 Marble, 1 Gold)
1 Glass Fish
2 Blue Sunset Gourami
3 African Dwarf Frog
Sorry to hear about your losses there. :(

Like SS says, if you want to give us a bit more information we can maybe help prevant the same thing happening in the future.

Good luck to you with your new tank. :)
I lost the 1st one because it had an open wound by getting caught in my castle he tried going out the window..The neon was old and had a broken tail I don't know why the guppys died one looked like it was infected with parasites but as it turned out they were markings the other was from stress I think because a lot had been going on with switching tanks and introducing them in 5 minutes. (there was an issue) I check my water monthly and its fine so I believe thats what happened, thanks but heres some extra info that might be helpful.

Filter:
30-60g filter-I have a 20g tank its on the lowest setting but that shouldn't have been a problem.
Heater: its on 75-79 degrees all the time.
Water: Everything is fine except the buffering and Ph leve it wants me to add both so I do but nothing happens. And it never affects me drastically ever. I have had this tank for 4m and my 10g for 1yr and nothing really happened:)
Oh yea, there is about 15 fish in there now but most of them are teeny wittle babies:) And my fish get along really well with the occasional "tag"

I hope that helps
I took lots of pics today. So I'll upload them soon!
that would be awesome. i'm looking forward to it :D
---
55 Gallon Aquarium
1 Black Kuhli Loach
3 Black Skirt Tetras
4 Angelfish (3 Marble, 1 Gold)
1 Glass Fish
2 Blue Sunset Gourami
3 African Dwarf Frog
Posting Rules

You may not post new threads

You may not post replies

You may not post attachments

You may not edit your posts

---

HTML code is Off

---