The guessing game....
---
Guess how many fishys this is. Closest guess wins
.
Quote:
Closest guess wins
.
what do i win, i say there are 96. :) LOL
Steve
ps... congrats on the fry.
I'm going with an even 100 :)
---
125 gallon tank:
2 Tiger oscars, 1 Electric blue jack dempsey, 1 Jack dempsey, 2 Bala sharks, 1 Firemouth, 1 Salvini, 1 Texas cichlid, 1 Pleco; All juveniles

29 gallon (in the works):
1 Blue ram, 1 Cockatoo cichlid, 1 Powder blue dwarf gourami, 1 Bolivian Ram, 8 Neon tetras, 4 Corydoras, 2 Bamboo shrimp, some ghost shrimp
Quote:
I'm going with an even 100 :)
There where 99 total
.
I was only expecting there to be about 50 in my fry tank. It's a standard 15gal. I wanted to do a water change and more maintenance than I usually do. I decided to net most of the fish, since they always get in my way. Helped a lot, though there where still about 20 left in the tank. I will getting rid of a bunch of them next week.
They are all endlers. I bough 6 (2male/4female) on oct 25. Roughly 140 days ago, those six have made around 170 fry
.
These guys where all born yesterday.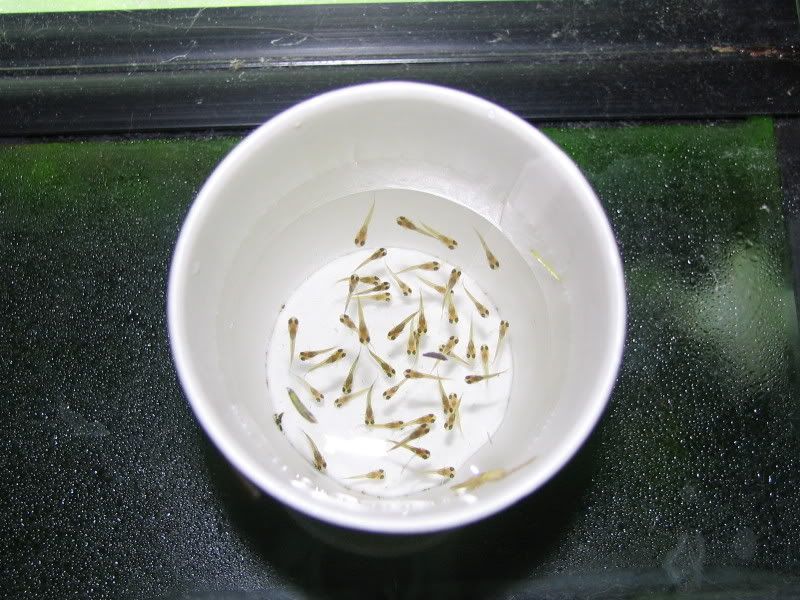 how will you be getting rid of them, lol?
---
55 Gallon
-10x Zebra Danio
-3x Angelfish
-5x Velvet Red Swordtail
-3x Albino Cory Cat
-3x Clown Loach
-3x Black Mollie
-1x Red Tailed Shark
-1x General Pleco
-1x Snail
10 Gallon
Quarantine
37 Gallon (Wanted)


Not Sure


150 Gallon (Wanted)


-5x Bala Shark
-2x Neon Blue Goarami
-5x Clown Loach
-1x Black Knife Ghost
Similar Threads
Thread
Thread Starter
Forum
Replies
Last Post
The Game

bf2king

Off Topic Discussions

1447

07-13-2010

03:46 AM

the name of the game

onefish2fish

Off Topic Discussions

11

09-26-2009

12:10 AM

The ABC game

dprUsh83

Off Topic Discussions

936

03-13-2007

06:19 PM

New Game.

usmc121581

Off Topic Discussions

3

11-17-2006

09:17 AM
Posting Rules

You may not post new threads

You may not post replies

You may not post attachments

You may not edit your posts

---

HTML code is Off

---