Bunch of questions + pictures
---
Hello good evening guys and girls I have a few questions if you dont mind helping me out.
1) I have a 10gallon guppie tank with sand and Im looking to get a bottom feeder or feeders. Any recommendations? Heres a picture the sand took like 3 days to get it all perfect and filtered out!
(I need more plants in the back I had to make due with what I had)
2)Here is my 40 gallon tank are there any bottom feeders that can eat the left over food I dont have much gravel so any ideas?
3) How much should I feed my fish? I have 7 tetras and 3 goldfish and the goldfish are always eating the things on the floor. This is what I normally feed them and its a mix between foods
This is more less what I feed them for 10 fish.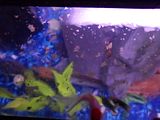 4) My guppies are more frequently getting sucked into my filter it was bought as a kit but ive lost 6 guppies to the tragic filter attack! So any ideas to stop that? The filter just has a hole in the bottom nothing really stopping fish from getting sucked up.
5) I use a gravel vacuum once a week to get the nasty stuff out and I go over it twice but when I poor water in the tank a bunch of food and poop and whatever else just comes floating around any ideas on how to get that food. This is the vaccum Im using maybe its too small but you decide.
6) One last questions, what do you recommend I use for testing my things? I use a master test kit that just goes in the tank that measures ph, ammonia, and the temp.
And a picture of them together!
---
Last edited by dustin0; 10-25-2009 at

10:25 PM

.
u should get larch or pleco they are both good at eatting left over or a upside down catfish there so cool and its ur vacuum i have the same problem with poop take all ur rocks and stuff out but the fish and sture it all around while ur filter is running wut u miss will get sucked in ur filter
---
65 gallon tank
1 oscar 7inch
1 firemouth 4inch
1 common pleco 6inch
1 long finned tiger oscar 3inch

45 gallon tank
2 rainbow tetra 3inch
2 skirt tetra 2inch
1 blue ram 2 inch
1 clown pleco 2 inch

15 gallon tank
1 sailfin pleco 2 inch
1 electric blue jd 2 half inch
plecos can get up to 18", i would highly suggest NOT getting one of those for either of your tanks, their way too small for that. get some cory cats or otos
---
31 Betta Males
12 CrownTail
7 HalfMoon
5 DeltaTail
4 DoubleTail
3 Veil Tail
44 Betta Females
Round, Crown, Spade
65 gallon
55 gallon
35 gallon
2 - 20 gallon
4 - 10 gallon
16 - 1.5-2 gallon
MTS has struck, resistance is futile
I second the cory idea they are cute and a lot of fun to watch zooming around the tank get 4-6 of them because they like to be in groups. LOL For the filter try getting something like a sponge or even some wire mesh like they use for screen windows and put it around the bottom of the intake so the fish will not get sucked in.
---
Kindest Regards,
Amanda
Keeping fish its not a hobby it is a passion!
I have a 55 gallon, 40 gallon, 29 gallon, 20 gallon tank, 5 gallon , and a 2.5 gallon all with real plants.
Posting Rules

You may not post new threads

You may not post replies

You may not post attachments

You may not edit your posts

---

HTML code is Off

---