Im not sure post a threadin the how to use the forum some1 will be able to help you..
---
26 Gallon Community:
5 Platies
4 Mollies
3 Guppys
1 Swordtail
11 Neon Tetras
1 Red Tailed Shark
Opaline Gourami
BN Pleco
Snakes-
Coral: Rat X Corn
CoCo: Rat

R.I.P Saphire You'll always be in my heart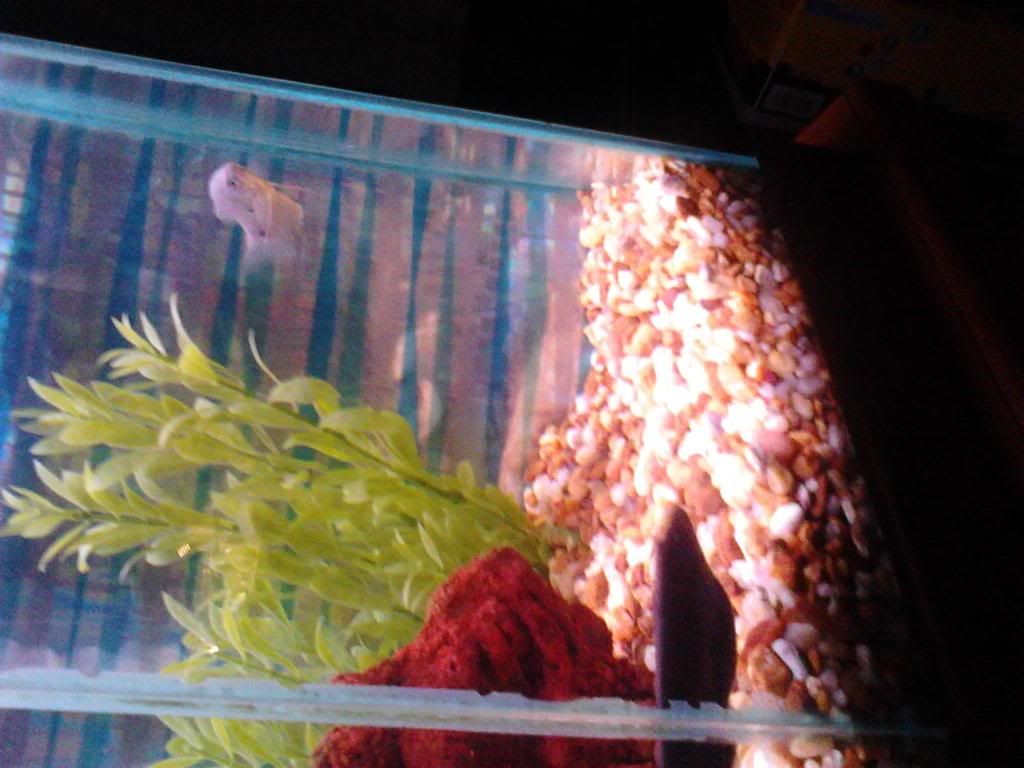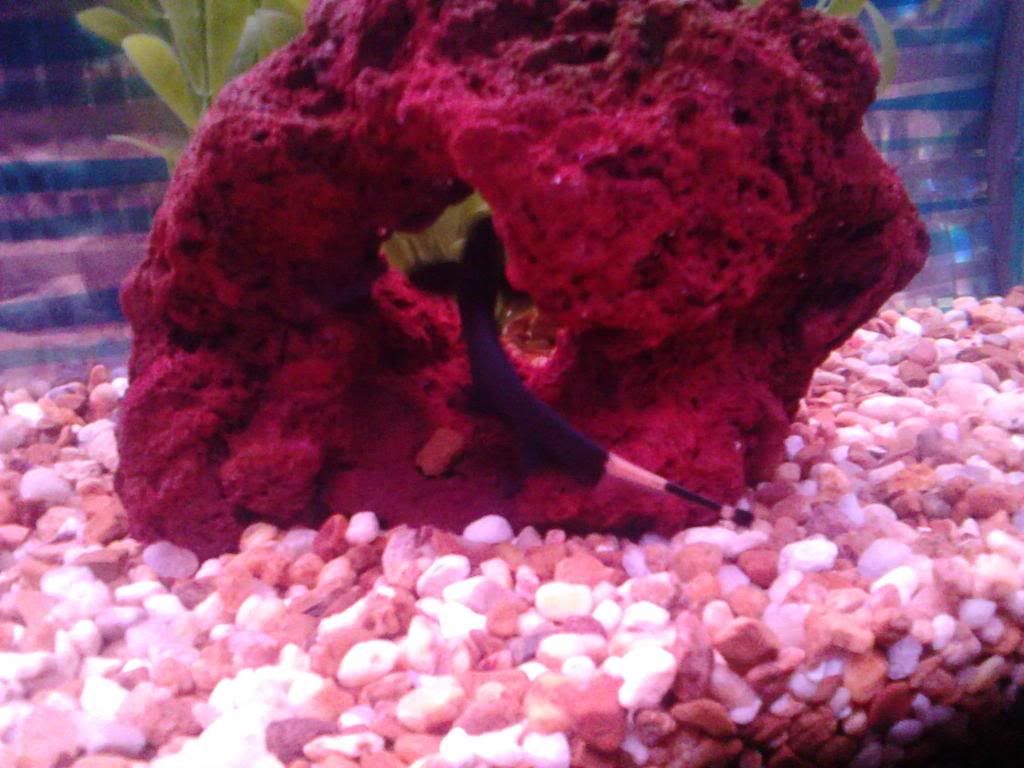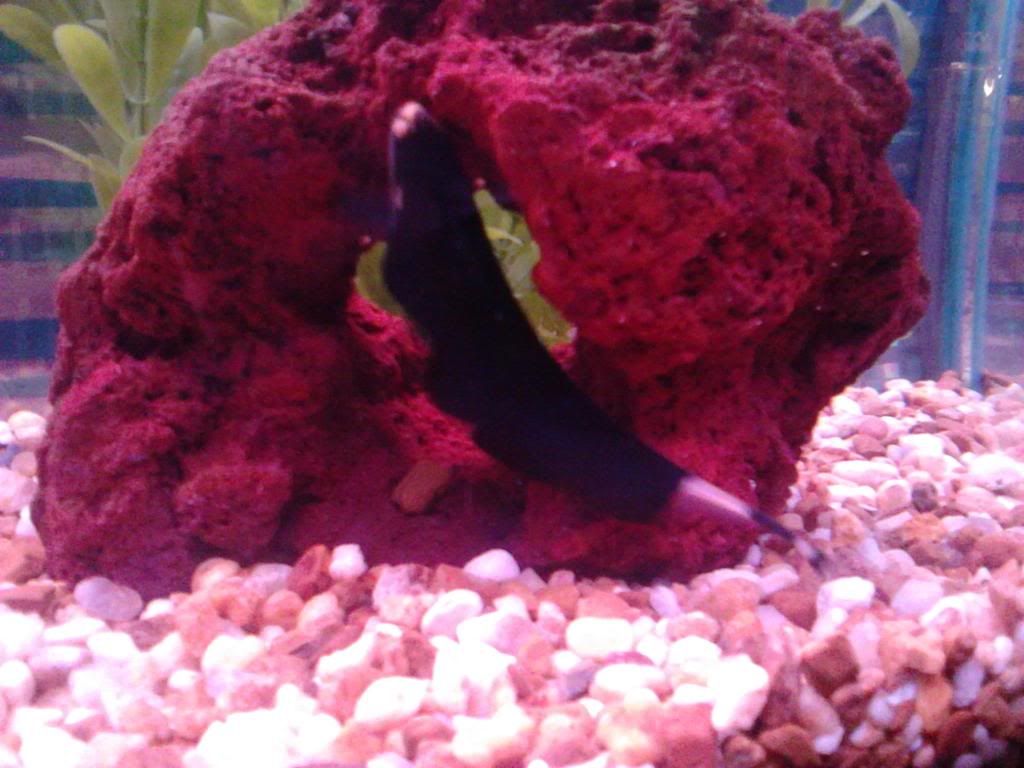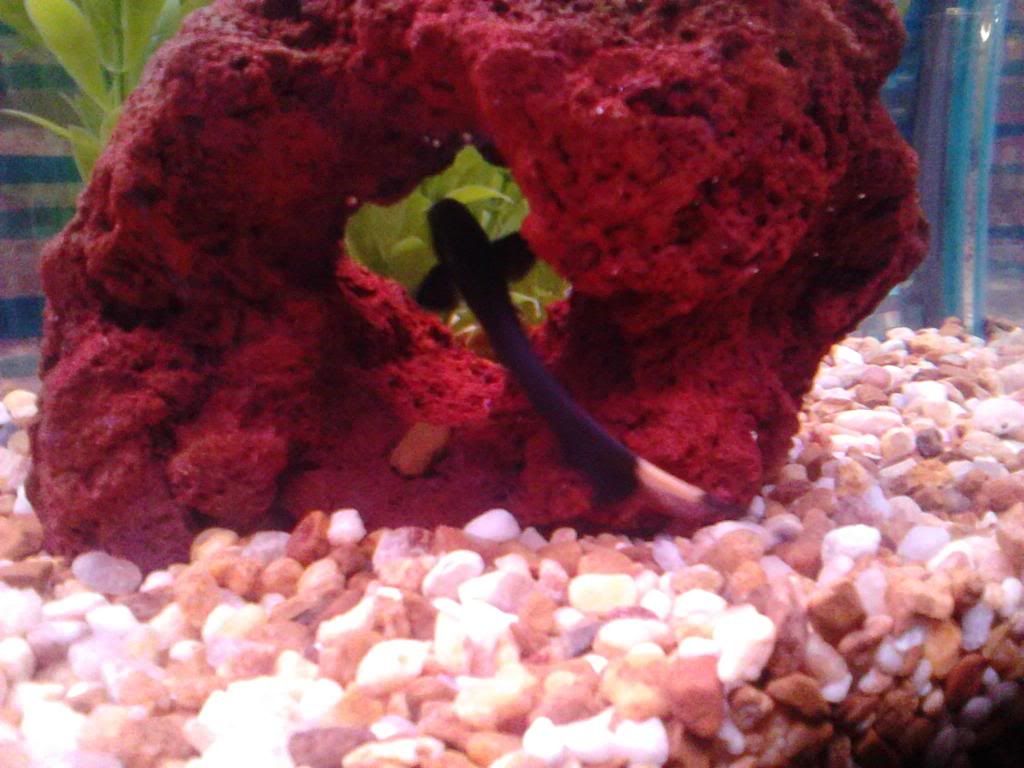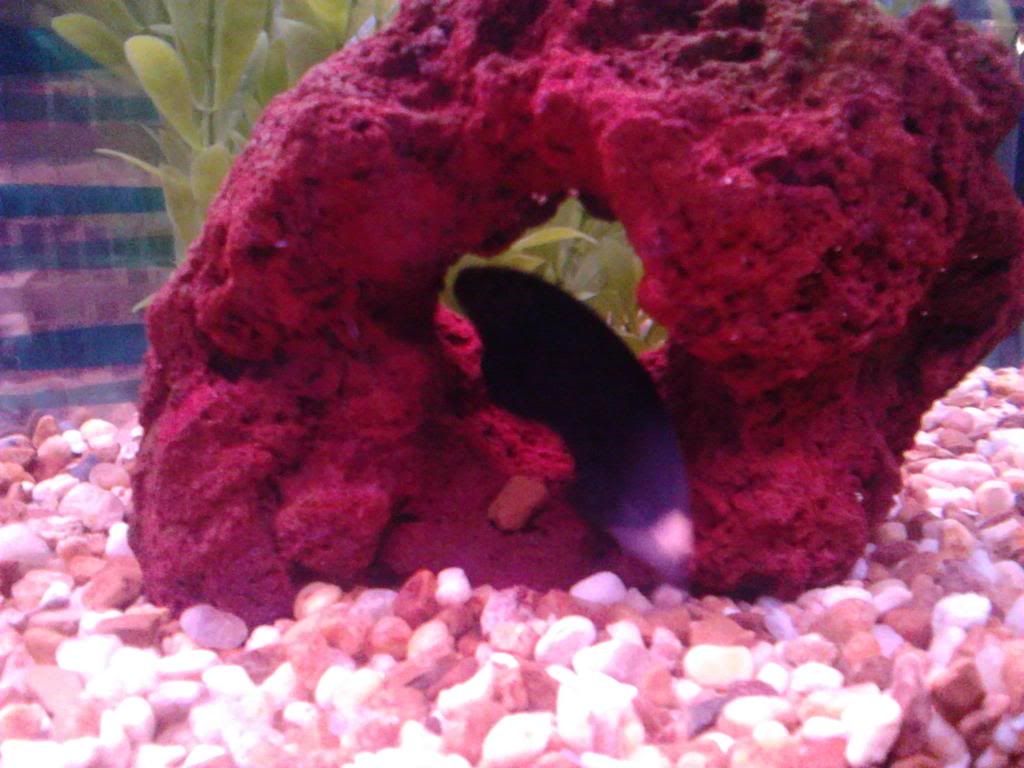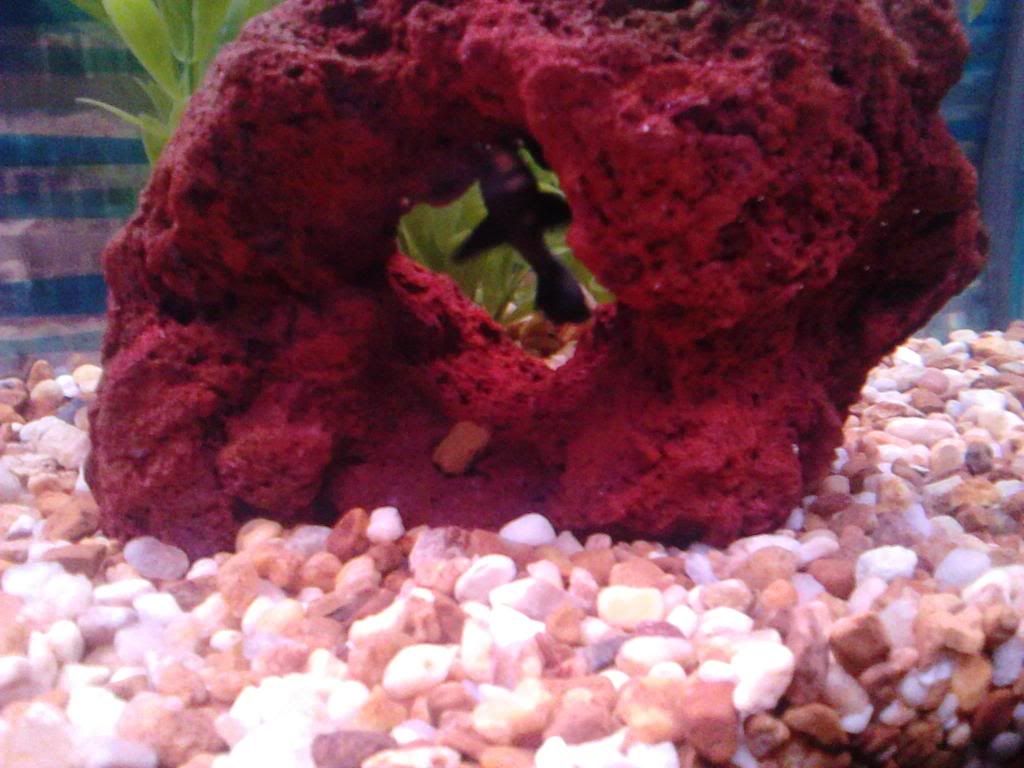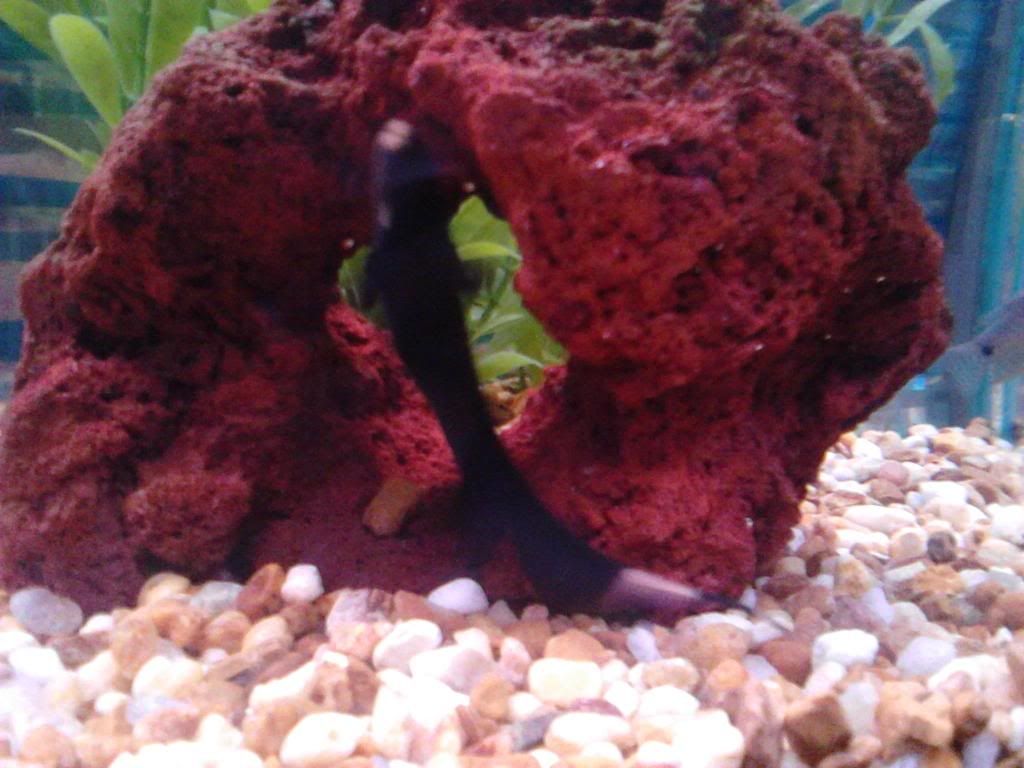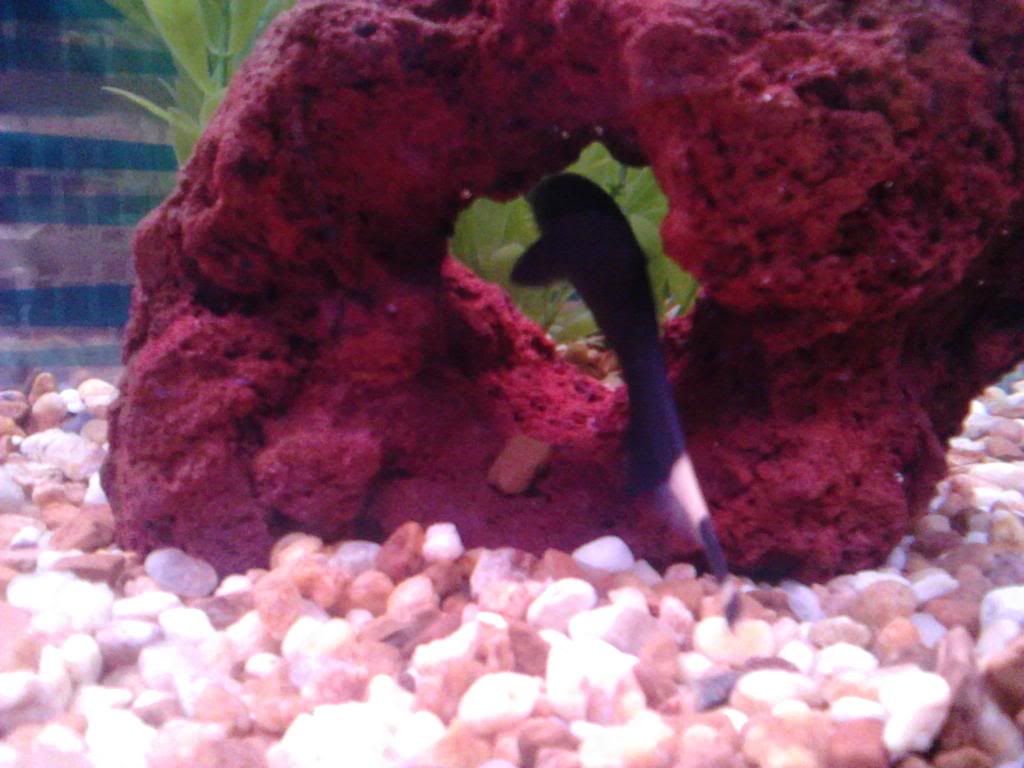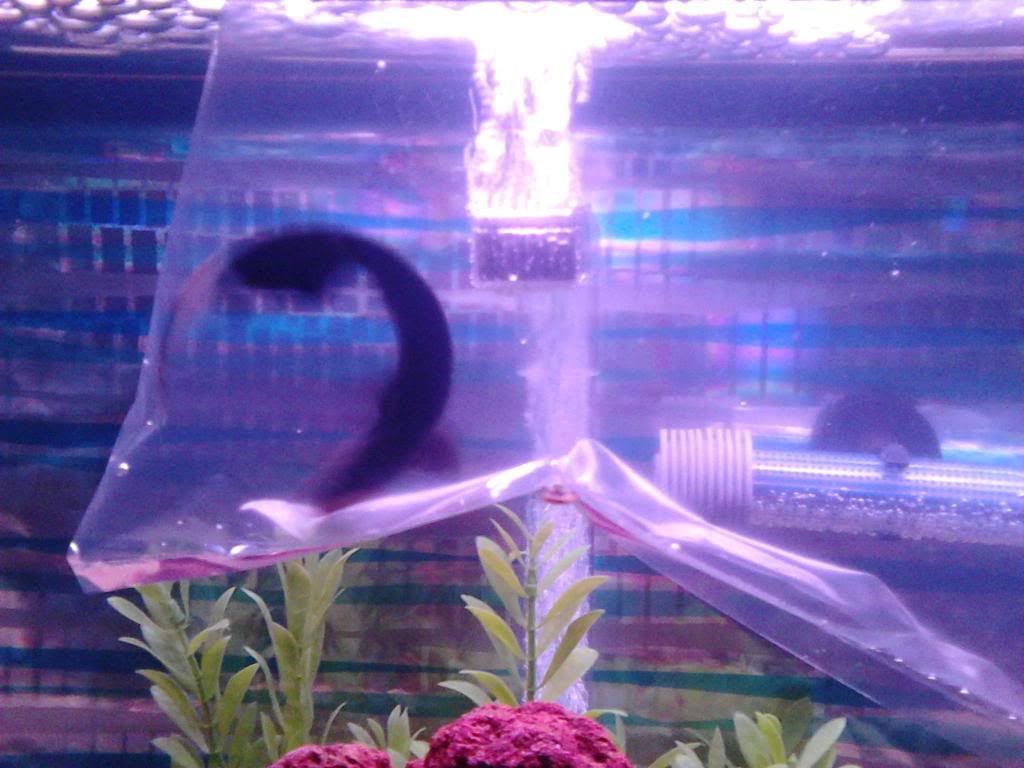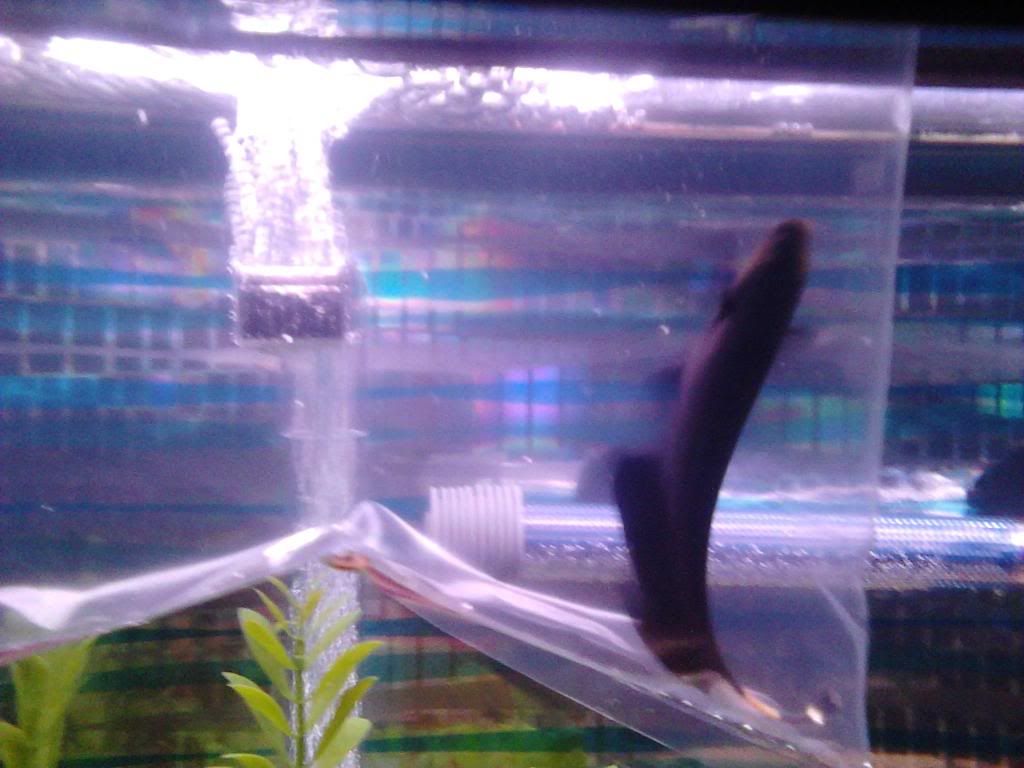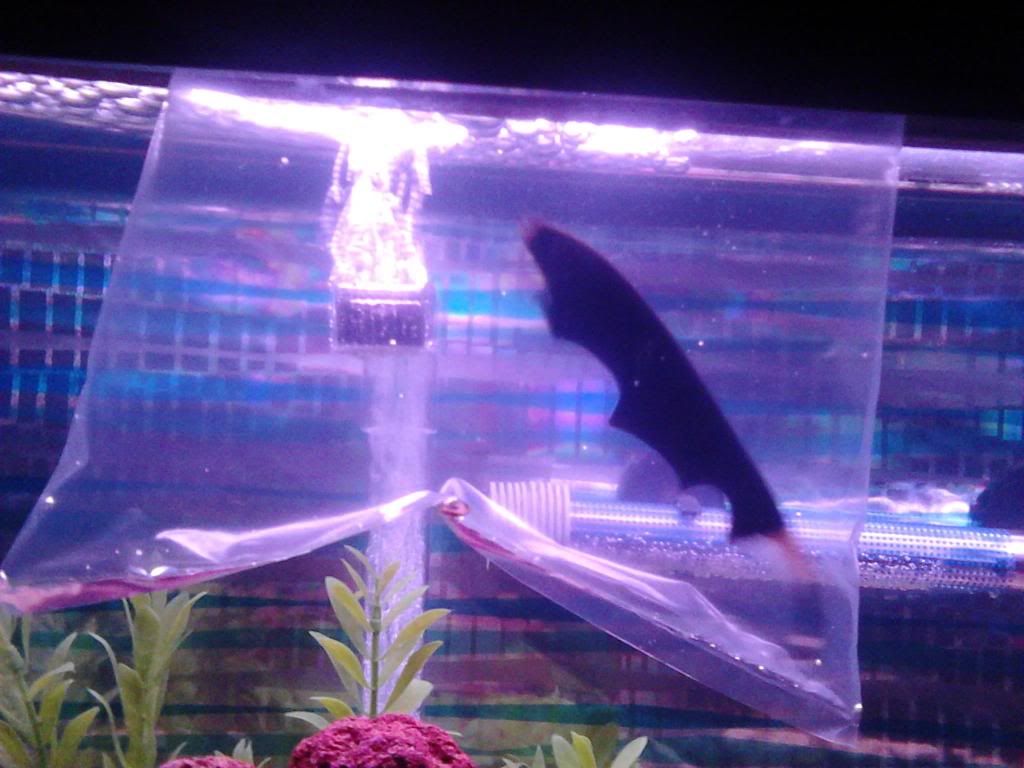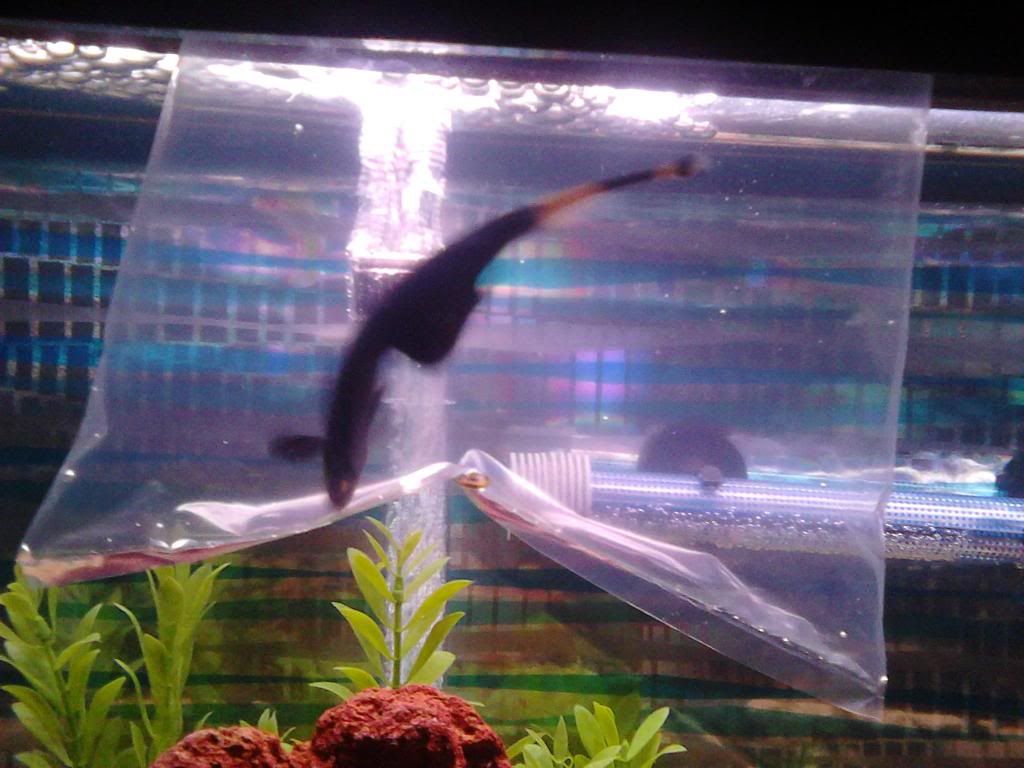 Sorry about the photo quality, all were taken with my phone. Makes my tank look cloudy. ):
---
Last edited by Goldfish; 11-09-2010 at

03:24 PM

.
The photos and esp videos told me a lot, thanks for those.

This is not an aquarium for a BGK, due to the brightness. These sensitive fish are nocturnal, never venturing out during daylight. They must have a dimly-lit tank with many hiding places. The behaviour of the fish in the videos illustrates its severe stress at being so "open." The light substrate gravel is a major factor in this, as well as the tank light, too few real hiding spots [sufficiently sized to accommodate the entire fish and then some], and floating plants for cover. I'm not saying this alone was the cause of the fish's demise, but it certainly would not have helped the fish adjust, so any other issues would only be even worse due to the stress from the environment.

BGK need soft, acidic water; a pH of 6.5 would be fine. You give your pH as 6.5 to 7.5, does it really vary this much? This would be another factor, as this can be highly stressful depending upon the time period. We can go into this more later.

BGK produce an electrical field around their body. I mention this because it limits suitable tankmates. Plus they are predatory, any small fish and shrimp will be eaten quickly. And they attain 20-24 inches, so a large tank is needed fairly early on since fish grow fairly rapidly according to the water conditions which are largely determined by space, and internal development can be severely affected in too small an environment.

The BGK may have been under heavy stress in the store, I think we can take that as a fact, and stress weakens the immune system. All of this probably contributed.
---
Byron Hosking, BMus, MA
Vancouver, BC, Canada

The aquarist is one who must learn the ways of the biologist, the chemist, and the veterinarian. [unknown source]

Something we all need to remember: The fish you've acquired was quite happy not being owned by you, minding its own business. If you're going to take it under your wing then you're responsible for it. Every aspect of its life is under your control, from water quality and temperature to swimming space. [Nathan Hill in PFK]
Transfer
---
I may have mentioned this before, but it really is working well for me. I have a little metal kitchen sieve. its 2 1/2 inches in diameter and only an inch deep. It works so neat for getting fish out of the bag. Just get it positioned near the fish and you can kind of move the bag a bit so it covers the sieve after you get the fish in it and pull it out of the bag. I find mostly the fish lie still for a few seconds after they are out of water and I put my hand over the top of it if I have to move it to a new tank. Then I just lower it in and the fish swims out. There is nothing to get tangled in or hurt on.
I went back to the store and they had one BGK left. He was NOT looking great and they said he barely moves all day. They told me I could get the same amount of money in fish I bought the BGK for and I decided to get a Royal Knife (labeled as Clown, but deff not a Clown) in need of ID on that but regardless. I also ended up with two Gourami. A Pearl and a Golden. I know that's bad. She had them bagged before I said no. They are all in the tank and Twitch, Rob My Kids (rob for short) and Goldie Locks aka the three blind mice because of their whiskers fought for about a half an hour. No fin nipping jus charging and occasional nips. They've been together for about 3 hours now and other than Twitch chasing Rob and GL once in a blue moon they're ok. I just turned out the light.
Now, I added a piece of PVC the a bit longer than length of my RCK, and it refuses to use it. It likes the faux plants and the lava rock on the left for some odd reason. Now, my ID problem with the RCK is it has slanted stripes not spots and stripes and not spots. I'll post a picture tomorrow. I just can't find a photo that looks like it. It's silver with dark grey markings but they're slanted lines like these: <\\\\\\\D the D being it's head the < it's tail. Input would be appreciated. I have no tanks to split these fish and they're ok right now so I'm not worried. Again this is a growout tank. Is this tank more appropriate for the RCK? (sorry it's yet to be named)
Posted via Mobile Device
Doesnt look like a Clown Knife Fish to me....
How big is your tank??
---
26 Gallon Community:
5 Platies
4 Mollies
3 Guppys
1 Swordtail
11 Neon Tetras
1 Red Tailed Shark
Opaline Gourami
BN Pleco
Snakes-
Coral: Rat X Corn
CoCo: Rat

R.I.P Saphire You'll always be in my heart







My tank is 33 gallons as stated before. 36 inches long.
Again, THIS IS A GROWOUT TANK!

I still have no idea what this fish is. "Jello's" stripes dimmed a bit, but he's definately not a Clown or Royal. I can't find anything that looks like him. Maybe he's a mutt?

Also, the Gourami have established a 'pecking order' if you will, and are no longer fighting. Goldie Locks has a small fin tear, but that's it. Seems that Twitch is the only male, and also the dominant one. Will I be seeing baby blind mice in the future? I hope not.
Posting Rules

You may not post new threads

You may not post replies

You may not post attachments

You may not edit your posts

---

HTML code is Off

---