Thank you all :)

And yes konstargirl is right, 2 oto's and a betta. Plus 6 ghost shrimp, which are living up to the name as you can't see them in the photos. I snapped a few of the shrimp today, will post those later. BTW 3 are pregnant already! I really wasn't looking to breed them, since I want some RCS, but money is slow to come as of late and GS are really cheap.
MoRE PhOTOS! YAY!
---
So I'm very excited about the new floralogical additions to the tank (yes floralogical will not be found in the dictionary). I ordered a bunch of cyrpt's and some dwarf sag from SA! I'm kind of surprised I fit them all in the small 10g, but I did my best and now officially a member of the densely planted tank club. I like this club. I am hoping and praying that all the fuss of planting does not do the tank harm :( The plants are a bit shabby from the shipping, but the root systems look strong. I know when they recover from the stress the tank will be outstanding - will prove to be a bit of work though :) Tips on upkeep to get the best from your plants are greatly appreciated as well as I am a newbie. NEXT UP... hopefully some fish in the tank! I've been trying for months now (literally) to get Danio margaritatus stocked at the LFS, but they haven't got it yet and do not seem to be so proactive in getting some. So I'm now undecided on fish, but know I want something colorful to contrast the greens of the plants. Toss any fish suggestions in if you'd like :)
So here are some pictures of the newly added plants: Sagittaria subulata, Cryptocoryne wendtii green, C. parva, C. undulata, C. Pontederiifolia, C. cilitia, C. moehlmannii, and C. crispatulata!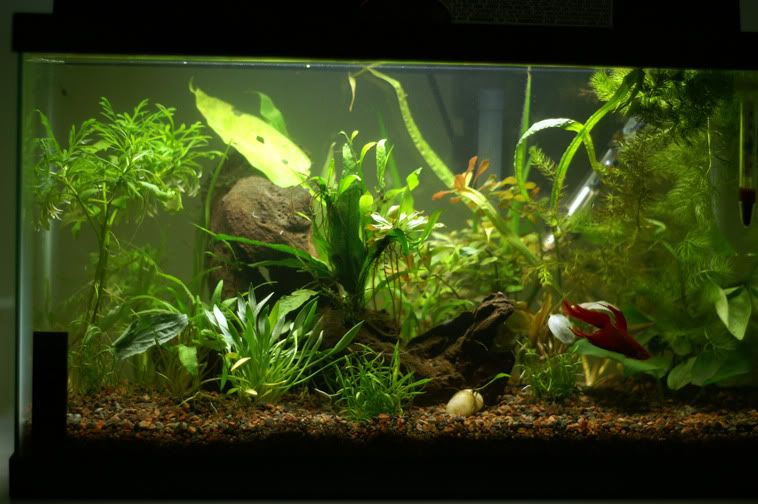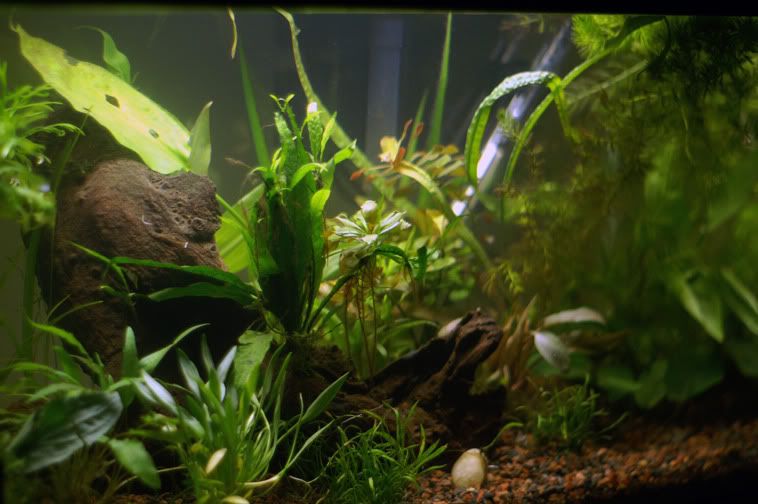 | | |
| --- | --- |
| The Following User Says Thank You to Gerardo756 For This Useful Post: | |
That is very nice work, indeed. A very natural setting for the fishies.
Byron.
---
Byron Hosking, BMus, MA
Vancouver, BC, Canada

The aquarist is one who must learn the ways of the biologist, the chemist, and the veterinarian. [unknown source]

Something we all need to remember: The fish you've acquired was quite happy not being owned by you, minding its own business. If you're going to take it under your wing then you're responsible for it. Every aspect of its life is under your control, from water quality and temperature to swimming space. [Nathan Hill in PFK]
| | |
| --- | --- |
| The Following User Says Thank You to Byron For This Useful Post: | |
Your tank is beautiful. I love the piece of wood, it certainly adds interest to the aqua scape. You did a fantastic job and I am sure your fish are very happy with all of your hard work. Now you can come work on mine. :)
Holy smokes that's a beautiful tank.. puts my planted tank to shame..
---
"Whoever said fish were low maintenance obviously never owned fish"
| | |
| --- | --- |
| The Following User Says Thank You to doggyhog For This Useful Post: | |
| | |
| --- | --- |
| The Following User Says Thank You to james7139 For This Useful Post: | |
It is very nice you did a great job.
---
Kindest Regards,
Amanda
Keeping fish its not a hobby it is a passion!
I have a 55 gallon, 40 gallon, 29 gallon, 20 gallon tank, 5 gallon , and a 2.5 gallon all with real plants.
Thanks everyone! :D I'm happy the way it looks, crypts are going through melt now, but glad i got the pics beforehand.

I will update after there is growth and recovery :) suggestions on fish are always welcome!

ALSO - maybe starting a 29g soon, already have a plan for it and if I don't do it perhaps someone else would like the layout?

Thanks for all the help and inspiration guys! I seriously wouldn't have this beautiful tank without you all :D
Your substrate is stunning
Similar Threads
Thread
Thread Starter
Forum
Replies
Last Post
Update on my 210

MKSII

Beginner Freshwater Aquarium

2

01-11-2008

04:39 PM
Posting Rules

You may not post new threads

You may not post replies

You may not post attachments

You may not edit your posts

---

HTML code is Off

---