all fixed up and running,a few missfortunes along the way.
before tank shut down.....
after....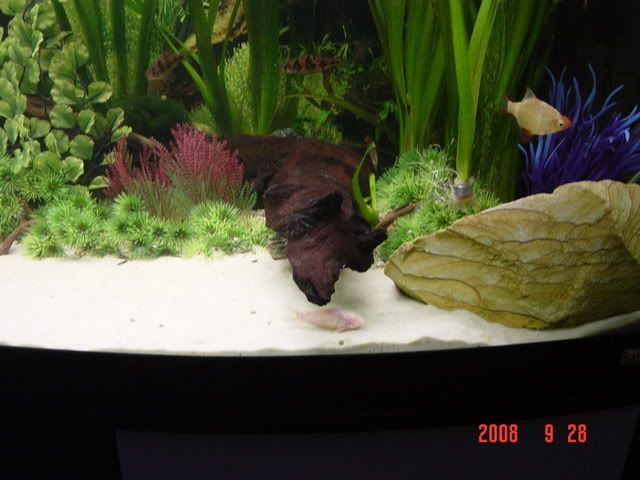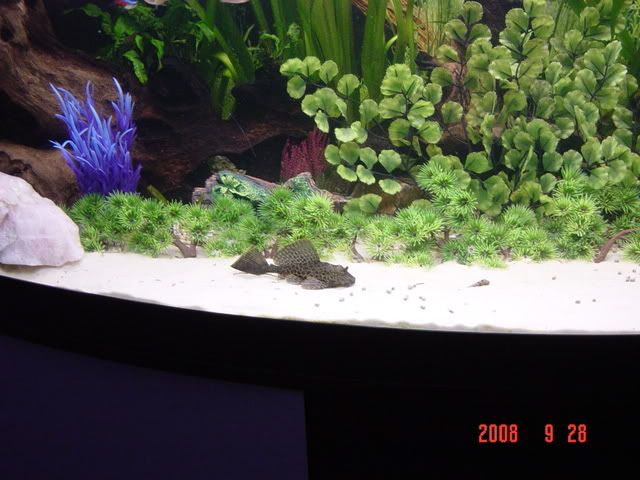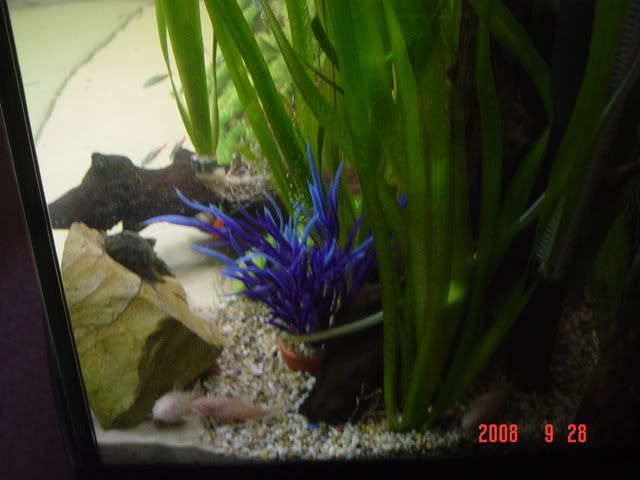 You really do have a good eye for aquascaping - it looks astounding Lainey, fantastic job!! :D
thanks kate. :)
there appears to be so much more room in there now
for the fish to swim around,insted of all the vallis.
shame my camra is pants,because it looks better than the pics show.
I know what you mean, I can never seem to get a picture that does my tank justice (I put that down to the photographer rather than the camera lol). It looks amazing anyhow :)
Wow, I really like it :D ! Your fish look really happy and healthy as well! Good job. How many different kinds of fish are in there?
Wow. Looks great! I really like how you did gravel in the back and sand up front.
---
150 Gallon - Mostly American Cichlids
135 Gallon - Angelfish Community
75 Gallon - Odd couple (Polleni/Angelfish)
55 Gallon - African tank
20 Gallon Long - QT
10 Gallon - Empty

WOW your tanks are looking great, wish mine could look like that XD. keep up the great work :)
thank you everyone.
the fish in there are.............
barbs,yoyo loaches,clown loaches,gouramis,plecs,gupys,platys,
corys,neons,koi angels.(the one in the breeder net is sporting
an injury and the platys were pecking at her)
i did intend to take pictures of the devide i made from plastic
corners of seed trays,however things were difficult here
and i was unable :( the moving back into the room went well sort of,
however trying to get the tank level was difficult,it on a different side of the living room,and the floor slants.eventually
all was set,the gravel went in first,then the sand.the little plants
(plastic)at the front actually came from a pet store in Florida
when i was on holiday,it's ment to go on a frame to be a bonsi tree.:)
everyone has settled in well,and my clown loaches have been clicking
for their pellets at the front of the tank this morning. this
i am over the moon about as i worry about them so much.
if they're happy so am i.
well i have lost the angel fish. :(
and i removed a couple of fish,one of which shouldn't
have been in there any way. !! naughty naughty.
anyway,just for fun i wanted to capture a couple of pictures
of the plecs,so here they are,probably see a couple of other
fish ther too. :) might be a few pics. lol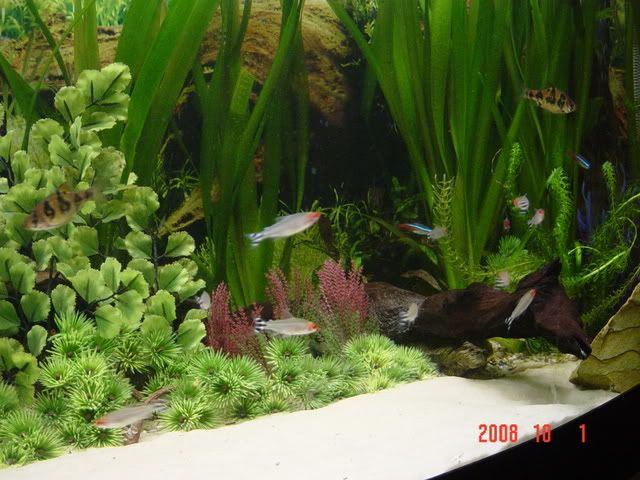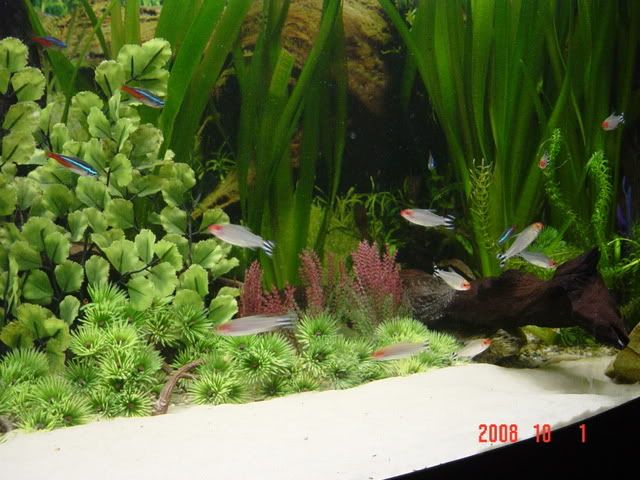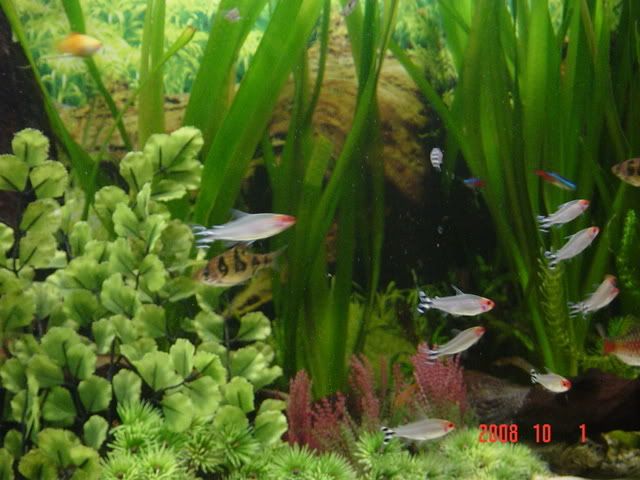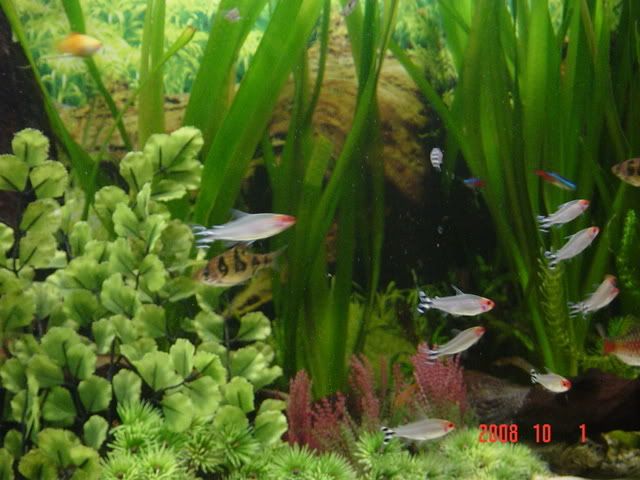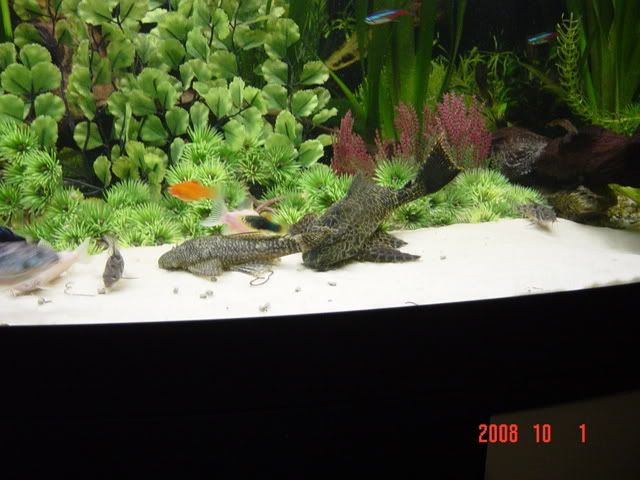 i hope you like the pics,i have found that the gouramis show themselves more now,and have coloured up even more,however i'm not sure if that has anything to do with the colour food i'm feeding. :)
Posting Rules

You may not post new threads

You may not post replies

You may not post attachments

You may not edit your posts

---

HTML code is Off

---