tank stuff
---
hay peeps. :)
well i've drained my tank,and have set upa life support system for the fish,and the filter.gravel is kept wet,however i don't know how i will fair with that,the MTS snails are still alive and moving around
i guess a good sign ?plants kept wet too.
decorating the living room and getting a new carpet,so the tank
had to be moved.was worried sick about how i would keep the fish,as i didn't want to set the tank up knowing i would have to re-drain.
however,fingers crossed today all are well,and there are not any
worrying readings,filter is working well with my DIY skills lol.
i will post some pics of different bits and bobs,and the re-fill along the way.
thanks.here are a couple of pics..............
empty tank.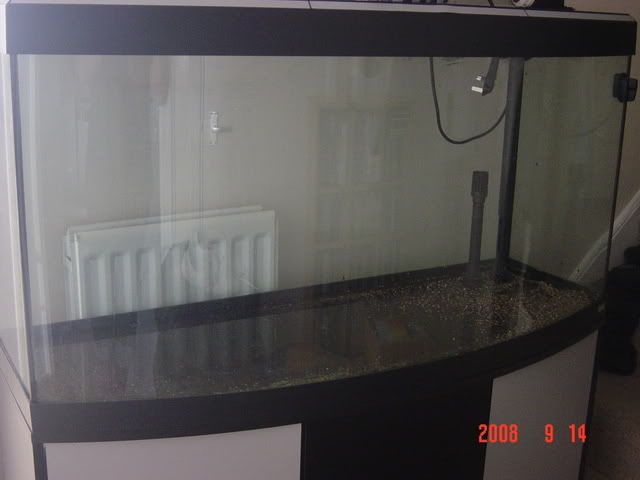 container with fish and running filter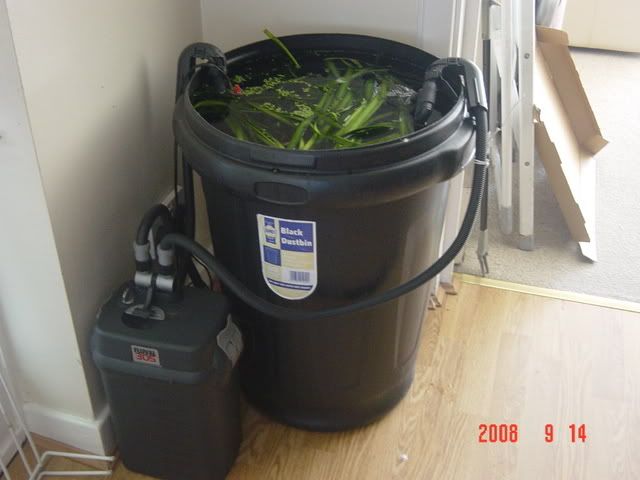 wood from the tank.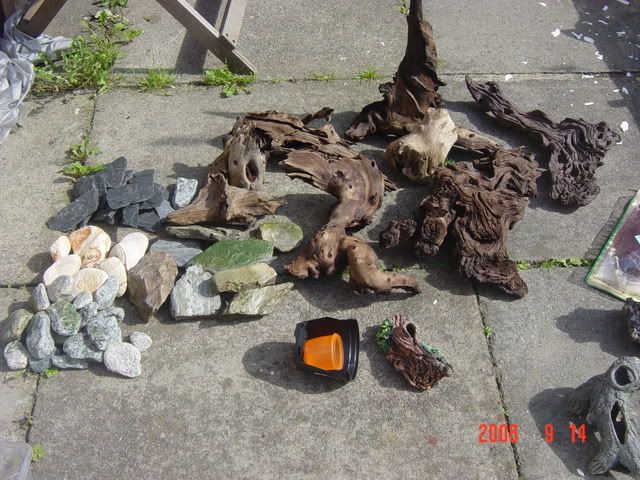 looking at all that wood makes me wonder was there any room for the fish. lol
I'm glad to hear everything's going well Lainey! I'll be looking for some tips from you when I get my new carpet fitted :D
---
ʎɐqǝ uo pɹɐoqʎǝʞ ɐ ʎnq ı ǝɯıʇ ʇsɐן ǝɥʇ sı sıɥʇ
well it went rather well,better than i expected it too.
drained water into the container(only used for the fish)
drained the remaining water to a safe level,then removed the fish,
dismantled the filter,and nicked the taps and hoses from the 105
conected it all back up and attached it to the container,then put a heater in.drained remaining water,and scrapped some algae from the back glass,
then got two straaping young men to move the tank for me :D
turns out though that the tank won't be put back together
for probable a week
so there goes the gravel. :( i'll have to wash it all through,
as i know there will be quite a few dead snails in there.
i'm now searching the net for pictures of tanks that i like to give ideas for
how i might want mine to look when it's back up and running.
funny enough now that all the fish are out,there is not as many as i thought were in there before,so once things are back,and working for a while,i thnk i'll get some more fish. :)
congrats on making an awesome life support system!
good luck with everything =)
---
Proud owner of Bagel the Warrior.
RIP Ivan the Terrible and Billy the Kid
That's a lot of wood! Looks like your doing good. With the filter running in the temporary fish bin your bacteria colony should be fine.

I've actually been putting off painting and recarpeting our living room because I don't want to think about tearing apart 3 tanks!

Good luck! :D
---
150 Gallon - Mostly American Cichlids
135 Gallon - Angelfish Community
75 Gallon - Odd couple (Polleni/Angelfish)
55 Gallon - African tank
20 Gallon Long - QT
10 Gallon - Empty

thanks guys.
well i did have a juwel rekord 96 l in there two,which i chopped and changed what i had in there,and in the end it just became
a grow out tank,so everything went into the big tank.
so another empty tank to drive me insane. !!
i keep looking at my big empty tank and thinking about all the different ways to build it up again.i keep wanting to do dry runs,while it's empty in the hall way.but it's difficult to get a real feel for what i want,because
you can't re add the vallis lol droopy just dosen't hit the button lol.
Glad to see you managed to get everything hooked up okay :) Where did you get the bin from? I'll be looking for something similar when I move my tanks.
---
ʎɐqǝ uo pɹɐoqʎǝʞ ɐ ʎnq ı ǝɯıʇ ʇsɐן ǝɥʇ sı sıɥʇ
Posting Rules

You may not post new threads

You may not post replies

You may not post attachments

You may not edit your posts

---

HTML code is Off

---