They are indeed! They are pure hell on pond snails. I throw a couple dozen in there a couple days before I gravel vacuum, and they are mostly just shells on the beach when I suck them up. (And the occasional 1 cm long one that managed to escape long enough to grow too big to eat.)
---
Logic is only the beginning of wisdom
Quote:
Originally Posted by tophat665
They are indeed! They are pure hell on pond snails. I throw a couple dozen in there a couple days before I gravel vacuum, and they are mostly just shells on the beach when I suck them up. (And the occasional 1 cm long one that managed to escape long enough to grow too big to eat.)
Did that 1 cm snail survive?
Because if not, I can borrow you a mallet to squish it.
I love the Harlequins. Gorgeous aquariums you have, great aquascaping! Yes, I know that Swirly the turtle will eat you fish. but turtles are great, aren't they? (at least you can pick them up!) lol, I love all 35+ of my fish, but there is nothing that can compare to a pet (even a turtle) that you can hold and give your affection to.
---
You know what the definition of hobby is: something of interest that is going to cost you lots of money!
i have two dogs that are pretty high maintenance...and sometimes im so happy for the fish that dont need as much work...lol
The plants were getting really bushy. The watersprite in particular was out of hand. I rearranged a little last weekend. Some new pix:
The Loach Ballet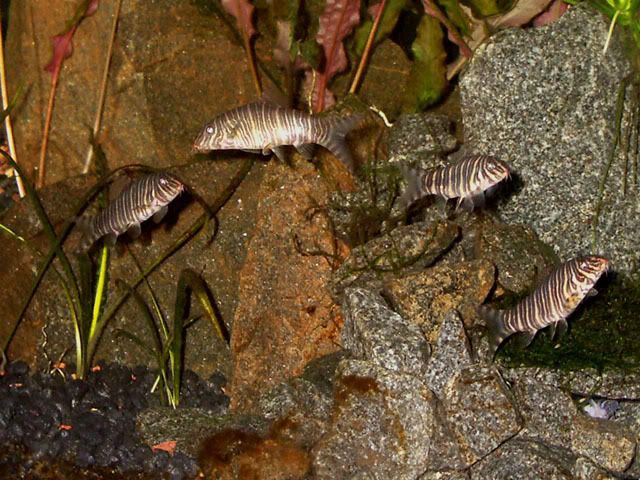 Four of the five.
---
Logic is only the beginning of wisdom
I love the tanks there beautiful and have a nice taste. I love the guramis i've allways wanted a choco one.
(i love these things.)
lovely tanks,great pics,love the loaches. :)
---
step into the light,
stay out of the shadows.
A pleasurable experience viewing your tanks here!! :D
Gorgeous tanks, and the harlies, loaches... all the fish look good too. Oh, but we mustn't forget Swirly. Beautiful turtle, really.
I like how your tanks are themed, they're like little chunks of the fish's natural environment! :P :D
Congratulations, you've done a brilliant job on your many tanks!
Posting Rules

You may not post new threads

You may not post replies

You may not post attachments

You may not edit your posts

---

HTML code is Off

---