Yikes! That's no good at all. I get really frustrated when I lose fish for no discernible reason. Of all the new additions to the 29g community, the ram and kuhli loaches are doing amazingly but for some reason I can't keep swordtails alive. Swimming around happy as can be, symptom free and behaving normally, then an hour later, dead as a doornail.
---
4 8 15 16 23 42
Ammonia 0
Nitrite 0
Nitrate 15
pH 7.2

Water changes 30 percent each Sunday. Last water change Sunday there. Fish lost - kuhlie loaches, sterbai corys, zebra danios, red platy. Filter maintenance last performed a couple of weeks ago - sponges in one filter rinsed gently in tank water when doing a water change. I alternate cleaning the filters. Absolutely no signs of illness or changed behaviour before losing the fish... behaving normally before hand. Plenty of surface disturbance, no loss of colour, no rapid gill movement or gasping for air at the surface. Eyes clear, fins intact. No chemicals or ferts added to the tank which is well planted. Had the corys and kuhlies for two or three years, the danios for about six months. Remaining 4 corys appear healthy. Fish aren't overfed, and are given a varied diet. Arghhh.
---
ʎɐqǝ uo pɹɐoqʎǝʞ ɐ ʎnq ı ǝɯıʇ ʇsɐן ǝɥʇ sı sıɥʇ
i have to say i hate it when that happens,i feel for you,
i get to feeling so helpless that you don't seem able to stop it.
i think there was an artical about something like this in PFK,
i don't know if i've still got that copy,i think it was somethng
like new tank syndrome,but my brain is smoosh,maybe one
of the others can shed some light.
i hope you can get to the bottom of it though.
Thanks Lainey :) I've been sitting at the tank watching the fish all evening, and can't see any evidence of illness. Fingers crossed, there won't be any more.
---
ʎɐqǝ uo pɹɐoqʎǝʞ ɐ ʎnq ı ǝɯıʇ ʇsɐן ǝɥʇ sı sıɥʇ
i really hope so for you. :)
that plant you have nymphaea did you have to order it,
or did you just get it from the lfs ?
i'm out an about tomorrow,so i'm after some plants for the tank.
Tall vallis is looking a little boring.
My nymphaea lotus came with an order from Greenline. It's fantastic.. grows large and leafy, has a great colour and doesn't require special lighting. If you can't get hold of any give me a shout - I have a few cuttings growing very quickly and I could post one down to you :)
I haven't lost any fish in the past 24 hours, and all remaining inhabitants are looking good.
A couple of grumpy looking black phantoms: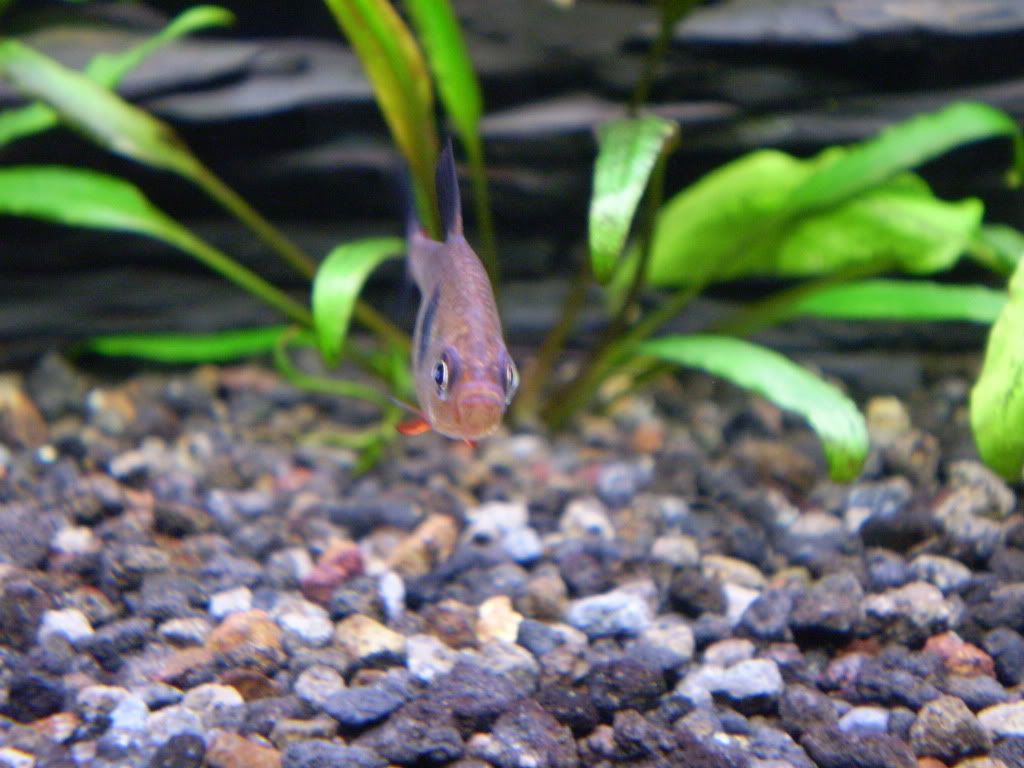 Some corys: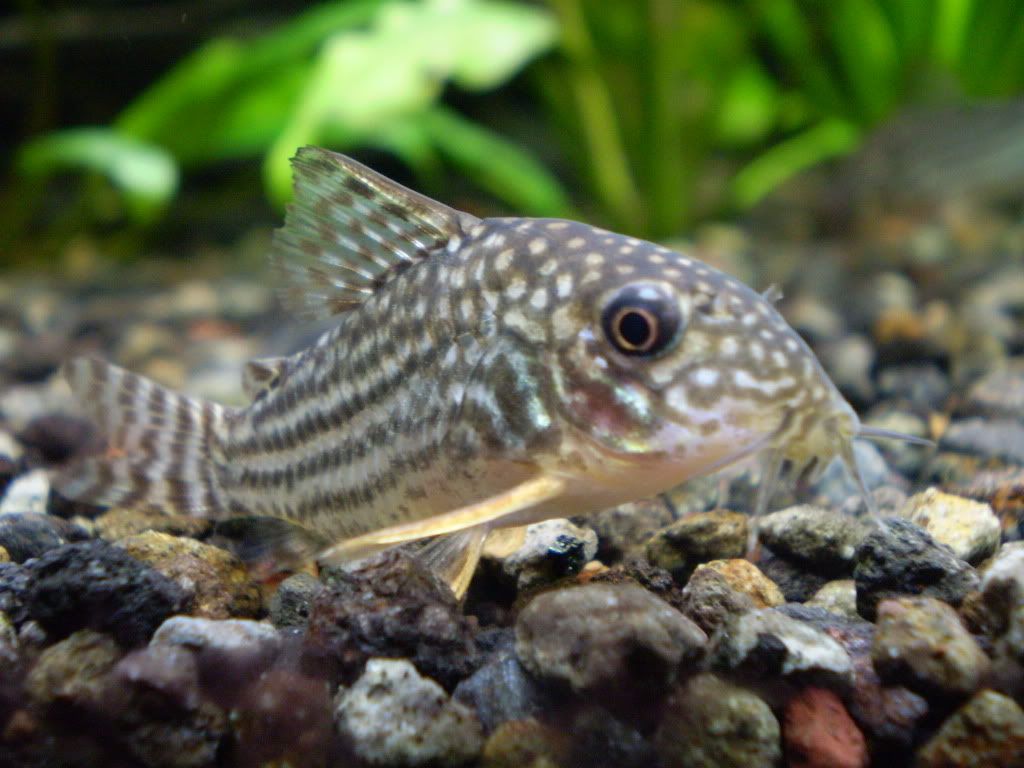 Dwarf gourami: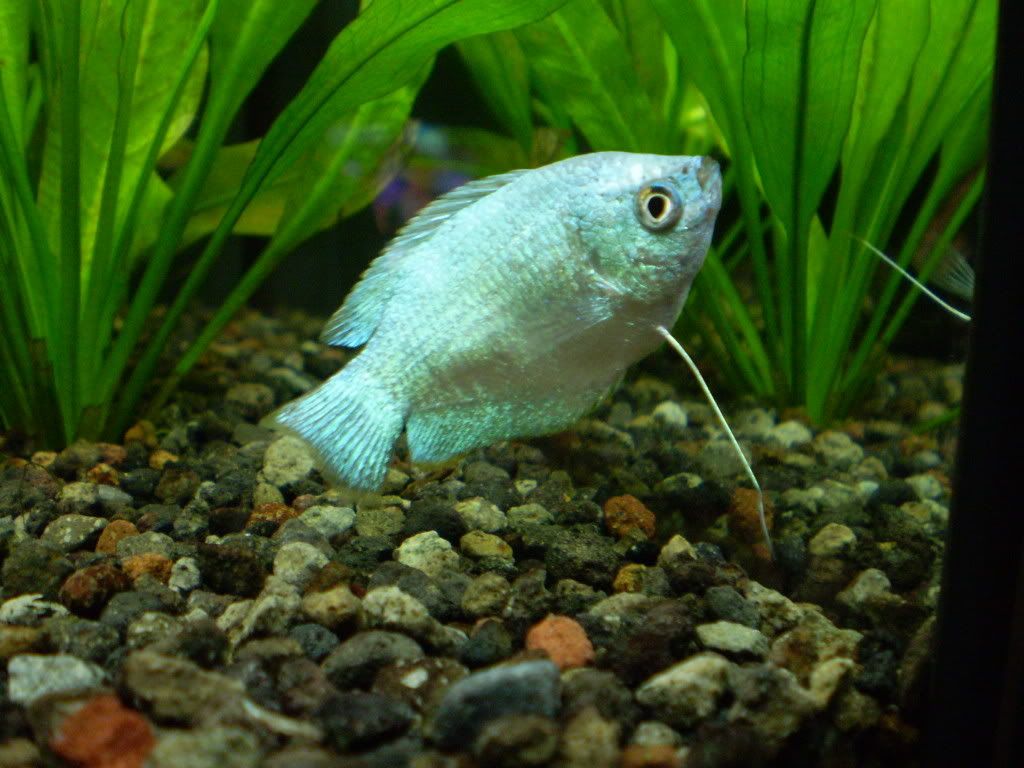 Female ancistrus sp3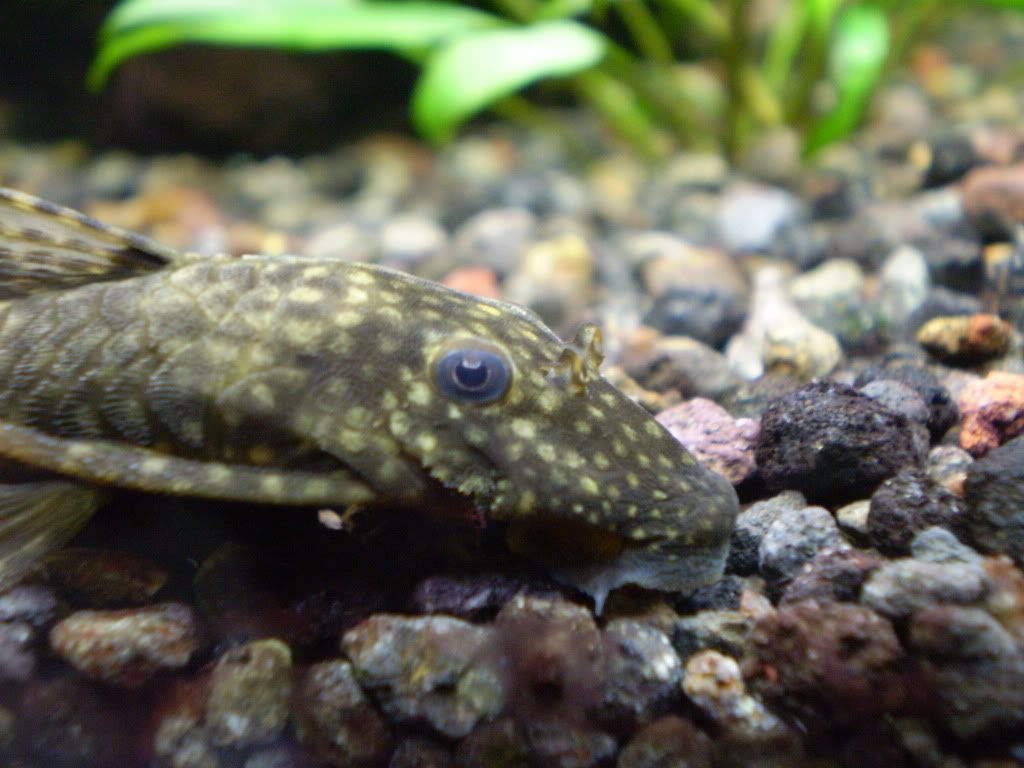 ---
ʎɐqǝ uo pɹɐoqʎǝʞ ɐ ʎnq ı ǝɯıʇ ʇsɐן ǝɥʇ sı sıɥʇ
that's really fab news,hope all is well now.
thanks for the offer. :)
those pics are classic,they look really grumpy looking.
good luck Kate.that tank is tooooo awesome to have problems :)
But if there is some, I am confident that you have the knowledge to find and fix it!!! :)

--Brian
---
80 Gallon--One 12" Albino Tiger Oscar(Whitey),One 11" Common Tiger Oscar (MC-THE OSCAR),One 5" Male Convict(TURNBUCKLE),Three 4" Male Convicts(STATE,MR.DESTRUCTO,ADREI),One 13" Pleco(RILO)

20 Gallon--One 4" Female Convict (Sparky),One 2" Female Convict(WRIGLEY),One 6" Pleco(BEAVIS)

10 Gallon--One 4" Female Convict(COUNTY),One 5" Albino Pleco(SUCKER),One 1" Female Convict(PHEEBE)
I am confident that you can and will find/fix/repair what is going on.good luck and keep us posted please!!
---
80 Gallon--One 12" Albino Tiger Oscar(Whitey),One 11" Common Tiger Oscar (MC-THE OSCAR),One 5" Male Convict(TURNBUCKLE),Three 4" Male Convicts(STATE,MR.DESTRUCTO,ADREI),One 13" Pleco(RILO)

20 Gallon--One 4" Female Convict (Sparky),One 2" Female Convict(WRIGLEY),One 6" Pleco(BEAVIS)

10 Gallon--One 4" Female Convict(COUNTY),One 5" Albino Pleco(SUCKER),One 1" Female Convict(PHEEBE)
Posting Rules

You may not post new threads

You may not post replies

You may not post attachments

You may not edit your posts

---

HTML code is Off

---