I can't get over how QUICKLY everything is growing in here! It really looks great - and in only 3 weeks time. Amazing! The diamonds look like they've settled right in (even if you're starving them, lol)... congrats on the Cory's - spawning already. Wow. . .I guess this means that everything with your cycle has settled itself out now? I don't know if I missed an update on that. . . If *I* were a fish, I think I'd be happy in that tank, too!
Yes, the ammonia/nitrite I saw is gone thankfully. It was pretty short lived so hopefully no major damage.

I'll probably let the Julii Cory's out of QT soon so they can join in the ... fun ;) They haven't shown any signs of problems so hopefully they'll be fine. They probably are hungry too, I've only put in a small amount of food to prevent a mini cycle. When they move to the main tank they'll get a feast.
Quote:
I'll probably let the Julii Cory's out of QT soon so they can join in the ... fun ;)
ROFL! Yes. You should! I'm sure they'd like that very much, and I can't wait to hear how much fun they have in there! Glad to hear the cycling issues settled out quickly for you. It's been fun to watch you grow your giant tank! I've never followed someone else through the process from the start before - and, um, it's such a giant tank! Neat stuff. :)
I don't know if you ever saw my reply to you on another thread, but thanks for the compliments on photography - tank photography (to me) is IMPOSSIBLE! And I don't know if I've ever told you how much I LOVE your avatar (and your screen name)! Makes me smile every time I see it around. . .Black mages rock, and FF is one of the best games ever invented. Flat out, hands down, period, and forever. ;) I was super lucky last year and got to meet Nobuo Uematsu, get his autograph, and hear his music preformed by a symphony orchestra. Talk about awesome! Yeah, I'm a nerd!
Thanks!

Well, for impossible photography you seem to manage quite well ;)

Vivi is my hero, and I tend to like IX the best out of the series, I've played them all. I had heard of the Distant Worlds tour, but missed it when it was in Boston this year >.>
I haven't had a chance to even PLAY IX yet. No time anymore, but I'm counting the years until my kids are old enough to be corruptible. They WILL (watch their mom) play Final Fantasy! I'm old-school, though. III was awesome, but if forced to choose, I'd have to give favorite status to VI. I've always been half in love with Gau, and I played that darn Opera so many times
It may well be the geekiest thing you ever do (you'll be in good company), but if you ever get the chance again to see that show, take it! There is nothing like hearing Aerith's Theme played by an orchestra, and C'MON! Swing de Chocobo? How can you not love that! They did Maria & Draco's Opera, too. I was happy!
This conversation doesn't belong here, so I'll let it rest.
Your tank rocks socks, and I wish there were a way for you to get a full shot of it! LOL!
Moved the Julii Cory's into the main tank today, they are settling in well.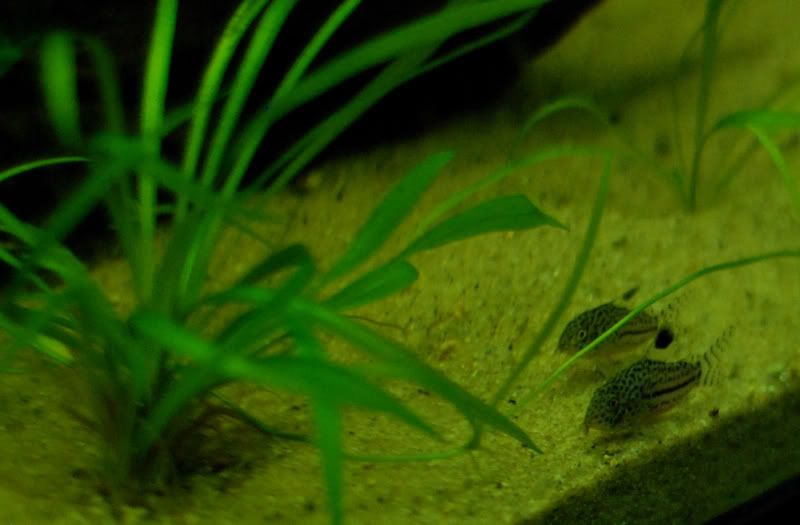 Snails being bad.... I swear there must be something in the water.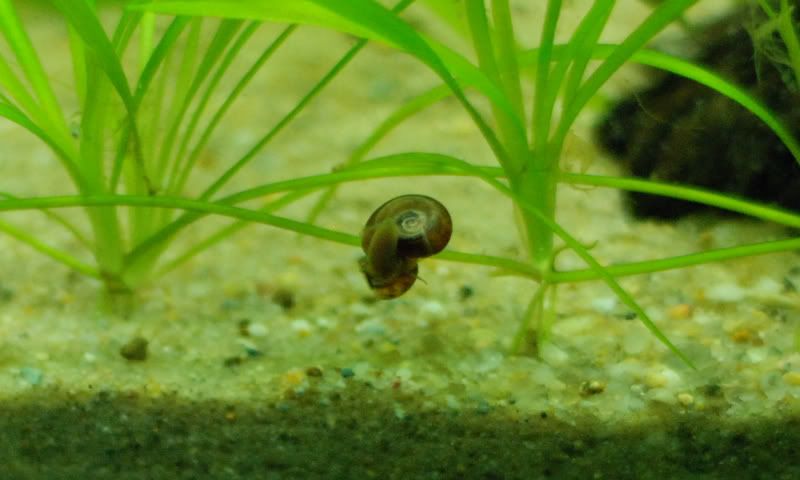 Speaking of that today I was trimming the pygmy chain swords and found a suprise. The ones I got were all emersed form, so the outer set of leaves (the emersed leaves) were all nasty looking and decaying. So I pulled them up to cut off all the dying stuff and replanted. While doing that ... I noticed that under a few of the leaves were eggs! They looked like Cory eggs, but I wouldn't completely discount the Harlequin Rasbora as I know they deposit their eggs under leaves. The Pygmy Chain Swords have really narrow leaves though so I'm pretty sure they were Cory eggs.
With the QT tank empty I had to fix that... so off to the pet store to get the main fish of the tank. The Angelfish. They're so cute when babies.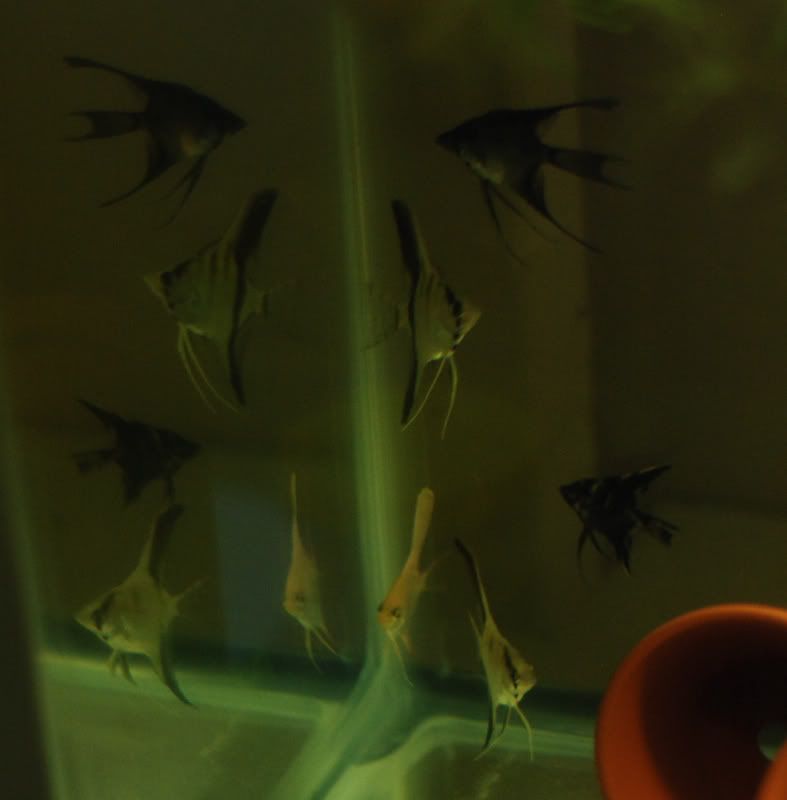 Gah! Angels! Gorgeous!!! They're going to be REALLY happy in that giant tank. . . and congrats on the eggs! It's so exciting that everyone is settling in and spawning already. You've got some happy fishies there!
Bleh, been having a rough time with the QT tank.

My wife messaged me today, Nitrites spiked up to 1 ppm >.> I had really hoped that between stability and a full cover of water sprite that it wouldn't have such issues. I've been doing daily 50% changes, and using Prime to help combat it, but it's only getting worse. On the positive, the black one unclamped his top fin. It looked like he might have had a slight case of fin rot from the store, but that's disappeared. On the bad, the two zebra striped ones have gone terribly pale to the point of almost looking pure silver.

I know it's a big risk ... but I made the decision to move the angels into the main tank early. It's far from ideal, but I'm hoping keeping them in good water outweighs the risk of a hidden parasite. Stressed fish just invites disease.

My wife says they instantly look a whole lot better, can't blame them really. The zebras have already darkened up substantially and they've all eaten well. I'll keep my fingers crossed. I really like these Angels and I'm already attached to them. They had a really good variety at the store, I was surprised. Usually they only have marbled ones, but this time they had almost all the variations. The only ones they didn't have were the koi, platinum, and blue.
UG! Cycling issues are always the worst - I would likely have done the same thing just to get the babies into clean water. Hopefully you've solved the problem, and don't end up with any illness down the road *crosses fingers* Glad they perked right up - they're going to LOVE living in that massive tank!
And the tank developed a crack starting from the the middle of the tank at the top, to the right corner. Water all over the floor. Managed to get the fish placed into temporary quarters. Petsmart exchanged the cracked tank for a new one and we are in the process of resetting up.

~Geo's wife
Posting Rules

You may not post new threads

You may not post replies

You may not post attachments

You may not edit your posts

---

HTML code is Off

---