ahhhhh, great shots!!! I agree with the pp - LOVE!
---
Sadness
!
My plan for 'instant' cycle didn't work, should of known
I used a combination of Stability and live plants. The plants are growing like crazy which is good. The floating plants have more than doubled, every pygmy chain sword has sent out runners, some multiple runners, all the swords have new leaves growing, the stem plants have doubled in height with the Wisteria in paticular already near the water surface. Even the Anubias have grown new leaves but they're so slow they don't count
I've been seeing Ammonia for the last week, small amounts but still there. 0.25 to 0.50 ppm. I only saw 0.50 ppm once, every other test was 0.25 ppm so I didn't worry too much about it. Today however I'm starting to see Nitrites, between 0.25 and 0.50 ppm
Did my weekly 50% change today, really stinks though that I'll probably have to do this daily for awhile. It takes a considerable amount of time to drain and fill this giant.
Managed to catch a picture of a Cory without the flash. These guys are really active!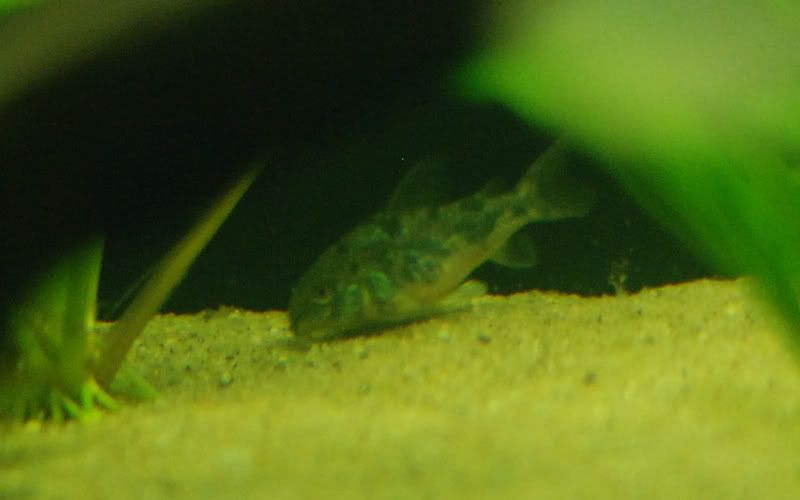 Here's a picture of the prolific Pygmy Chain Sword.
That sucks Geo! I was gona say, If using the API liquid test the ammonia is notorious, and the difference between 0ppm and 0.25ppm is hard to tell, IMO. I wouldn't sweat it, especially with a heavy planted tank as Byron keeps telling me. as for the Nitrites..... this is a different matter, could be that you are just going through the normal cycle process. Although with many plants its possible to allow fish to be added sooner, I think the cycle process must still happen in the background.

I noticed a nitrite spike when setting up my planted tank after a few weeks of fish in, I just did a couple of water changes and then it seemed to settle after that. I am sure I don't need to tell you any of this anyway, but thought I would just chip in..

Good luck, and lets have some full pics soon! cheers.
---
Peace always..

If you worry you die, and if you don't worry you still die..... so why worry?
maybe i went the wrong way about it but I used the number of prime to detoxify nitrites as indicated on there webpage here
Seachem. Prime
at the end they say . To detoxify nitrite in an emergency, up to 5 times normal dose may be used. If temperature is > 30 °C (86 °F) and chlorine or ammonia levels are low, use a half dose.
So it's been awhile since I updated this thread. I'm at the three week mark, actually a little over three weeks. The 26th will mark one month. It really feels like it has been longer than that because of how much growth there has been in the plants, but I guess that's the difference brighter lights will make!
Remember my Pygmy Chain Sword I posted a week ago?
This is what it looks like now ... madness!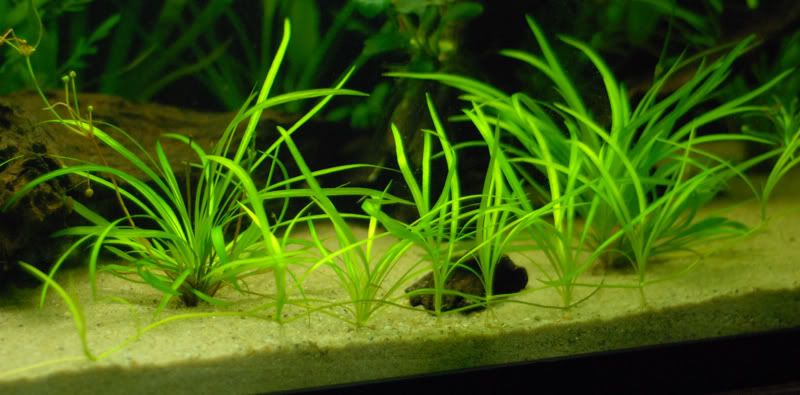 These guys are just plain nuts in how fast they grow, and the runners show no sign of stopping, they just keep going and going
.
I can't really do a full tank shot, the tank is located in a tight spot that I can't get far enough back to get the whole 6 foot length into the shot. So here's a couple anyways.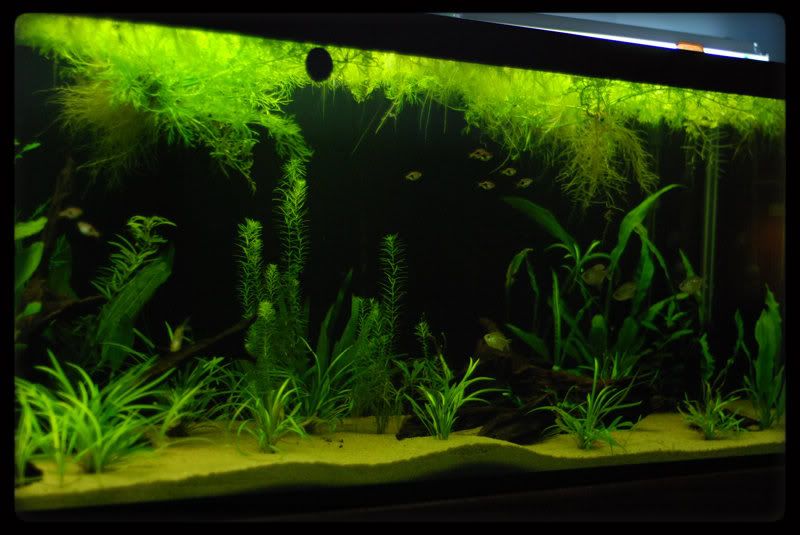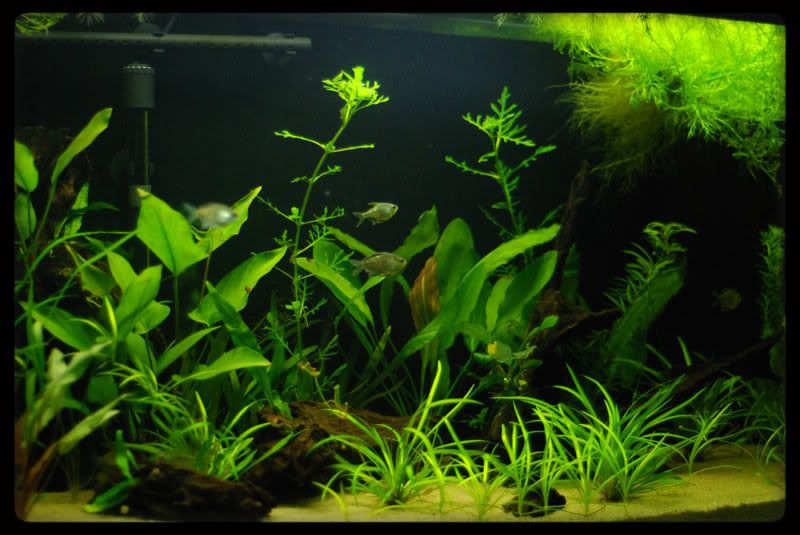 So as you can see, the floating plants have taken off and I have pretty good coverage. The Water Sprite is insaine how much it has grown, I've pulled over a dozen new plants off of it, and put several of them into my QT tank where I have my newest addition, 8 Julii Cory catfish. I really like these guys, I love the spotted corys.
Their tank is pretty sparse, but that's on purpose so the tank is easy to clean between uses.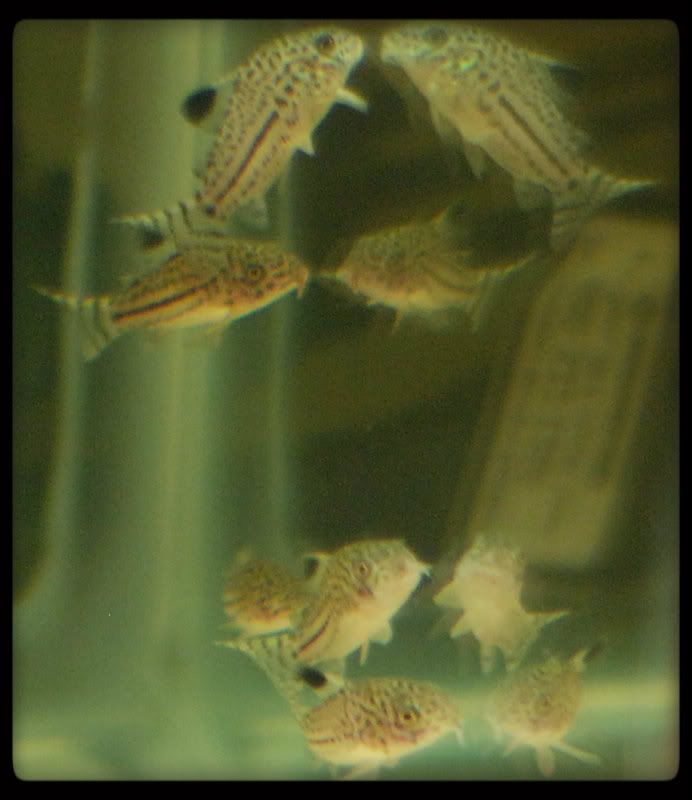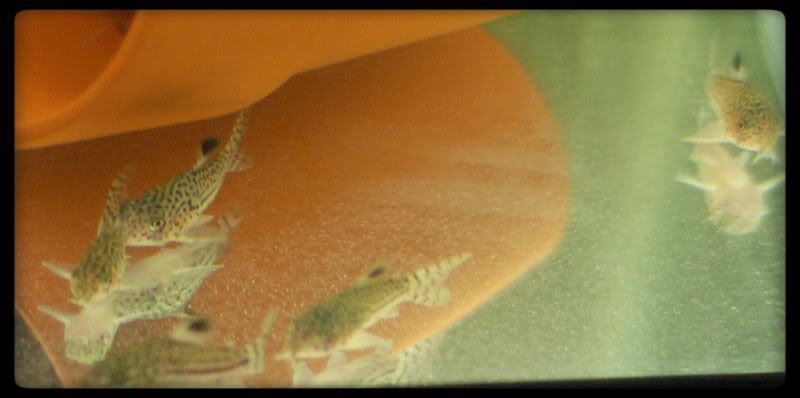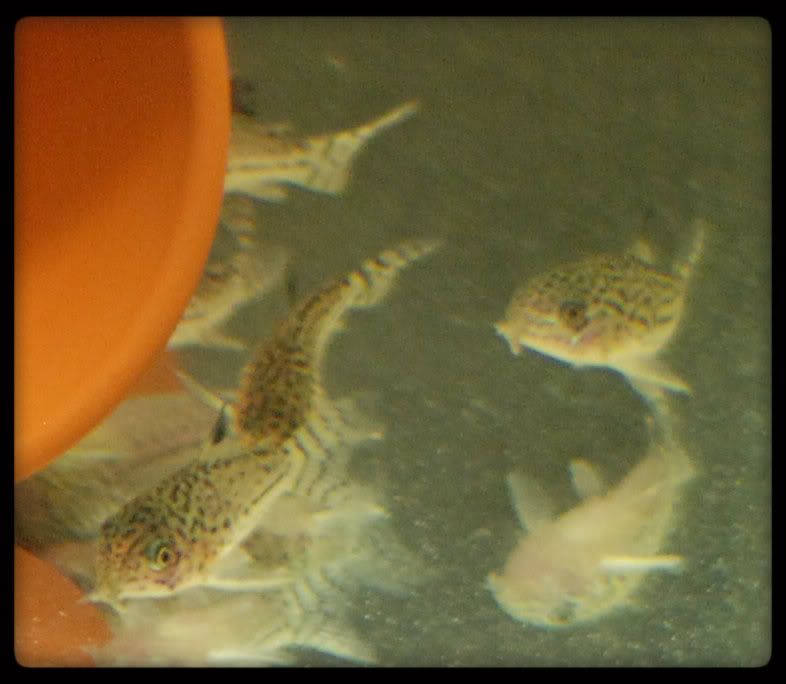 Speaking of Corys, my Peppered Cory catfish have already spawned in the main tank, they didn't waste any time at all!
The Diamond Tetra are starving to death (if you listen to them) and quickly munched the eggs, but still I was really suprised they corys have already spawned. We actually got to see them at it. We watched a female cupping a pair of eggs in her pelvic fins and swimming around looking for a good place to stick them. It was really an interesting sight to see. My Bronze Cory catfish have spawned several times in my other tank, but always during the night/morning so I woke up to eggs plastered everywhere.
Tank is looking super sexy now Geo, plants have done really well eh?? you have water sprite and water lettuce floating eh?

I have about 90% coverage with my water lettuce at the moment, the only bit that is not covered is where the flow comes out of the filter, I have it pointing at the surface since my last brush with high nitrite and gasping fish.... Im too scared to direct the flow away from the surface now.. I think I will have to start taking some plants out and binning them. sad about that... maybe I could sell it on ebay!

Seriously though, loving your tank. how are the fish coming along? whats the stock list at the mo? those corys look nice! I wish I had more room, I would have a ton of corys. love them!
---
Peace always..

If you worry you die, and if you don't worry you still die..... so why worry?
Thanks everyone!

So far I have:

x10 Diamond Tetra
x10 Harlequin Rasbora
x6 Pepper Cory
x8 Julii Cory (in QT)

So pretty light still. Next will probably be the Angels. I want Marble Hatchetfish but can't find them anywhere yet, a not so local store said they might get some this week so we'll see.
Congrats Geo i only hope my 2 new 55s come out as stunning as what you have created! I rephrase that i hope they come out half as stunning cos lets face it youv done an awsome job!
Posting Rules

You may not post new threads

You may not post replies

You may not post attachments

You may not edit your posts

---

HTML code is Off

---