More Photos
---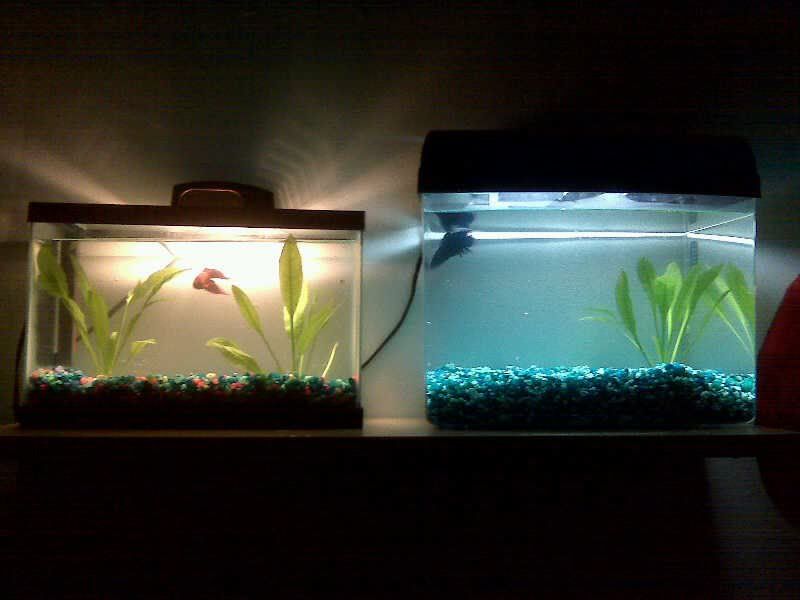 gosh i hope that shelf is strong enough to cope
with two tanks..........nice looking by the way :)
dude that is awesome, im sure they are very happy now, and like willow said make sure that tank can hold, especially if ur walking under it sometimes, lol
---
10 gallon tank
Fish: Male veiltail betta, Chinese algae eater, one Pleco, 3 Ghost Shrimp and 3 Zebra Danios


2.5 Gallon
Fish: Male platy.

Rest in peace to jaws the rts, and bubblegum the betta
Nice Bettas and nice pics!

Your shelf is probably fine as long as the screw are in studs. You probably have about 45-50 # of water if I calculated correctly. I believe that's the max rating on those shelf brackets.

The tanks look very pretty up there, side by side and I bet the fish are happy to have room to swim and posture at each other from afar!
Similar Threads
Thread
Thread Starter
Forum
Replies
Last Post
Left 4 Dead

iamntbatman

Off Topic Discussions

15

09-03-2009

01:59 PM

She left a legacy...

GW

Fish Breeding

5

05-28-2007

02:01 AM

Left & Right Slider Bar

jones57742

Off Topic Discussions

11

12-11-2006

12:39 PM
Posting Rules

You may not post new threads

You may not post replies

You may not post attachments

You may not edit your posts

---

HTML code is Off

---