Quote:
I am interested in knowing if you ran into problems with this setup. The Miracle-Gro potting soil you used contains poultry litter and doesn't sound like a good thing to be adding to an aquarium.
I have used this potting soil several times with no problems. If you add enough plants you will not see any spikes in ammonia. I ran a tank for almost a year this way. I also know several other ppl that have done the same.
Btw Blackwater you tank looks good!
---
nawilson89-Please let me know how those micro swords do for you. I'm not sure how well they'd do in my tank, honestly though I never thought about them before. I have an overabundance of stem plants in my 29 gallon that I could trim and put in here, but I have no idea where and have it look nice. If I had better luck with Hygrophila pinnatafida I'd love to add that in between the rocks since the runners will attached themselves. I have horrible luck with that plant though. Down to one stem.

Oh and seems like I do have a blackwater tank lol. I think the Miracle gro is leeching tannins. I used the wood before and never noticed that it did.

aussieJJDude-Thanks. :D I had just meant when you look up aquascaping tips and they say one focal point. I just jammed everything in lol. This was me getting annoyed and giving up. Came out better than the stuff I was trying.

Boredomb- Thank you as well. I can't say it's because of the Miracle Gro, but after only two weeks my crypts are growing new leaves. That's already better when I had tried them before in Eco Complete with root tabs. All the did then was melt.


I got a really great deal on some C. wendtii 'Mi Oya' (they are huge!) that I'm going put in the back. If they look too big I'll throw them in another tank. I have a few other plants arriving next week, so hopefully I don't turn this from looking good to horrible.
Apologies for the bad pics. This is fully planted now. On the right side is Crypt wendtii 'green gecko' with Anubias barteri 'coffeefolia' behind it. Center is Anubias barteri 'nana'. Along the back is Crypt wendtii 'Mi Oya'. On the left is Crypt wendtii 'bronze' with Anubias barteri 'nana gold' in the back. On the driftwood is Microsorum pteropus 'narrow' and Anubias barteri 'micro'. Peacock moss is wedged in between many of the rocks.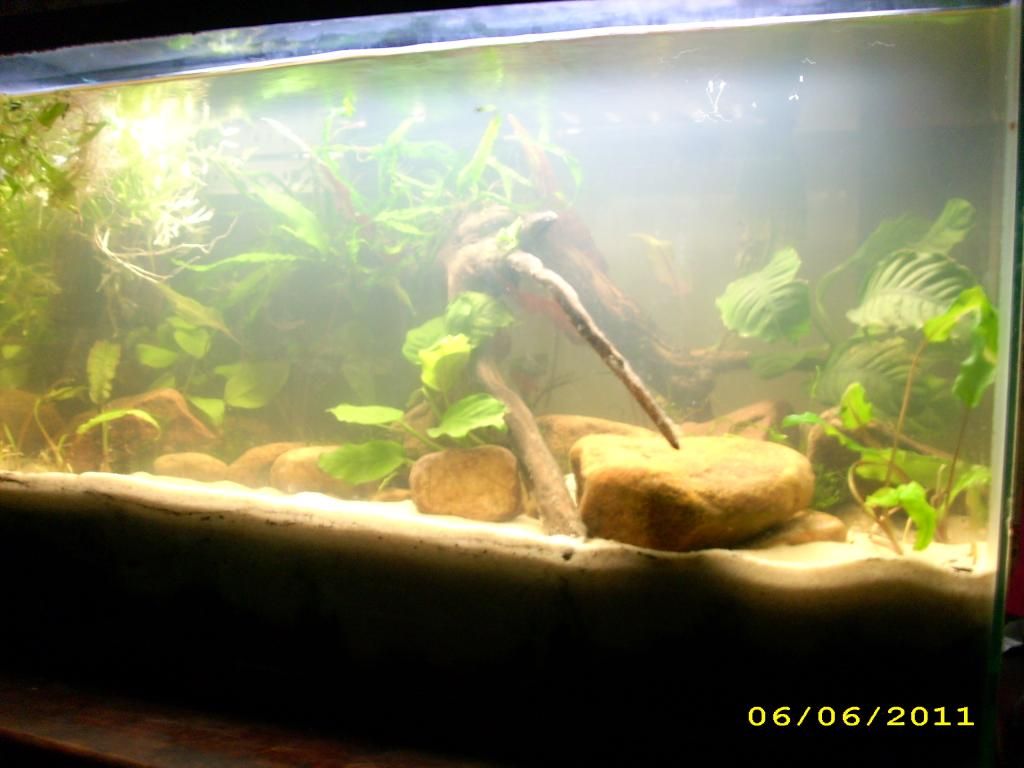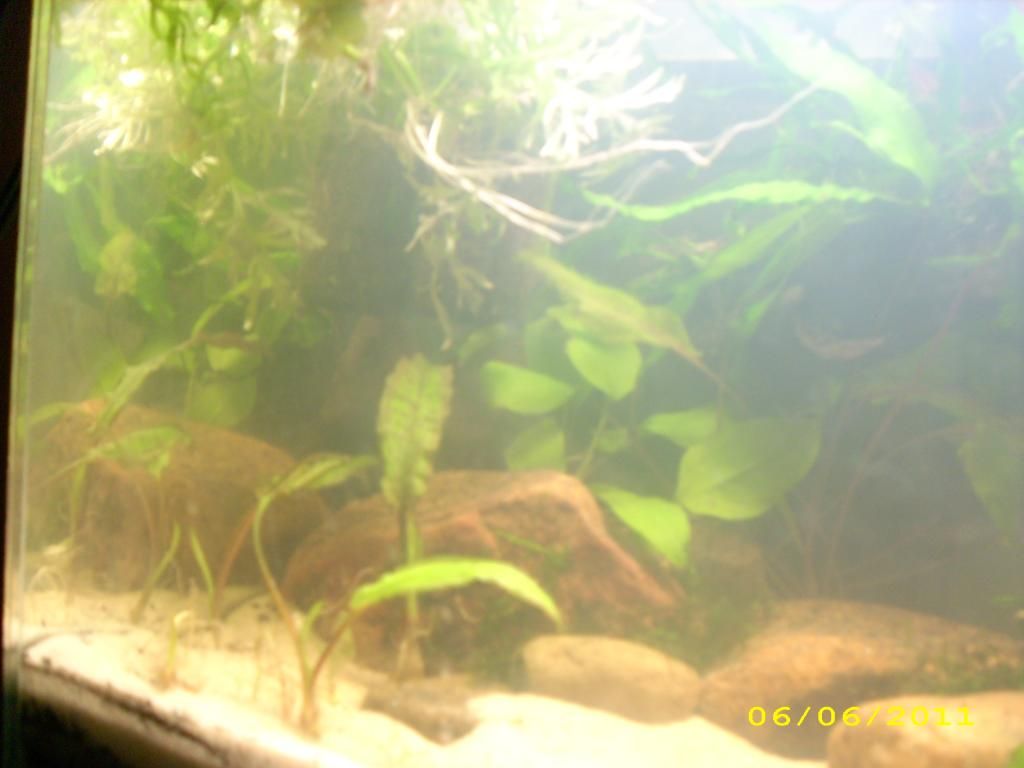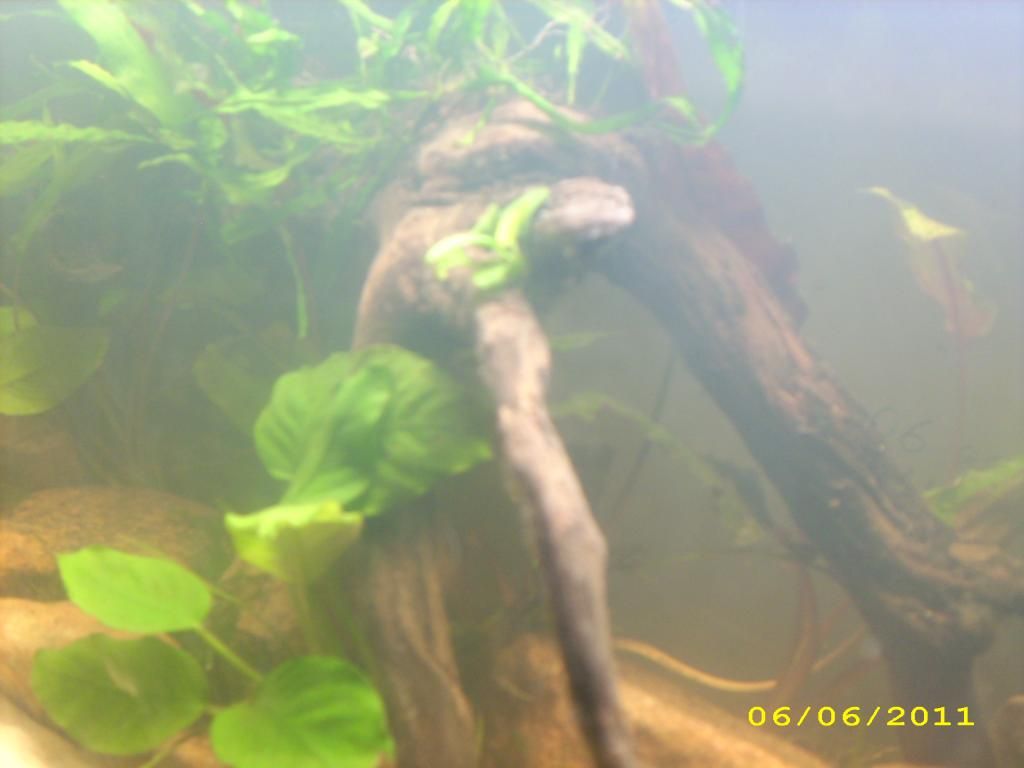 Right side view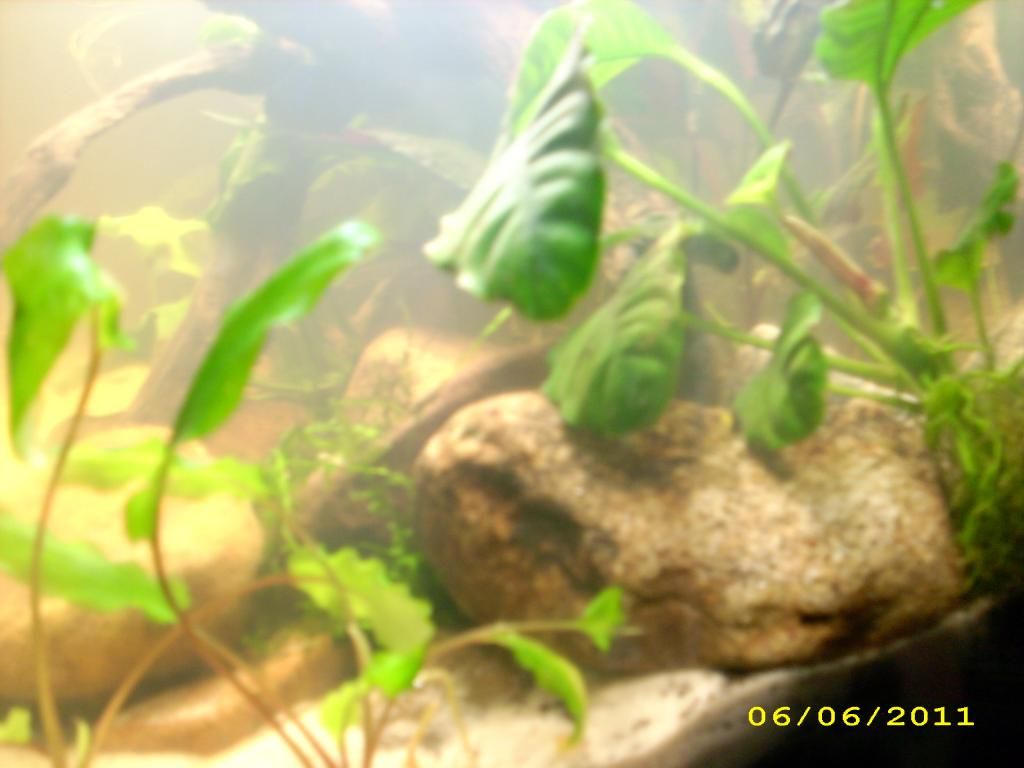 Any thoughts, changes, critiques for me?
You asked for crits! How it is too perfect - that the crits! :D
Na my crit is:
It is too good! I love it - do you want to come to aus to decorate my tank?
---
540L/140G - 'Tidal Jungle' (Crabs) | 254L/67g - 'Backwater Pool' (Fish/Snails) | 96L/25G - ''Twisted Minds" (Fish/Snails)

I've never had any problems with 'Impulse Buying'. They're just animals that I forgot I had planned to get.
Thanks guys. You can't even see the Mi Oya in the pictures but the leaves reach the top of the tank. I'm hoping it doesn't melt too badly since it will take a long time to get back to that size. I think I'll switch out the water sprite (which looks like Wisteria to me) for some red root floater I have.

I did some testing today after a week with no water changes.
Ammonia-2.0
NO2-2.0
NO3- 5.0
The plan before I dirted it had been just to switch out the filter with one of the identical ones on my 29 gallon. With the Miracle Gro I have to figure out what would be my best course for cycling.
Now with decent pictures
---
I finally took some decent pictures. I've been getting nice growth from everything. The biggest problem had been with the Java fern. Now that I've started boosting the GH though it is growing well and all the bad leaves have plantlets forming. I've also added Amazon frogbit, dwarf water lettuce, and Salvinia cucullata. The dwarf water lettuce doesn't get long roots in my tanks like everyone else's seems to, but it does grow and spread.
I've also got three stems of Hygrophila pinnatafida sitting here waiting to go in. No idea where though. I've always killed that plant before. Was hoping the soil would help. It supposedly attaches to driftwood and stones as well so I figured I'd try. Maybe remvoe the big orange rock in the front right and put it there?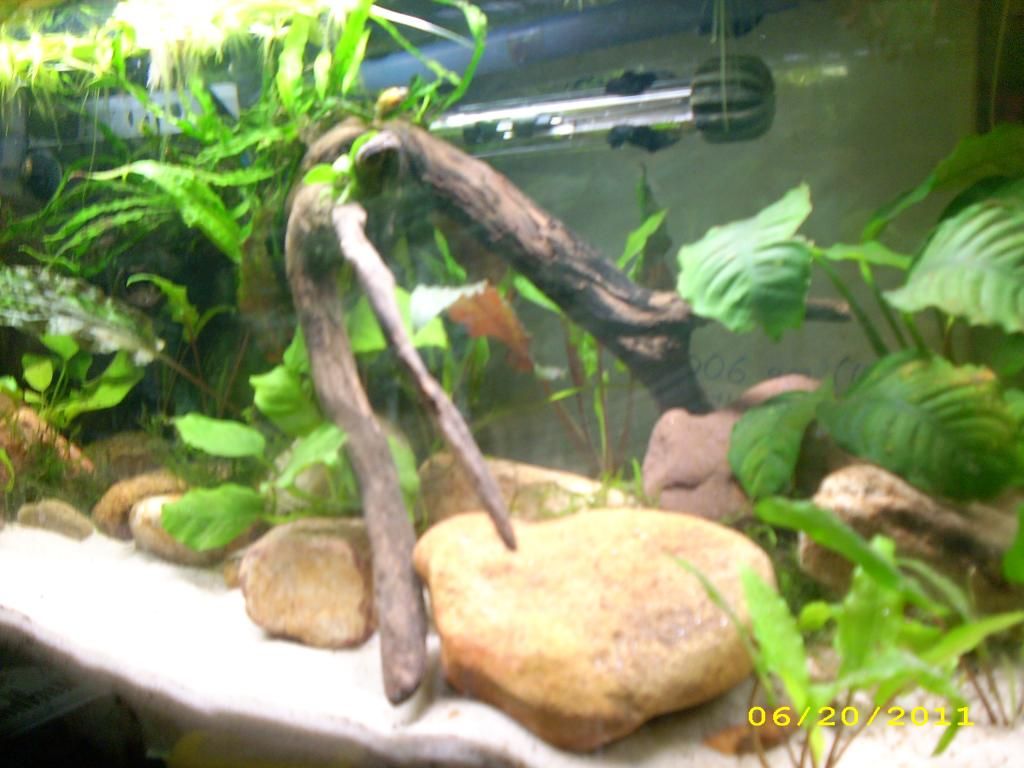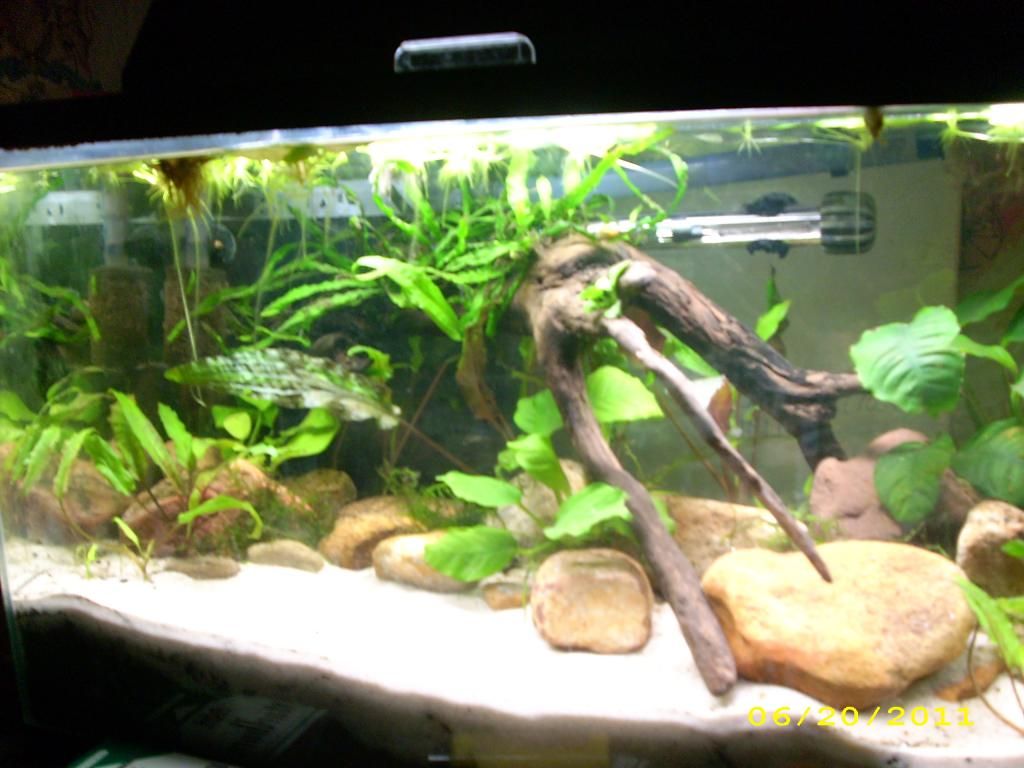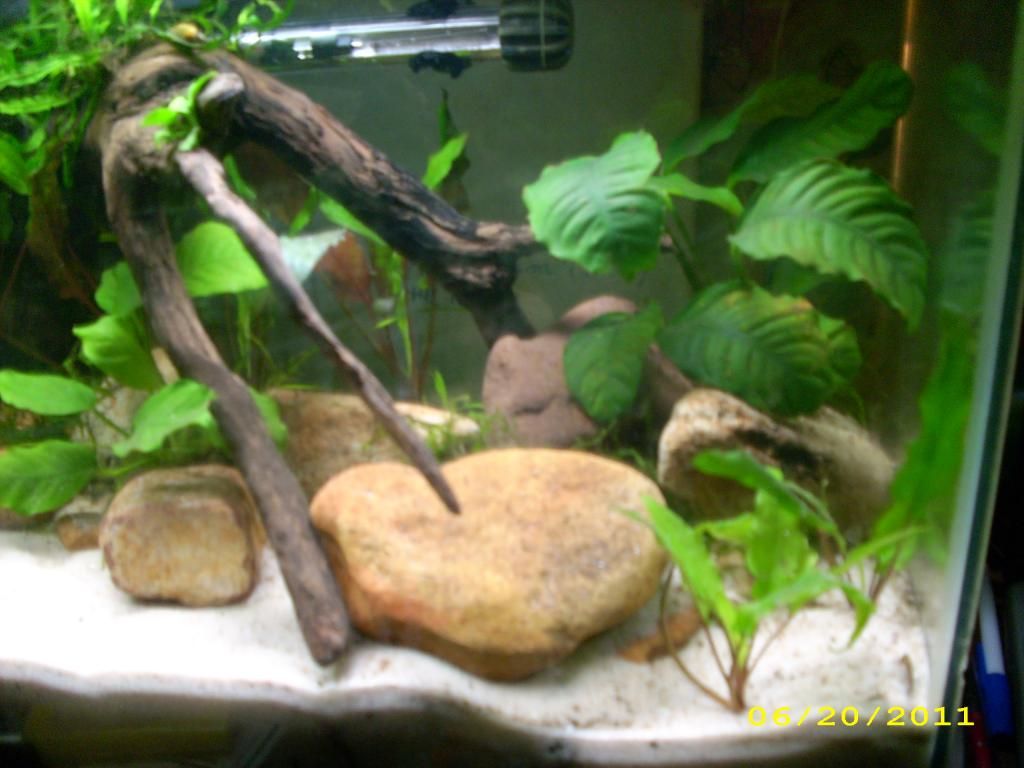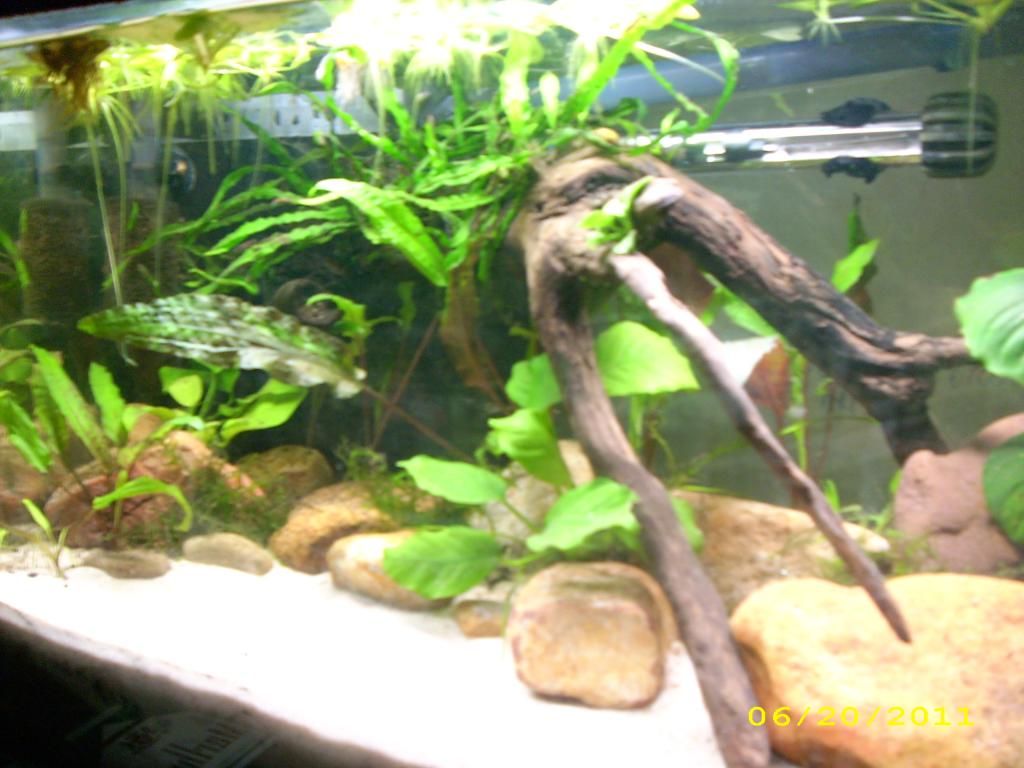 Thanks :D

If you look close in the bottom two pictures you can see some of the baby crypts that started forming two or three weeks ago. It should hopefully look even better with time.
Posting Rules

You may not post new threads

You may not post replies

You may not post attachments

You may not edit your posts

---

HTML code is Off

---