Quick update
---
Well as far as my fish are concerned there life has been boring lately I guess.....
at least the caecilians think so.
I have been really busy with college and all. Been really stressed out these last couple weeks. I'm flying down to mexico on Saterday for Spring break. Ugh.... still rushing to get packed, get school work done, and getting all the animals situated for while I'm gone.
I did pick up some new fish at a auction a while back. 2 large angles and I think 11 boesemani rainbows. 3 adults(1m/2f
), 8 juvies. Local walmart got in some really stressed bamboo shrimp, but at under $8 I had to get one. Then the typical fish I have always had.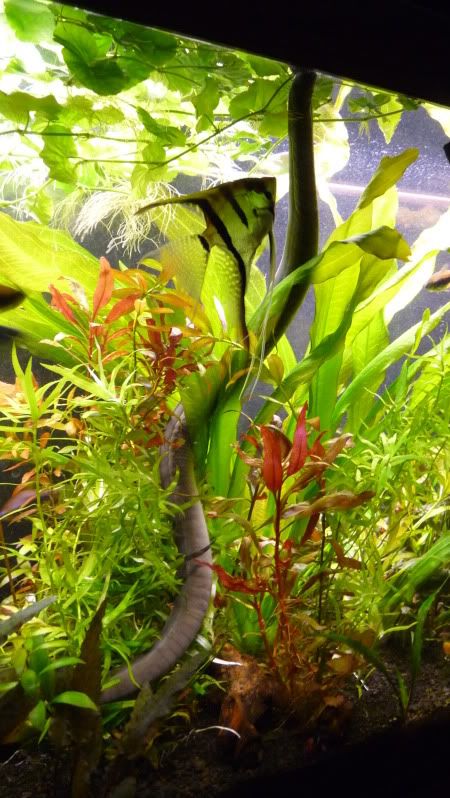 Curious angle fish must know whats going on
.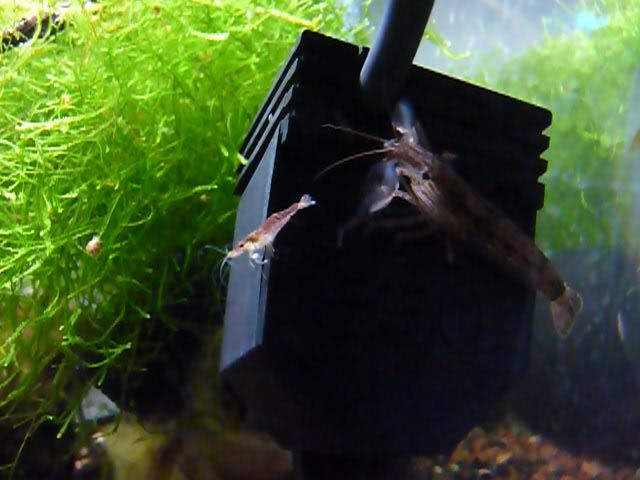 Mr. Bamboo shrimp with a cherry shrimp hanging out by him.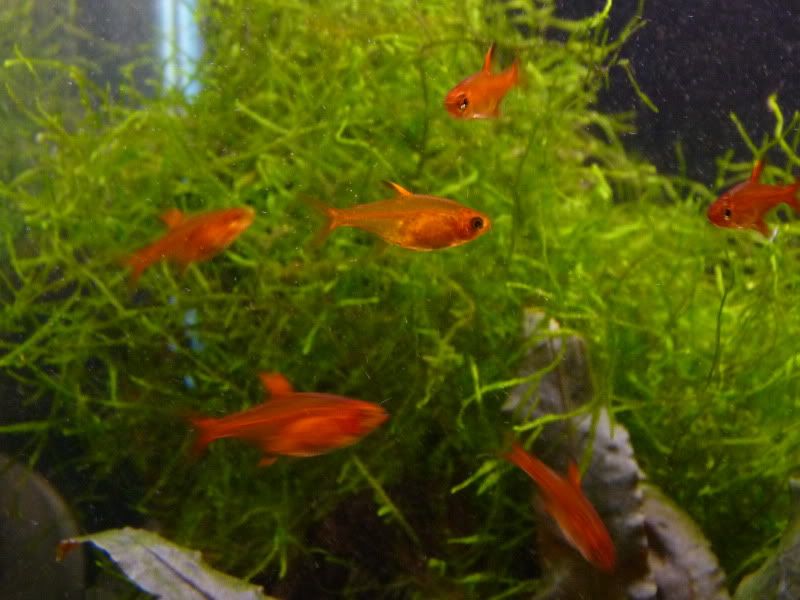 My current ember tetra school, which is down to 6. So far the angle fish have not touched them, but I think they have done a number on the cherry shrimps in this tank.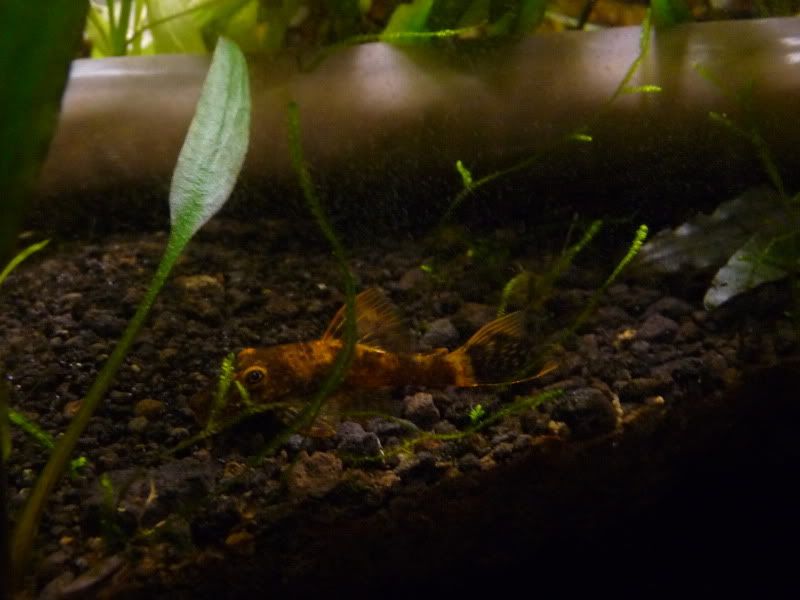 One of the baby calico BN plecos I got two auctions ago, at about 2" right now. He's doing his best to look intimidating to the 2 ft ceacilian that is unaware of his exsistance. I still have 3 of the original 4 I got.
nom nom
Very nice fish. Plant's too!8)
---
The most important medication in your fish medicine cabinet is.. Clean water.
Looovvveeee the Boseman's; miss mine totally I think they're one of the most awesome fish I ever had. That ceacilian of yours is one heck of a number in that tank - And that all works fine with the lil Tetra's and shrimp??
---
~ Life Is Too Short, Break The Rules, Forgive Quickly, Kiss Slowly, Love Truly, Laugh Uncontrollably And Never Regret Anything that Made You Smile.
Life May Not Be The Party We Hoped For, But While We're Here, We Should Dance. ~
Very nice pics and fish, as always.
Have a great time in Mexico. Where in Mexico are you going? (Don't forget to pack the sunscreen!)
---
If you don't stand up for something you'll fall for anything...
Nice pics.
Please tank me with you to Mexico. Only I wouldn't come back. I need to get lost for a few decades.
---
"He who knows nothing is closer to the truth than he whose mind is filled with falsehoods and errors"
Thomas Jefferson quote
I'm going to Cancun. I've been there a number of times, but its been two years. We will be going down the cost a few of days to xcaret and some new place I've never visited. I'm hoping I can find some freshwater to play in too. I'd like to see some familiar fish down their, but its not like there are many surface streams or rivers. Cenotes make fish finding a lot more difficult
. Marine kinda intimidates me, IDK whats safe to chase fish-wise, except the diff between skates and rays
. I also took a Japanese language class last semester and I forgot most of the spanish I learned in High school. I'm hoping it comes back and I don't screw up too royally with mixing spanish and japanese together.
There are 2 caecilians in that tank, both around 2 ft long. They don't bother the fish, because they are naturally blind and rely on scent. As adults they are pretty lazy and prefer to scavenge rather than hunt. They do hunt worms and similar things, but little darty fish are out of their league. I'm sure they can sense the larger fish, but I don't think they see them as a food source. The fish show typical "prey" behavior when first added, but most all settle into normal behavior. Once they figure out they are not going to get eaten. Most fish prefer some space between themselves and the caecilians, only exception has been panda garras. My old garras had a obsession with the caecilians and IDK why.
Heres
a old video of this tank a year ago, before it crashed. Being blind the caecilians were scared at first by the garras touching them. I have 6 garras now, but they have yet to meet the caecilians.
Awesome tank! Looks really great. Have a great time in Cancun. I'm getting married in Cancun next month at the Sun Palace
.
absolutly beautiful.
---
when you set up a new tank,hide an extra
sponge or two behind some decor,that way you have
something seeded for you next filter.
Posting Rules

You may not post new threads

You may not post replies

You may not post attachments

You may not edit your posts

---

HTML code is Off

---