puffer tank
---
not the clearest of pics,but you get the drift of it i hope. :)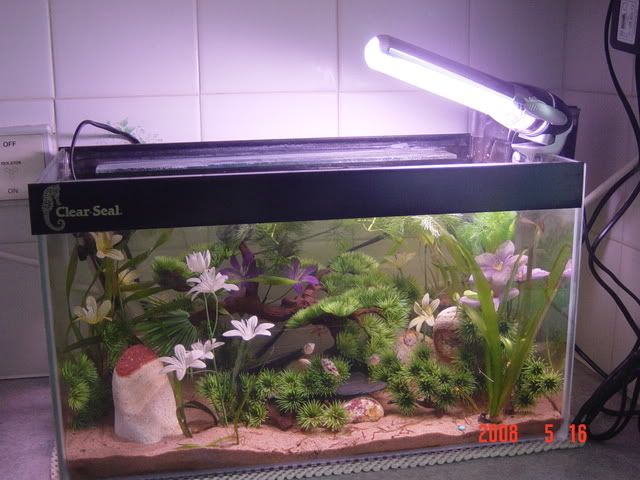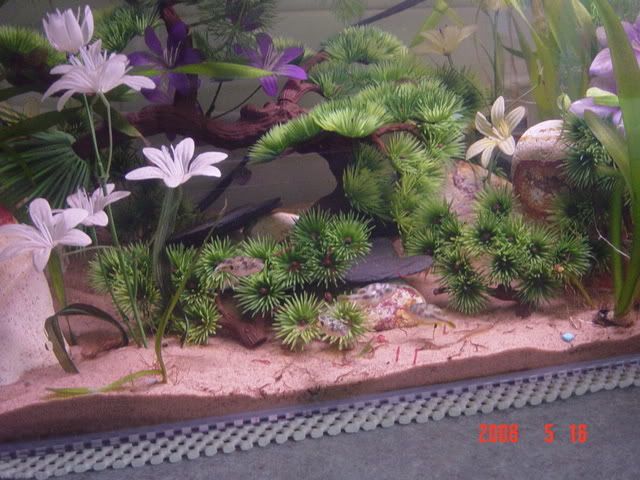 Lainey, that is absolutely gorgeous!! You've made a beautiful job of it! How are the puffers getting on?
Thanks kate.
the famous five are doing really well :)
they do prefer live food,however i am not always able
to get to the fish store,so the next best thing is frozen,i use the
syringe(sp)as it makes it look a little more real for them as i wiggle
the nozzel and most days they take there worms straight
from it,once they drop to the floor they usually don't bother
with them.
bought them a new light,so it brightens the tank a bit nicer,cost me
over thwenty quid,but i don't drink,smoke, go out,so i don't
mind.
I'm glad to hear they're doing so well. Using a syringe to feed them frozen food is a fantastic idea! I know how picky they can be.
yeah they can be a little picky,but the little guys
are on the whole good,so i'm lucky,and it helps me feed them a little
bit at a time,otherwise it all goes to the bottom,and then the snails get it.
:)
how are your fish getting on, all well i hope ??
y'know...I'd never even thought of a syringe and the farm I work at keeps em on hand for emergencies!!!!
---
This is the song that never ends...
Very pretty tank, Willow!

Are you going to try to post some close ups of your Puffers? I'd love to see them! :D
hi
thanks. :D
yeah i would love to however my photo skills are pants,
and all you would see would be a blur,hmmm i have some
pictures from when i first got them if you would like to see. ??? :)
o o o o I do i wanna see...............
---
10 gallon tank
Fish: Male veiltail betta, Chinese algae eater, one Pleco, 3 Ghost Shrimp and 3 Zebra Danios


2.5 Gallon
Fish: Male platy.

Rest in peace to jaws the rts, and bubblegum the betta
Similar Threads
Thread
Thread Starter
Forum
Replies
Last Post
Puffer tank

willow

Freshwater Journals

30

03-22-2008

01:12 PM
Posting Rules

You may not post new threads

You may not post replies

You may not post attachments

You may not edit your posts

---

HTML code is Off

---