A picture for yous!
Beautiful photo. the fish is so subtly defined yet easily recognizable. the pastels of the background blend perfectly with the color of the fish and the soft focus of the foreground gives the photo a fantastic, almost cartoon-like quality. I love it!
---
"Be the change you want to see in the world."

Bring on the algae!! Just got home with my new light bulbs! Two fluorescent 6500k 10 watt bulbs to replace the 15 watt incandescents that were stock in the hood. It showed me I have a new problem, however, my DG has a big white spot on his forehead. ): Also posted in disease but here are photos and a video as well as a tank shot with the old light bulb on the left and the new on the right to show the difference.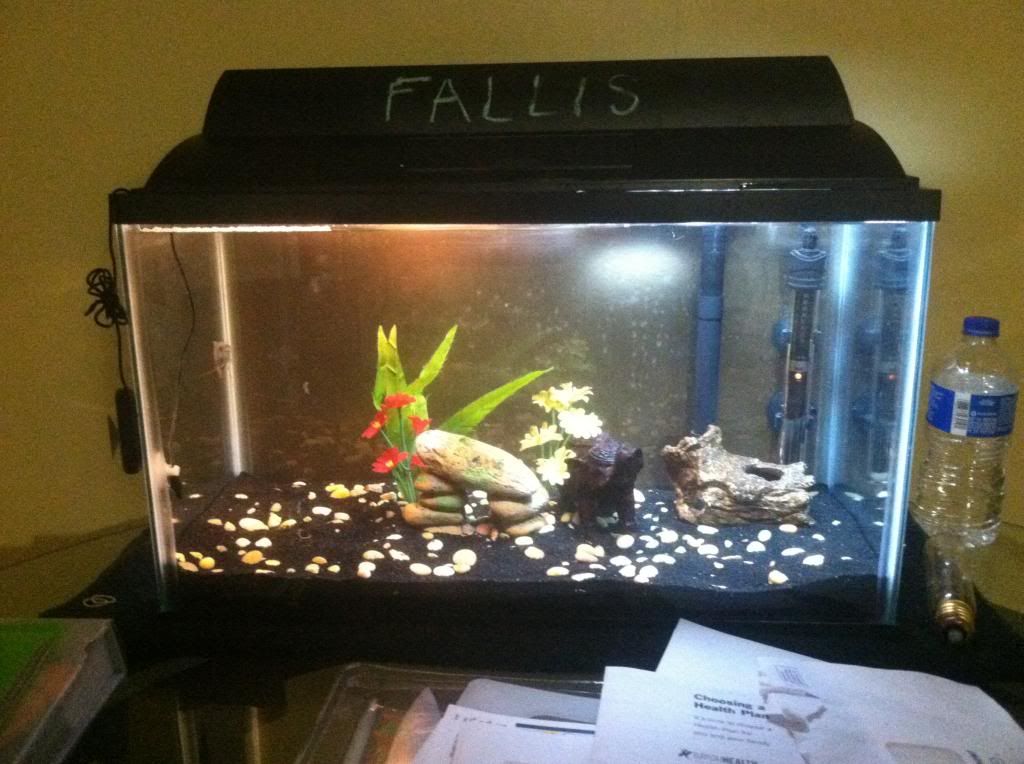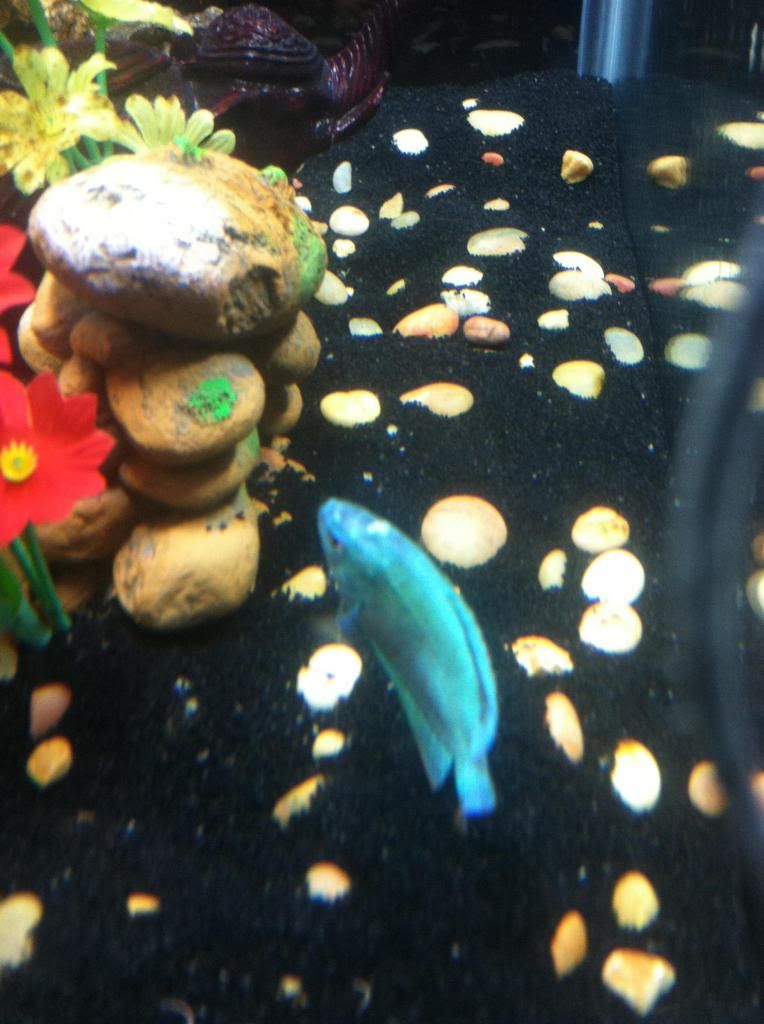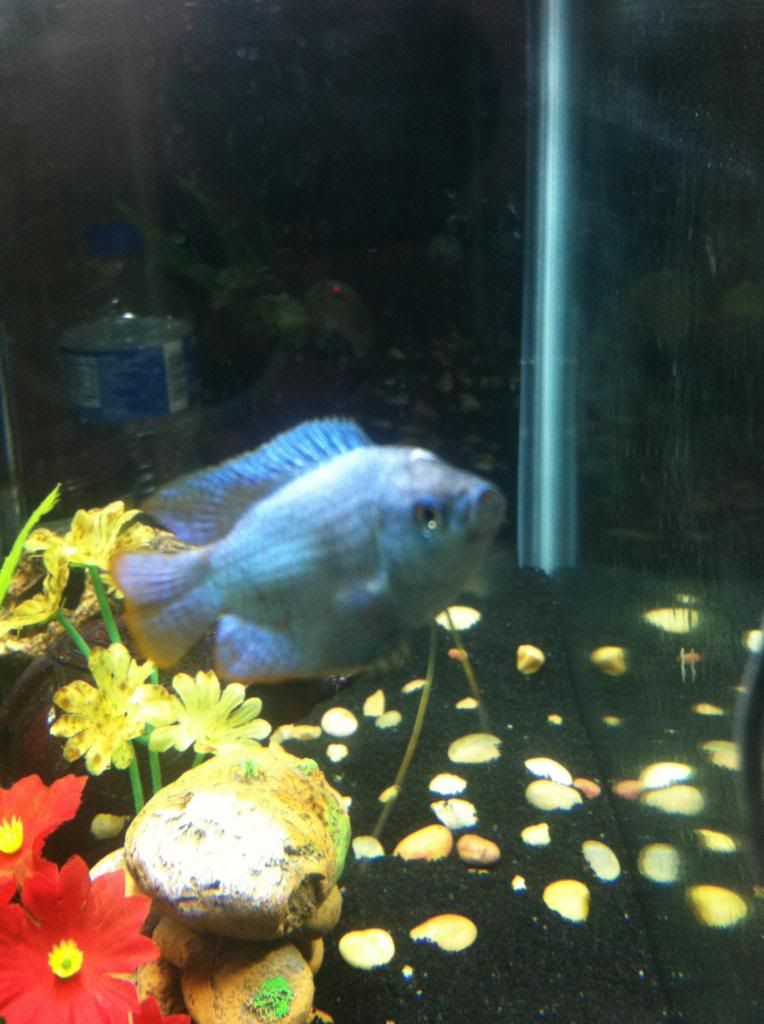 http://www.youtube.com/watch?v=pYEPnJhV_Sk
Give that boy some floating plants to play with !! They love snatching them up and building with them . That's one of my fav things they do . Looks funny to me. Very pretty color!
Sent from
Petguide.com App
---
I'm just shy of 8x on the living room 125 (985 GPH from 3 canisters). The bedroom 125 has 975 GPH from 2 canisters, and the 90 has 875 GPH from 2 canisters. I might swap out the sunsun 304 (525 GPH) from 90 for the sunsun 302 (265 GPH) on the 90.
---
125 - BGK, chanchito cichlid, pictus cats, silver dollars, palmas bichir

125 - cichlids (severums, bolivian rams, chocolate), rainbows ( turquoise, red), loaches (angelicus, zebra, kuhli and horseface), plecos (BN, RL and clown), denison barbs, tiretrack eel, pearl gouramis, betta
90 - Congo tetras, african knife, upside down cats, spotted ctenopoma, kribensis, delhezzi bichir
2.5 - betta

I JUST got the bulbs to be able to HAVE plants in that tank, haha. Can I float Java Fern? I'm transferring all of the plants in my 2.5 save for two or three crypts into the 10 to propagate and grow better then I'll move some back. My Java Ferns are propagating like crazy but never seem to drop their plantlets, I'm hoping real light will help, not that crappy window light.
I just moved all of the plants over from my 2.5 gallon. They aren't all where I want them, but I've been cleaning tanks and moving back and forth for two hours now, I'm pooped! They look like crap but all they have been getting is weak window light, I'm surprised they look as good as they do, honestly, lol. Dosed to the bottom of the first thread in the cap with Flourish. Fallis is having a field day picking at the plants!
The 2.5 (killed a tetra in the process, boo!)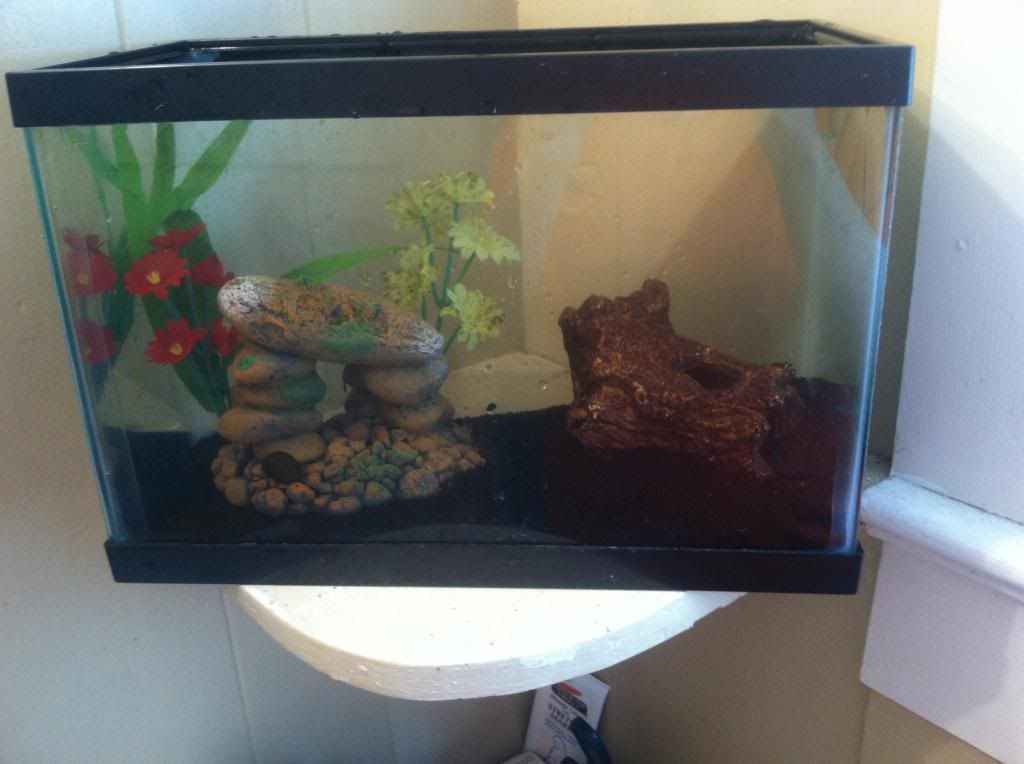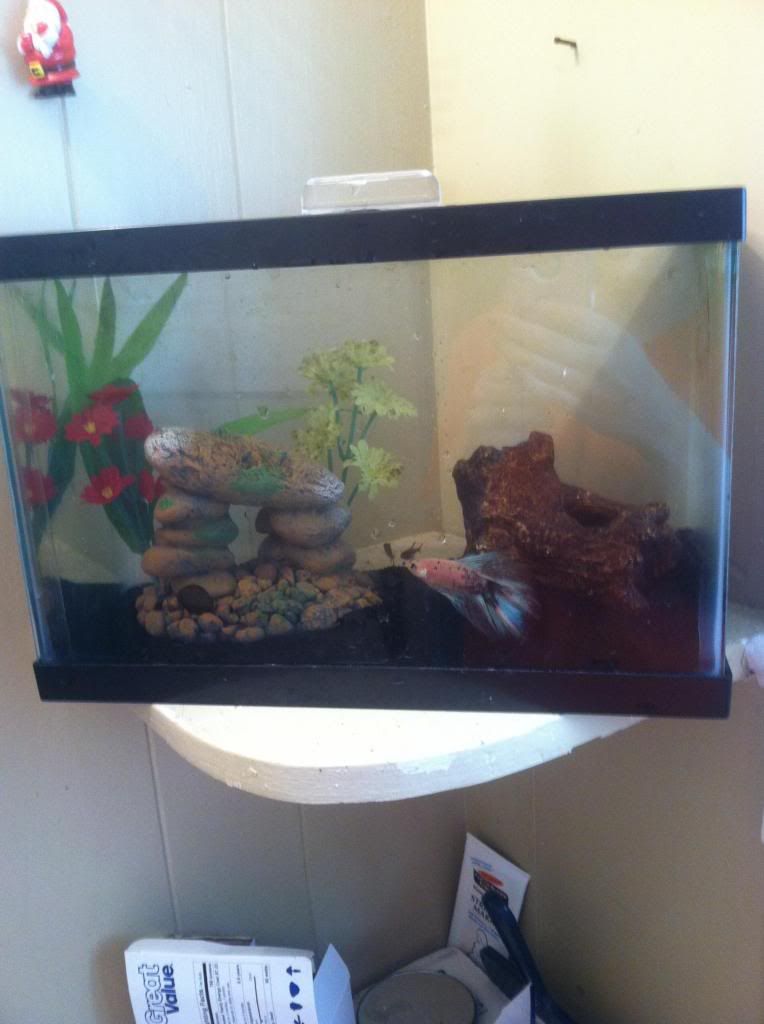 The 10 -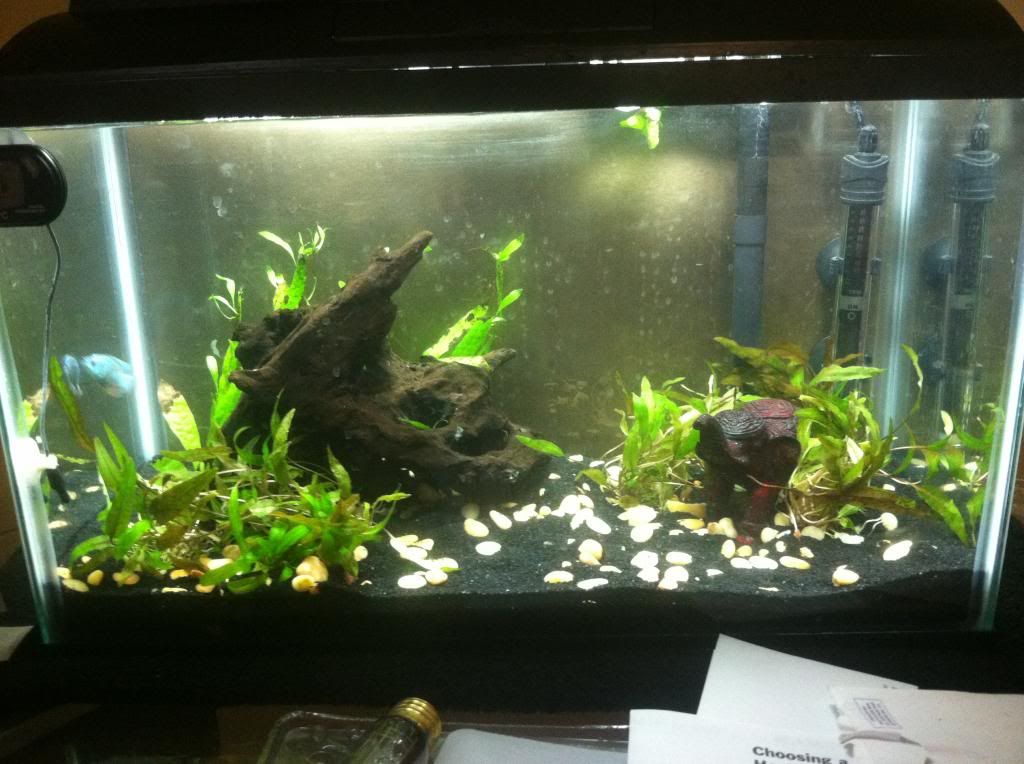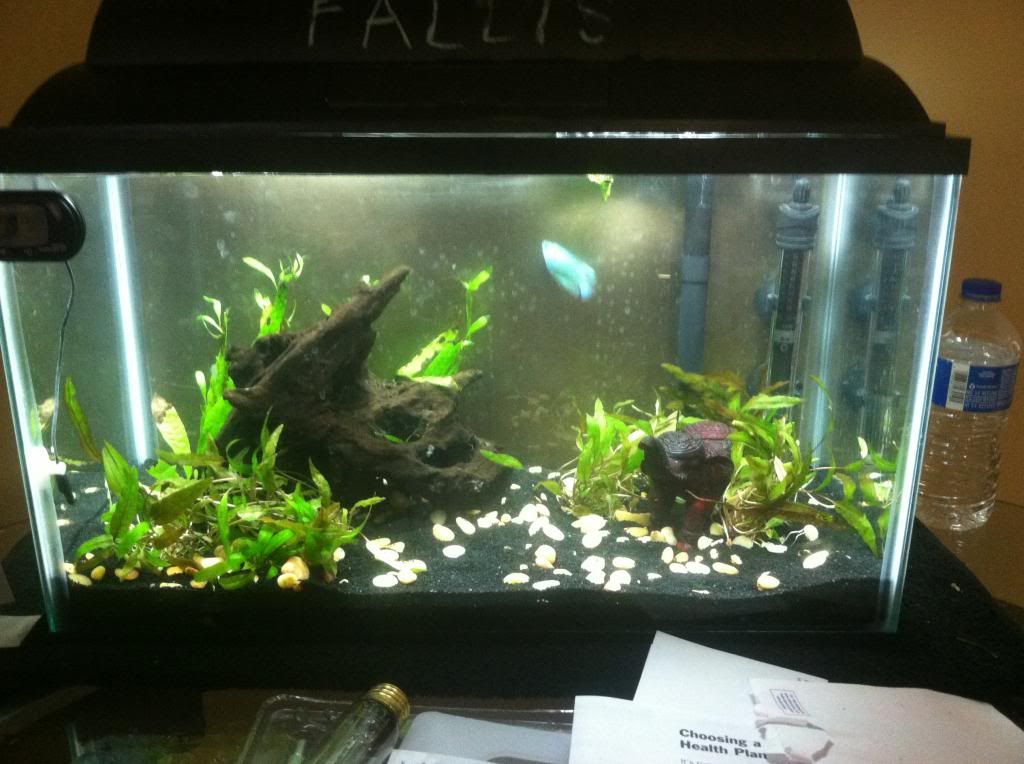 Went to my LFS to get another couple tetras because I killed the few and also picked up some ghost shrimp for my betta to play with. Ended up getting 8 for the price of 5 so I'm putting four (mainly the bigger ones) in the 10. I have them floating in the bag while I drip acclimate the tetras and shrimp for the smaller tank (separately).
Shrimp are in, current final stocking is as follows -
1 Powder Blue Dwarf Gourami
1 Mystery Snail
3 ottos (**if I have enough algae 6 months after stocking**)
12 Leopard Danio
15 Ghost Shrimp

I saw some adult kuhlis today and fell in love, are they active fish? Their size looked perfect to have a small shoal in this tank.
Posting Rules

You may not post new threads

You may not post replies

You may not post attachments

You may not edit your posts

---

HTML code is Off

---