Our 75 gallon
---
Just got it set up yesterday. Love it so much. Our castle that is supposed to go on the left side came broken so we are waiting for the replacement.
What fish are you keeping? Looks nice so far.
---
Everything happens for a reason, but the reason isn't always good.

We want a community tank for our girls. We eventually want to put in these kinds of fish over time.

zebra danios
red danios
lemon tetras
von rio tetras
cherry barbs
neon tetras
white skirt tetras
black skirt tetras
mickey mouse platies
red platies
pleco

We have a 10 gallon right now and it has the 4 red and 4 mickey mouse platies, 4 neon tetras and a butterfly pleco...which eventually will be moved to the new tank. I think this will be our betta tank when everyone moves out. We went out today and got 7 zebra danios and 4 more cherry barbs (to make 6 total) for the new tank.
Wow that is alot of fish to have in a 10 gallon ! Especially with a pleco,
So glad they have such a nice looking new home, what kind of filteration is on this tank?
Have fun , Hope your girls like it!
---
My 5foot, 56g Tank
2 Madagascar, 2 Bosemi and 1 Millenium Rainbowfish
9 Tiger Barbs
1 Weater Loach, 6 Zebra Loaches
1 Rainbow Shark
1 Raphael Catfish
My 55g
1 Siamese Algae Eater
11 Otocinclus
4 Burmese Zebra Loaches
1 Black Angelfish
1 Banjo Catfish
Lots of shrimp
My 70g
1 Siamese Algae Eater
4 Peppered Corydora, 1 Green Corydora
2 Wood Shrimp
3 Red Eye Tetra
1 Raphael Catfish
New updated pic of the 75 gallon tank
---
Sorry to be so slow to reply. We have 2 Biowheel 350's on the new tank.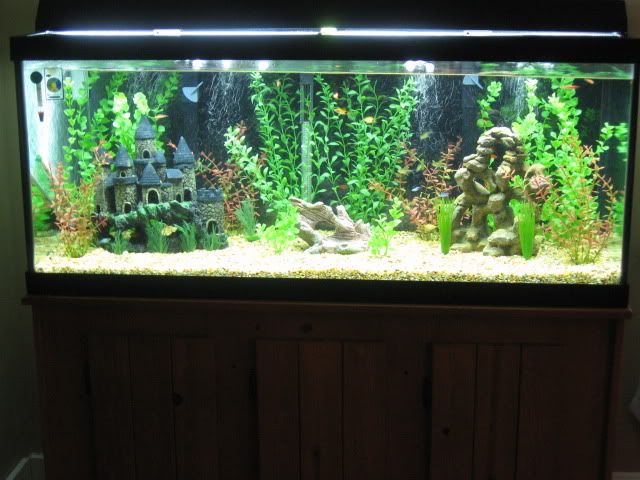 Looks great. I love all the tall plants and the castle.
---
150 Gallon - Mostly American Cichlids
135 Gallon - Angelfish Community
75 Gallon - Odd couple (Polleni/Angelfish)
55 Gallon - African tank
20 Gallon Long - QT
10 Gallon - Empty

nice looking tank :)
fish list looks nice too.
---
when you set up a new tank,hide an extra
sponge or two behind some decor,that way you have
something seeded for you next filter.
Posting Rules

You may not post new threads

You may not post replies

You may not post attachments

You may not edit your posts

---

HTML code is Off

---