Remember these guys Jes?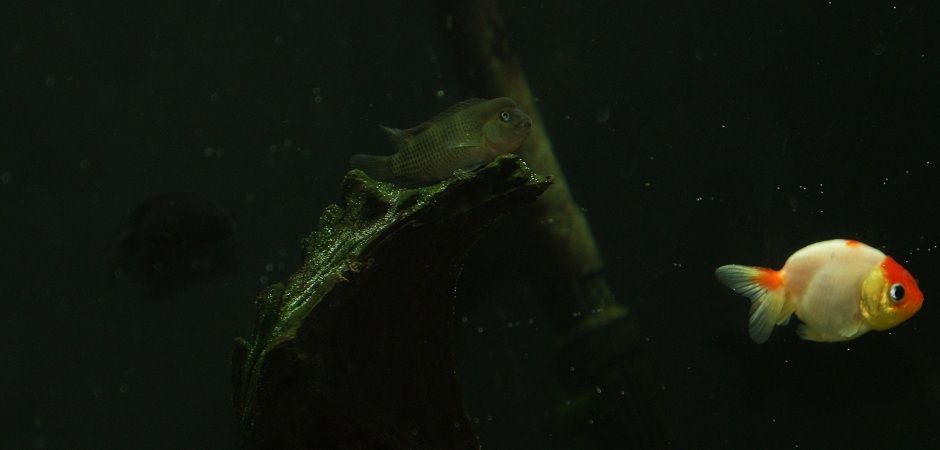 ---
taking a break from fish-keeping.
3 lovely male betta still keep me company.

BUFFALO BUFFALO BUFFALO BUFFALO (and so on)

Of COURSE I remember those, and I considered begging for a shot, but figured you were so busy, I'd be happy with the shots you posted :) Really nice picture! How are they doing? Are you still meh about them? Such a cool oddball fish - oddly the only ones that you ended up with, considering your original considerations for this tank :) Are they still getting along with one-another, or are they at the point of maturity and possibly needing to be rehomed? Really cool little buggers - growing fast!
-digs up old thread-
WELL WELL WELL... no point in starting a new thread.
I will start with some full shots of the 20 gallon. I hate doing tank shots and they are pretty bad, because, I don't like cleaning the glass. Hehe. It looks better in person, I swear. Doesn't help that I only have an 18" light over a 30" tank. xD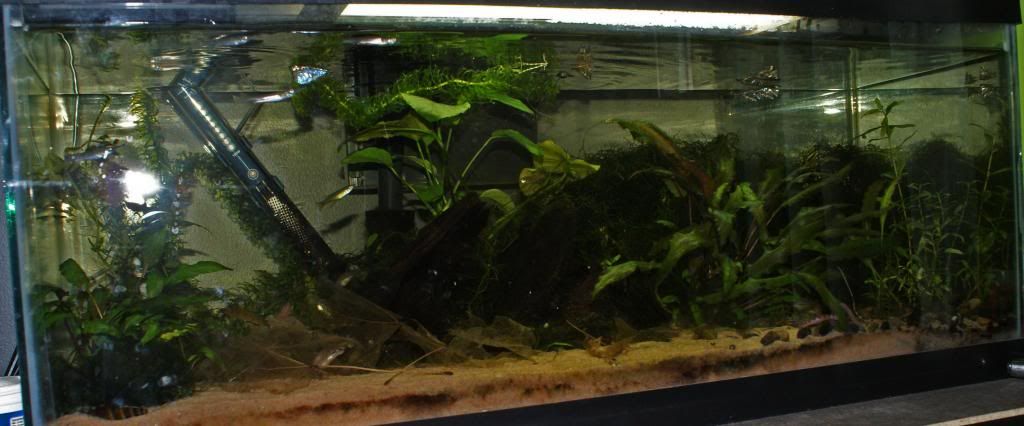 Atilla the frog is alive and well... No she is not skinny, she has these huge fat deposits on her body, you just can't see them because she knew I was taking a photo and changed position.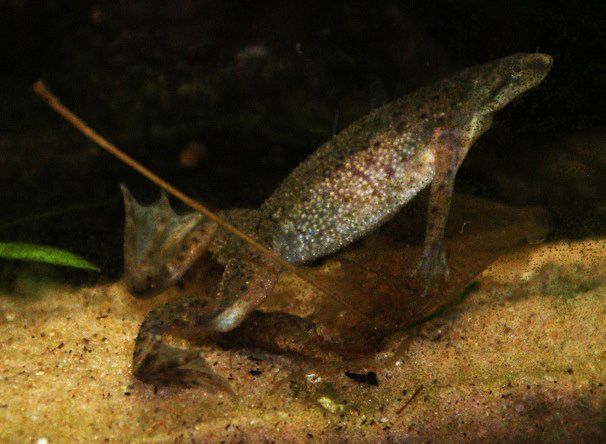 This lil sparkler has popeye, in the eye facing the camera. I guess from the photo you can't tell. Well a few days ago it was HUGE. So I was reading up on popeye, and it seems if not from an infection it would come from a fish poking it's eye on something. So I assumed this was the case and left him be without treatment, and it's now half the size that it was at first so he'll be fine.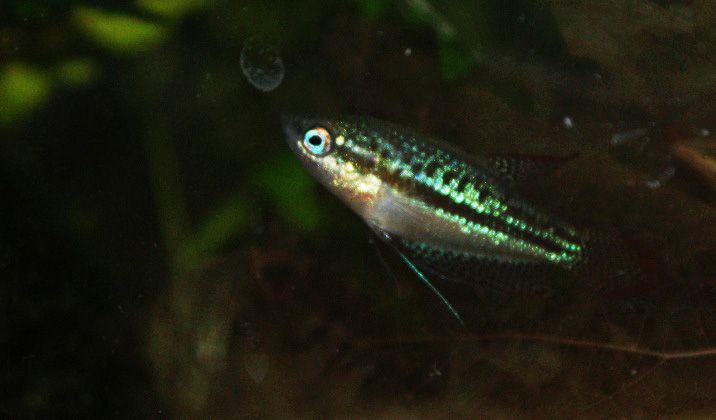 The store got in striped kuhlis so I had to grab some... They are TINY but they seem quite tiny and brave little things. Here are some shots of them!
This shows the only one that actually has much pattern..
This is without any contrast, that is how pale the pattern is in real life.. I am guessing this means they are very young... which would mean very delicate. -sigh-
With Atilla!
And the white frog is in the 20 too now, ever since the accident. And he seems quite pleased in here.
"AAHH NO MORE PHOTOS"
And this is a horrible shot of the 15 gallon. This tank looks awesome in reality but with dirty glass and the fact that I can't take a straight photo of it since it's so close to the ground, this is all we got..
This male apisto is my worst enemy..
He doesn't flare for the camera because he doesn't like the flash.
But he is super pretty!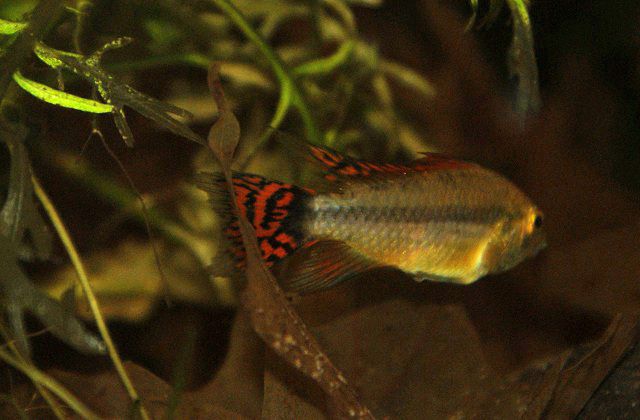 Welll, that's all the photos I have for now all! Hope you enjoy, maybe I will update this thread more often in the future.
---
taking a break from fish-keeping.
3 lovely male betta still keep me company.

YAY! Absolutely, without a doubt Pangio cuneovirgata. . . :D Welcome to the dwarf loach club, Lympie! I had a feeling we'd be seeing more of these babies around :) That said, I'm not so sure about the paler ones. Looks as if *some* of them have patterning that *may* extend below that mid-line. . . but. . . Look up Pangio malayana. Do you think it's possible that your pale babies could be those? Do me a favor, compare the barbels of the darker one with the lighter ones. . . :) I luff loaches. Get too excited over them, entirely! You'll have to keep us posted on how they do with you (and get MORE!!!!) I hope they color up soon, they look so SAD!

Tanks loo great, I LOVE LOVE LOVE your apistos. :)

PLEASE don't stop posting again! I just LOVE Lympie-doodles!

P.S. ATILLLLLLLLLA!!!!
---
Last edited by Chesh; 03-15-2013 at

06:40 PM

.
I have no clue. . . Maybe Izzy will see this and have an idea. They don't seem too stressed right now, I can see them swimming around.
I will try to post more photos.
Especially of the cichlids.. They need some names, haha.
Atilla.
I couldn't get any shots of Hunny though. :( He's incognito right now. I have a soccer ball of java moss in there where they go when they get sick of dealing with me. :p
---
taking a break from fish-keeping.
3 lovely male betta still keep me company.

I'd recognize that big ol' behind anywhere ;) I love your crazy girl frog. LOL!
On the darker guy, I can't see any barbels really, even with my handy dandy magnifying glass, there's just tiny bumps. The light ones have longer barbels. . .
---
taking a break from fish-keeping.
3 lovely male betta still keep me company.

Yeah, I'm just staring at that shot. . . I think you're right - I take back my absolute for sure! I don't think even the darker one is. Not enough stripes, too thick. . . OH LOACHES!!! WHY DO YOU CONFUSE US SOOOOO!? Do their eye stripes join on the bottom, under their chin?

The patterning on my P semicincta/P.Kuhli are very different from one to another. None of them are pale, but if they ARE just babies, it could be that they're just 'normal' Kuhli loaches. I luff them, whatever they are. *bats lashes*
---
Last edited by Chesh; 03-15-2013 at

06:51 PM

.
Haha, I saw that in the P. malayana profile too, on the two I checked they do not.
---
taking a break from fish-keeping.
3 lovely male betta still keep me company.

Posting Rules

You may not post new threads

You may not post replies

You may not post attachments

You may not edit your posts

---

HTML code is Off

---