That's a great idea, Cheshera.

I have a tank that I can light on one end. I haven't done it yet, out of deference to my plants. However, it is easy to move.

Thanks for the tip.
LOL! Limpi!!! Mr.Tinyfish is the BEST NAME EVER! I love it!!! I'm glad he's doing well, and finding some good grub in that big ol' tank. You said the shop would be getting more in this week - any idea when, yet? They're gonna be gorgeous all grown up and pretty. Can't wait to see it! Mr. Tinyfish. . . *giggle* He's gonna be the biggest of the soon-to-be group one day - watch and see!

Hallyx, I do this in my QT tank, as most of the creatures that live there are new or ill, and I think they kind of need that bit of darkness to de-stress and recover. I can often tell how they're feeling by where they are in the tank. When they just get into the tank and aren't feeling their best, they hang out in the darkness and hide in the plants, but as they start to feel better and/or are more comfortable with their new environment, they come out more, and will be seen all about the tank - regardless of the light. Just one more way to check on their progress, and (hopefully) help them heal faster/feel more comfortable. :) glad I could help - hope it works for you, too!
Mr Tiny Fish is already full grown- 1 inch long.
So he will have a pack of tiny fish friends soon!
Also, major change of plans. I REALLY wanted a school of sterbai cories in this tank. But I've had a change of heart. My 6 cories in my divided 15 gallon have moved to the 20 gallon. So double the space for them! :D Not sure if I should still try and fit another species in however.
So, now my 15 gallon is being divided 3 ways. 5 gallons for Reuben, 5 for Gilbert, and 5 for a.. dwarf puffer fish!
Kind of spontaneous of a decision, but I've always wanted one and I thought- heck why not divide a space for him.
---
taking a break from fish-keeping.
3 lovely male betta still keep me company.

Thanks, Chesherca. I'm going to try this with my show tank because I find the effect attractive.

But I like that tip for using a lighting gradient in a QT tank.
Ooooh!!! I'm in love with Puffers, too! Pics, please??! You'll have to keep me posted on how he does - any names yet? You're having such an exciting time right now with those tanks. YAY, you!!! Be careful with those spur-of-the moment decisions, though - you KNOW they have a terrible habit of biting your behind when you aren't looking ;)
Hopefully I can pick him up Friday, if I get the tank divided by then. I'm gonna name him Boomer. :)
What could possibly go wrong? ;)
And yes, it's summer break. So I'm doing nothing some days and I'll just be sitting there and I'm like "hm maybe I should do this to the tank," so lots of stuff being done. My summer school is online so it's no where near as tiring as actually going to school, so I'm less lazy about things now. xD
Posted via Mobile Device
Good luck with the puffer! I've never had one, but they are so cute. (:
---
You will always be my best friend,
.
It looks great so far! :D
Oh man. Lot's of stuff. First of all: impulse buys: African dwarf frogs and bumblebee gobies. 2 of each. I just got too frustrated with that fact that Mr Tiny Fish probably won't have a school any time soon.
Did some rearranging today. I really like it, it's the nicest any of my tanks has ever looked. Gonna vacuum the sand up a bit tomorrow, I'm so tired already.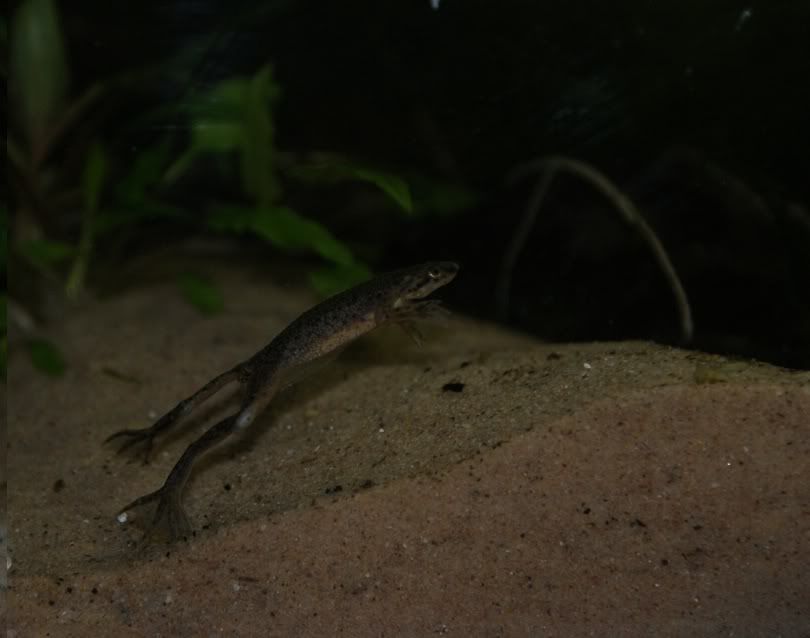 Cories- always hiding. :(
Mr Tiny Fish update:
Also, this goby is REALLY fat. I think it may be a female. I hope so. :D
It's belly is also spotted, which I don't know if that's normal, no other pics on google have anything like this.
---
taking a break from fish-keeping.
3 lovely male betta still keep me company.

I'd be worried about the frogs and goby nomming those beautiful sakuras, looking good though
---
That would make sense. Haven't you heard? We make yogurt, not sense.
~My Boss
Posting Rules

You may not post new threads

You may not post replies

You may not post attachments

You may not edit your posts

---

HTML code is Off

---