Yes, I'm surprised he's doing so well on his own. I didn't expect ANY colour out of him living by himself. He was the only threadfin at the store for about 2 months (I thought he had females but when I told her I want "those" female threadfins the lady said those are cherry barb females
).
His tail is pretty much fully recovered after the goby attack, also.
I miss my gobies.
He doesn't pay any attention to the hatchet fish. Swims around them, swims away from them, they don't exist in his mind.
I'm really OCD about counting fish, especially new fish. I think I've been counting the hatchets, like 7 times a day. 5, 5, 5, 5, 5, 6. I don't know where that 6th one hides all day but every now and then I get the full group counted so at least it's alive. For the longest time I was looking for a dried up little crisp on the ground (yes the tank is covered).
I talk about my fish too much.
---
taking a break from fish-keeping.
3 lovely male betta still keep me company.

In my very limited experience with shoaling fish of various types (none the same as your little'un) I have to say that I've found. . .even apart from a group, a social fish kept in ideal water parameters with planting to lend shelter and security, *can* do quite well! An easy example is Fox's poor little Brave, who did SO WELL on his own for such a long time. Though I'm sure your little threadfin would/will be happier and possibly more vibrant with others of his kind around, I don't *think* that he's suffering without them. Nature vs nurture, perhaps? I wonder how long he really was all alone in the fish store's tank? Your aquarium must be heaven to him comparatively. . . I'm betting that the same doesn't hold true for a true SCHOOLING fish, however. . . interesting stuff! Either way, I'm SO happy that he's happy :)

ETA: I'm also a compulsive fish-counter and chatterer - at least we're in good company here! ;)
Well.. The 15 gallon is probably the most neglected tank of them all. I had a 3 hour battle with it today doing a 100% change (we had to reinforce the shelf because my dad had a night mare that it collapsed and he was trying to catch all the fish.....)
Here it is.. Not the most impressive thing but I'm low on plants. Hornwort is planted, never did well that way but it was doing too well floating so I thought I'd give it a challenge. I've never done a rock scape either so that's new. I think the betta like this more than a densely planted tank.. well at least mine do. The old tank was way overgrown and they couldn't really move around too well. My dividers are also horrible and I'm planning on redoing them soon to look nicer.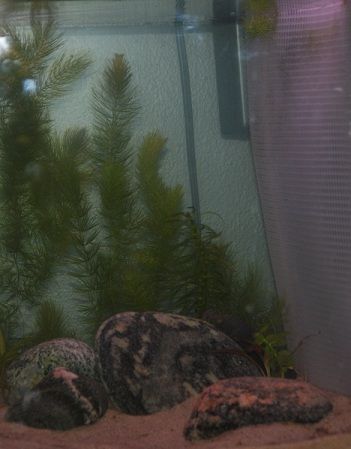 ---
taking a break from fish-keeping.
3 lovely male betta still keep me company.

It looks nice! I love how you arranged the rocks in the center. . . do you have Cabomba/Fanwort? I really love it. It's like a softer version of Hornwort that DOESN'T drop needles all over the place ;) I am actually a hornwort fan, I just have trouble keeping it alive after a while - isn't that weird?

How's that super shy Betta of yours doing? I can't remember which adorable name he has. . .
Where abouts are you in Ontario? I am building a 120 gallon right now we built a 3d rock wall with it and have been curing it I would like to find a good lfs for stocking it I am going with a commumity tank of rainbows and loaches and a planted tank am growing 2 sets of eight in my other tank for it right now just have some plumbing to do to start cycling it where is your store???
Finaddicts in Kingston. Saturday is the best day to go because all the new fish are unpacked by then. They're just starting to get nice fish in again after a bad summer. You might wanna call for them to order in some more rainbows though.
Posted via Mobile Device
Haven't updated in a while.
So, talked to the manager today. Senegal bichir run $10-20. Asked about other species. Marbled (P. palmas), one of my favourites, come in occasionally, run $50-60. I'm heart broken. I'm also applying to a lot of jobs now. Lmao. I may decide to hold off and save for the ones I really want, even though my brain is screaming that's a ridiculous price to pay for a fish. Would probably only have one bichir in that case. Then, will probably be wild caught too, but we can get over that hurdle later.
For the 20 gallon. . . They had halfbeaks for the first time ever. 4 of them, $6 each. My heart screams -want-, my brain screams -save for your 90 gallon you idiot-. But these totally appeal to my love of weird and rare fish. They are a livebearer, but semi-hard to breed.
Also, iffy on whether or not they do super well in freshwater, but water is alkaline and hard, I think they'd be fine. Site says they can handle acidic water too, so bleh. Would be a good fit for the tank if I never got celebes rainbows.
Dermogenys pusilla (Wrestling Halfbeak) — Seriously Fish
Also, 'nother surprise coming up as soon as I feel like taking photos of stuff.
---
taking a break from fish-keeping.
3 lovely male betta still keep me company.

In the famous words of Sebastian the Crab;\

"Somebody's gotta nail dat girl's fins to de floor..."

You are jumping all OVER the place with these tanks. . . I seriously can not WAIT to see what the eventual stocking will end up being, because at this point, I can't even hazard a guess!!!

I say save for the one you REALLY REALLY REALLY want! But you knew I would - I always say that!

Halfbeaks are REALLY neat. . . but. . .*shakes head* from what I remember reading about them, the ones commonly called 'wrestling halfbeaks' are the easiest to breed in an aquarium, but. . . and the book I have is a few years old, and I haven't ever ACTUALLY looked into them, so I dunno! But from what I remember, don't they only eat live buggies at the water surface? And. . . are VERY difficult to transport without injuring their adorable jaws? And. . . eat anything that they can fit in their mouths?

WHY am I NOT surprised that these guys would catch your eye? You are SOOOO cute! *hugs*

Whatever you end up with, it's gonna be VERY neat! I can't wait!
I'm jumping around because all these wonderful things that I thought I'd never see are popping up in stores!
LFS does sell wingless fruit fly cultures, which it says is one of the best foods for em. Practice for feeding those elephant noses in the future, right?
I don't think eating anything that fits into their mouths is a problem, they're only like, 2.5" long. (The goby was a freak-- I swear!). If they're still around a few months from now, then I will have a hard time resisting.
Yes. . . I'll save up for a palmas. It's what I want, so I guess it's better. Looks like goldfish will go in the tank first, then get my buffalos in once they're big enough not to be eaten. Then the knife. Then, bichir or rope fish. That's it.
The list really shrunk after goldfish were added to the mix.
I like. . . weird fish.
---
taking a break from fish-keeping.
3 lovely male betta still keep me company.

You DO like weird fish. . . but. . . that said?
GOLDFISH are, like, the LEAST weird fish IN THE WORLD. They're like THE ORIGINAL fish!!!
MAN. . . you crack me up. I can't WAIT until these tanks are done!
Posting Rules

You may not post new threads

You may not post replies

You may not post attachments

You may not edit your posts

---

HTML code is Off

---