Awwww, congrats on the new arrivals! *GRINS*
So I bumped the Harlequin shoal up to 13.
When I bought my 11 yesterday there were only 2 left in the display at the LFS, and when I went back today to pick up some filter tubing they were still there...
When they were floating in their baggy, the original 11 came over to investigate and ended up hanging out with them through the entire acclimation period, only leaving when I came over to add tank water to the bag.
The newcomers immediately joined the party when I let them loose but then everyone had to check out the entire tank again, it was like I hit their Reset Button
On an aside, my Gourami is a glutton
He begs for food more than any animal I've ever had.
Haha, sounds great! They were like "HEY! It's JOE AND SALLY!!! Where ya BEEN, guys? You GOTTA get outta that bag and check this pad OUT!!!" ;) I'm glad you picked up the remaining two - I always feel bad when I see a lonely couple of shoalers in the tanks at the shop. You just know they're all like *blink blink* Where'd everyone go!?
So, the tanks been up and running for 2 weeks now.
The filter was unkind to the Ulvacea I put in on the left side, and the Rotala over there wasn't doing very well either so I did a little rearranging and added a few more plants.
I added in another Echinodorus Bleheri, an Ozelot Sword, a couple of Argentinian Swords (One of my favorite swords) and some Lilaeopsis Brasiliensis.
Also having some Crypt-melt, so we'll see how that goes.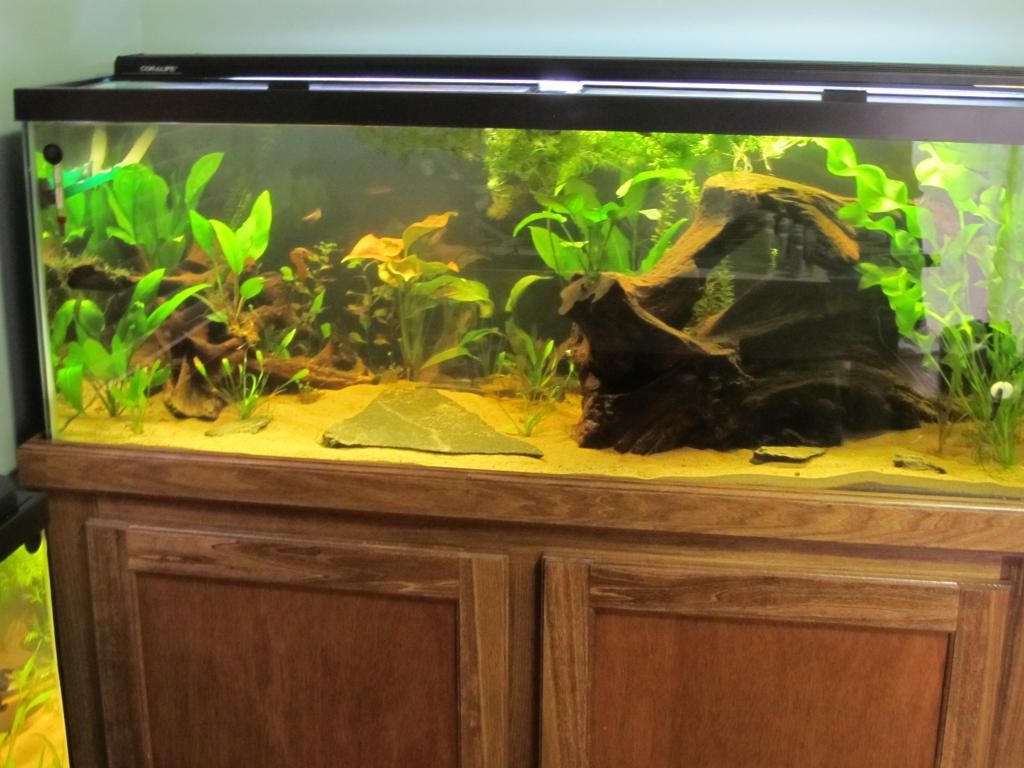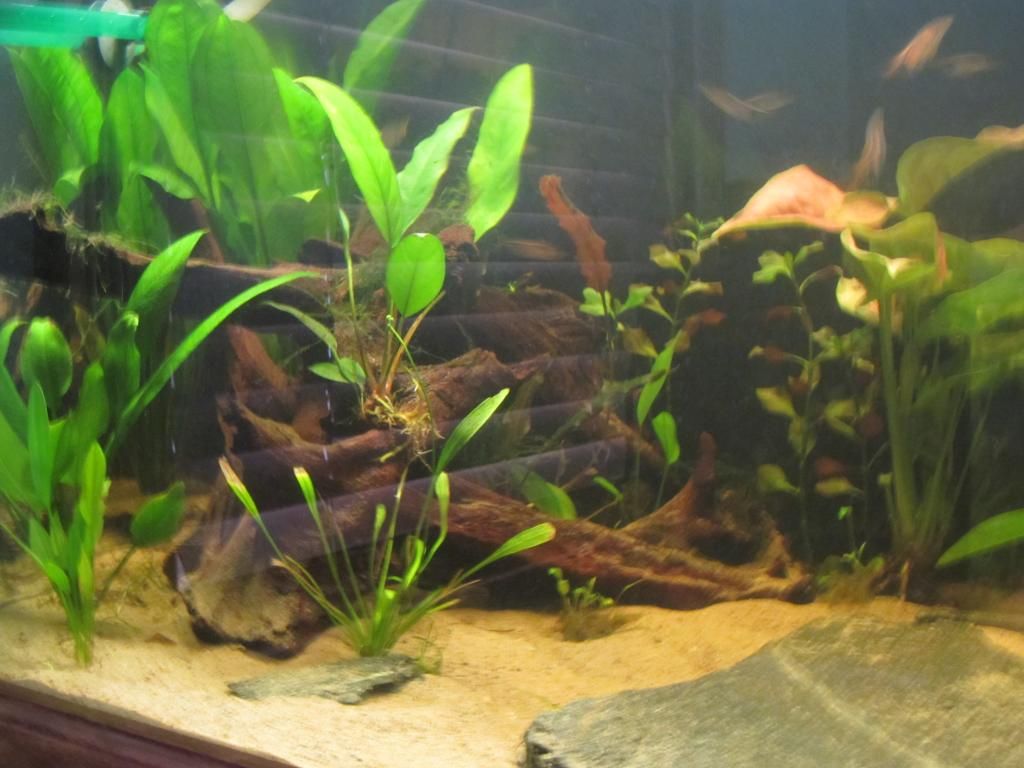 One of my original Amazon Swords is becoming quite the adventitious plant factory with leaves sprouting at several of the nodes on it's inflorescence: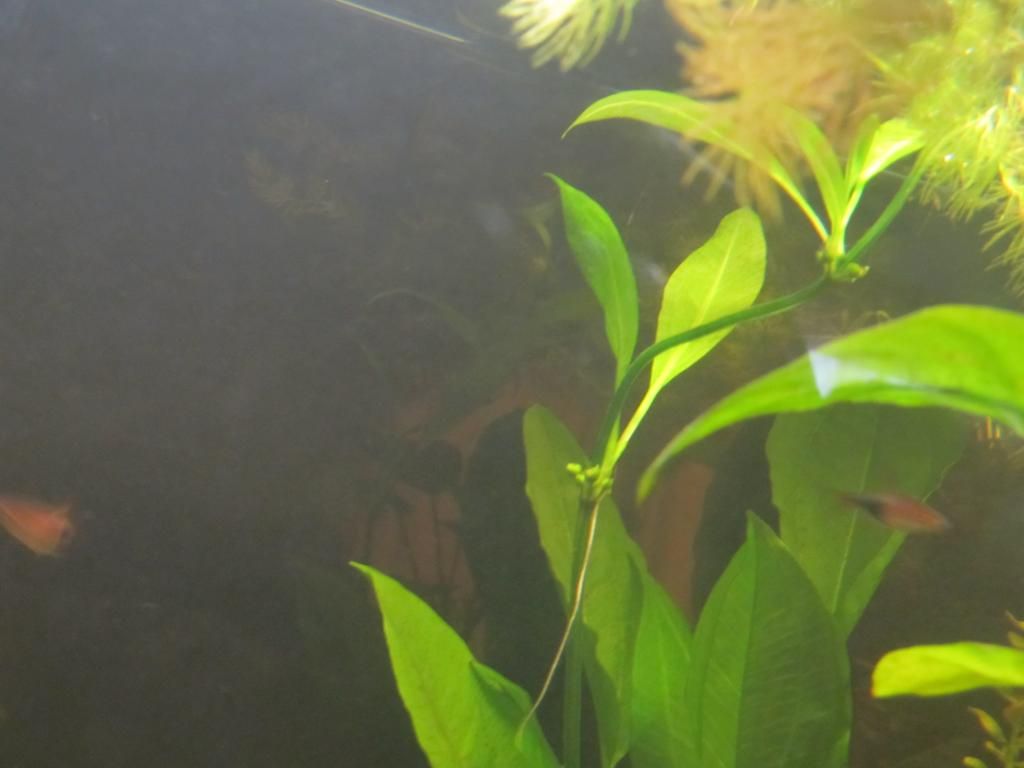 It looks like the Ulvaceous that was doing better is going to flower, it's grown two of these: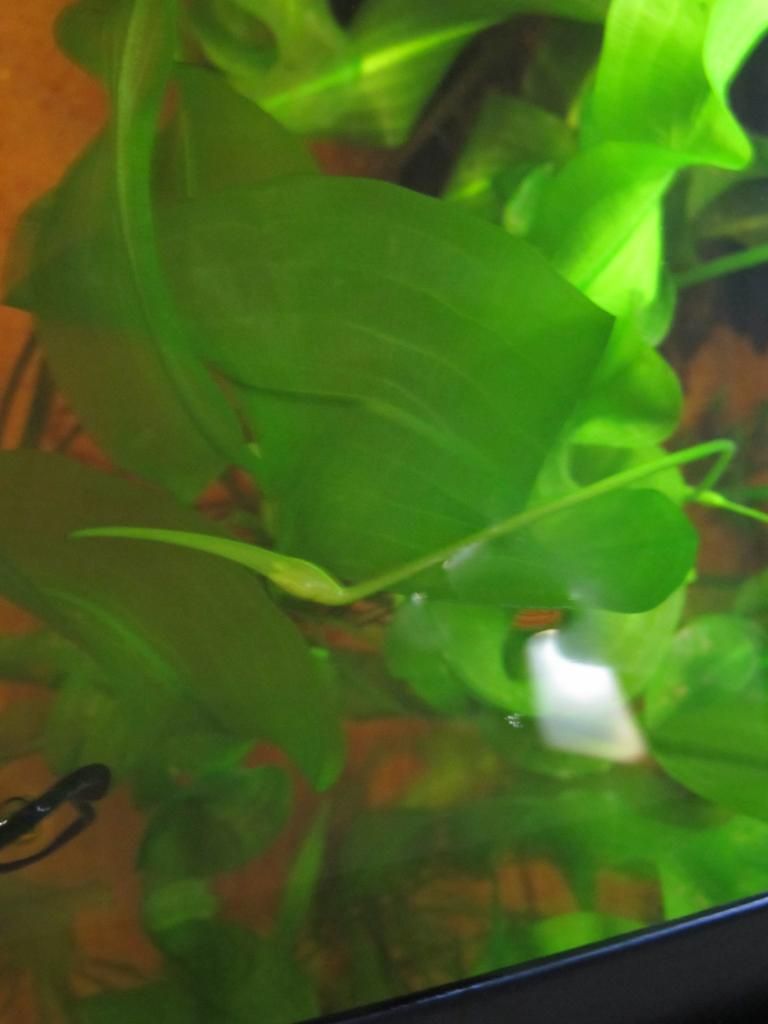 The Harlequin Rasbora are doing nicely, but with only 13 of them the tank seems pretty empty.
I think I may keep the Gourami in the quarantine for 1 more week, but he's had 3 already and I'd like to get on with more fish for the big tank
I know that I was leaning toward one big shoal of the Harlequins, but there are just so many types of fish I'd like to have it's hard to keep that resolution.
I am thinking about either Diamond Tetra or Head and Tail Light Tetra as a second mid-water shoal to add a little variety to the bulk of the tank.
I would go with 7 of the Diamonds or 11 of the Head and Tail Lights.
Those plants are looking happy! Glad things are going so well. . . I'm sure the Crypts will rebound, they almost always do :)
Posting Rules

You may not post new threads

You may not post replies

You may not post attachments

You may not edit your posts

---

HTML code is Off

---