new tank ideas
---
i dont know hat else to add to my tank. it looks way too plain. i look at other people's tanks and theirs look so good. this is my first tank and its 20 long. im trying to go on some kind of Asian theme. anyone got any ideas on how to make it better. it is still unpopulated.
That's a lovely tank you have there with loads of potential. How about filling it up a bit with some live plants which would look great against the black gravel, and also adding a background?

The plants would give the fish somewhere to feel more secure, and you could get a nice piece of bogwood from the LFS to use as a centrepiece.
i totally agree. fill er' up with live plants. they could go in the back. you could also do stuff like a hunk of wood (in front of the live plants) or stacked rockes or somthing.
personally i think backgrounds look tacky which is why i like the look of real natural things. but whatever you like
that is a good size tank you could do alot with :)
---
I am against piracy, please dont sink ships
:)
this is an updated pic. i went to petco today and i got the new red thing. it looks spiffy in thee. i want to get some wood. i saw a nice Malaysian wood there but i was a bit short on cash and it was $10. so i couldnt get it. i wanna get live plants for the background but i dont know how to care for them.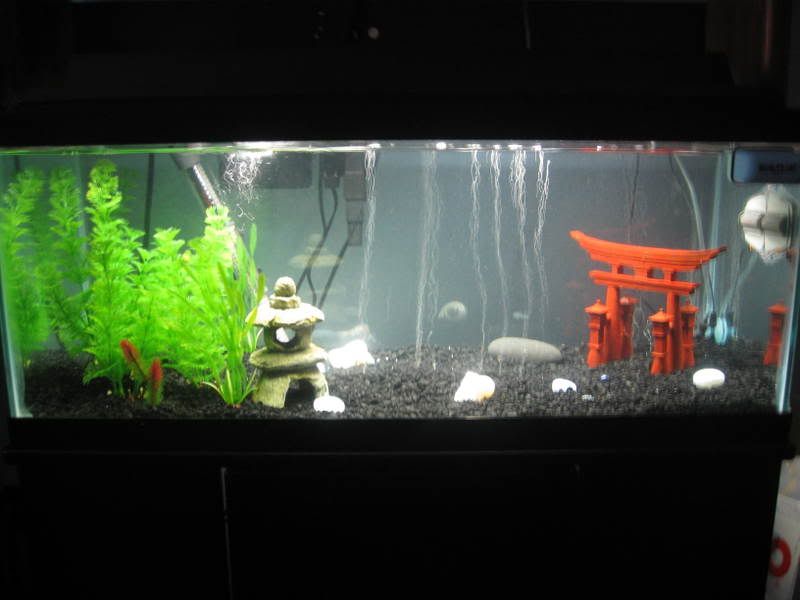 its looking good so far :D good luck. the lfs i go to is selling a statue of budda that would have looked perfect in this tank (with the whole asian theme)
I second the background. Even if you don't like any of the particular backgrounds they have for sale, even a plain black background will help calm your fish. It also makes whatever you have in the tank - plants, rocks, driftwood, fish, etc - stand out more clearly. Finally, it hides whatever's on the other side of the tank (cords, filters, electrical outlets) that make it clear that it's a fish tank in a house. The black background will help create the illusion that what you're looking at is a little slice of nature and not just a fish tank.
More rocks is always better! You can make some really interesting caves and hiding places out of rocks. Some of the bigger fish stores will sell rocks for aquarium use, but you can usually do a lot better if you buy the rocks from a landscaping/gardening center or find them on your own. Just stack them up and make some caves. You can use aquarium sealant to glue them together if you plan on keeping rowdy fish that could knock them over. Here's a good article on what kind of rocks are appropriate for the home aquarium (but don't boil your rocks!):
http://www.skepticalaquarist.com/doc...ng/rocks.shtml
---
4 8 15 16 23 42
Yes, I like the cave idea... The plecos seem to love em! I think you are on the right track! :D Make sure to post pics as you develop your tank.
No cash??
---
Hey, if you're low on cash, you should try ebay for items!!
I bought 20 silk plants from an excellent ebay member for under $30!!
Here's 19 of my plants in my tank:
I bought all of my decorations on ebay. Three castles for $50.00 total, 20 silk plants for under $30, 4 (5..one isn't in the tank) McFarlane's water dragons for $50. The runes, I made those myself.
Back to ideas
---
Anyway, I think you are on the righ track. If you don't want to go with live plants, try silk plants. I was going to do live myself, but for some odd reason, every fish I've ever had just seems to love eating plants.

Caves are a nice touch, as well as the background for the tank. They're pretty inexpensive and make it look nice instead of seeing wires and misc. items in the back.

Make sure to get some tall plants in the back as well. Mine is missing taller plants, as you could see, and they make it look better as well.

Good luck!
You could also visit Arts and Craft store. Some of them have vey nice silk and plastic plants that are much cheaper than fish stores.
---
The most important medication in your fish medicine cabinet is.. Clean water.
Posting Rules

You may not post new threads

You may not post replies

You may not post attachments

You may not edit your posts

---

HTML code is Off

---