New guy's 20gal
---
This is my first tank and, since I'm on a student's budget, is coming together slowly. It's a 20 gallon long tank given to me by a friend once her lizard of some sort outgrew it. The power filter is a hagen rated for upto 30 gallons. The light is a single 20W Sylvania glolux wide spectrum aquarium bulb. I'm thinking of trying to add another but that will require some time to save up more money.
So far I only have 6 serpae tetras and a pleco since it's a new tank and I don't want to push it too hard. I can't remember the name of the grass but I have it and a couple of swords and some hogwort that isn't doing too good. I added some fertilizer and a DYI CO2 compressor and that seemed to help. Just before the pics, I switched from the bulb that came with the hood to the glolux so we'll see what that does.
The rocks are from my farm's creek that I cleaned and boiled down to add a touch of hominess. I also made the background out of pastels and simple computer paper.
Sorry about the blurriness. I'm horrible at taking pictures.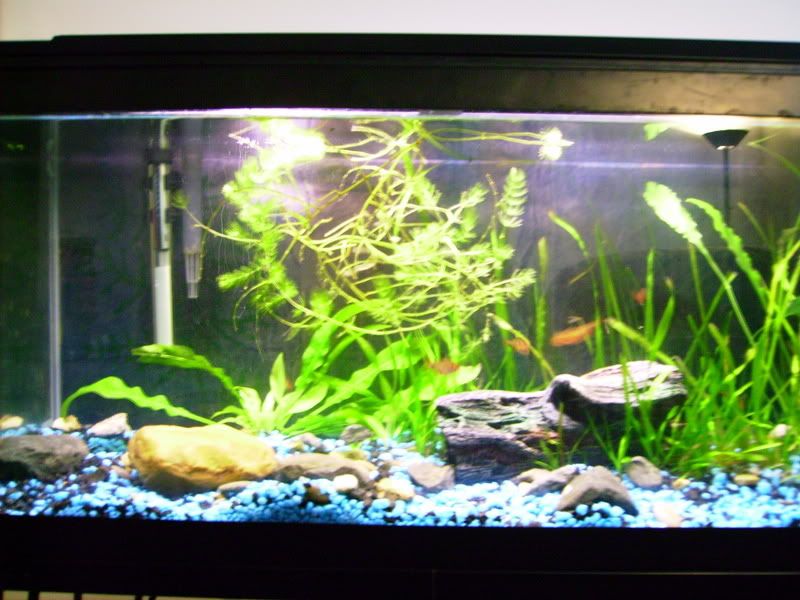 Welcome to Fishforum.com.
Nice shots.8)
---
Sent from my desktop or phone or whatever else I am holding on to

I'm ready for the pressure.
The drama and the pleasure!

If there is one thing I want to see here, it's HUMOR.

I believe I can fly!
I believe I can touch the sky!
I think about it every night and day!
I stand in awe of my body.

not bad. i like to put sponges of the intake of the filters to keep plants out. its going to look good once the plants start to grow in. the left side looks kind of dead.
what you could do if you didnt mind it was trade 6 serpeas for 6 red phatom tetras, which look almost identicle but are less agressive/less nippy.
Welcome to the forum easilyconfused. It looks like the tank is off to a good start, and good luck with the plants - I hope the increased lighting makes a difference for you.

What sort of pleco do you have in there?
Thanks for the encouraging comments and tips. It's just a standard, newb common pleco. My friend really pushed for it, even though it will outgrow the tank, because she had a tank blow and it survived in a roaster after being on the floor for upwards of a day.
I like what you have done with the tank so far...very nice
---
Tracey :D
Plecos: Common, Gold Spot, Clown, Butterfly
Loaches: Clown, Yoyo, Khuli, Sidthimunki

When there is no enemy within, the enemies outside cannot hurt you. ~African Proverb


"A real friend is one who walks in when the rest of the world walks out."
Posting Rules

You may not post new threads

You may not post replies

You may not post attachments

You may not edit your posts

---

HTML code is Off

---