I was just looking at Beweeb's tank and he has fish that look very similar to yours.
His are gold barbs. Very pretty little fish. Maybe that's what yours are??
---
If you don't stand up for something you'll fall for anything...
Well I know the yellow ones are Gold Barbs, I'm not sure about the pink ones though. My LFS said they were Ruby Red Barbs but I can't find any info on them.
Oh, sorry. You did say pink and I overlooked that. Hummm
---
If you don't stand up for something you'll fall for anything...
Thanks!
No problem Aunt Kimmie, it happens :)
Kind of off topic, but last night I noticed the filter in my 20g had stopped working, so I had to move my black skirt tetras and 2 tiger barbs into this tank. One of the tiger barbs is particularly aggressive and is terrorizing the pink barbs :S
That eel is awesome and the driftwood too it seems like he likes it
---
400 gallon pond
2 oscars
4 plecos

150 gallon tank
Assorted African cichlids

75 gallon tank
3 clown loaches
Many assorted community fish
A lot of java fern
Thanks! I'll have to post some updated pics after I move some plants around. One of my gold barbs got attacked by one of the other fish, I'm not sure what one, but he's in a breeding net now so the others can't get to him. He's missing his tail :(
Looking forward to the updated pics!
---
If you don't stand up for something you'll fall for anything...
A couple updated pics. I didn't take too many because I'm using my camera again, which is a piece of crap compared to my girlfriend's. The specs you see in the water are just bubbles from the HOB filter, cause I took a bit of water out to rearrange the plants and haven't put it all back in yet so it's splashing. Let me know what you think.. I'm contemplating getting some different driftwood and taking out my big piece, because it's so big that I won't be able to plant behind it. I might just get more rocks and a few nice smaller pieces of driftwood I saw at my LFS, but I really love this piece too lol. Anyways on to the pics!
FTS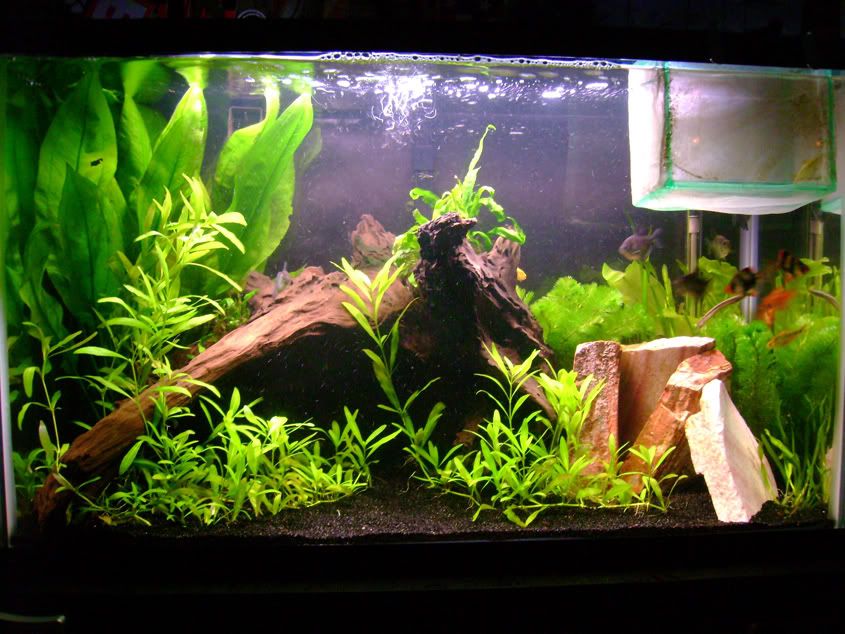 Right Side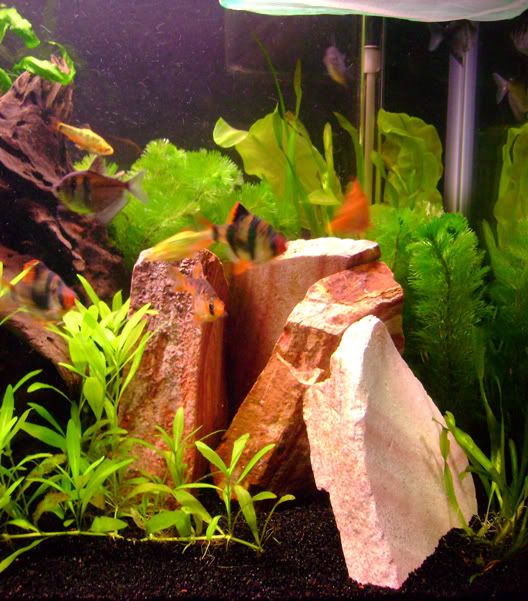 Left Side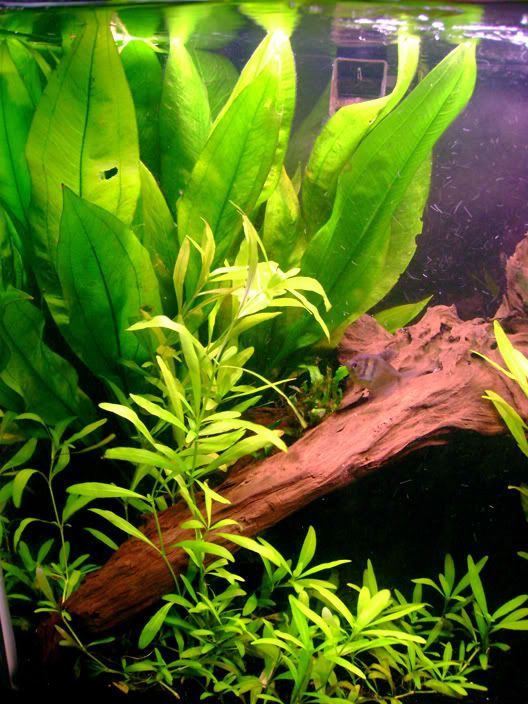 A shot of the Gold Barb I have in a breeder net. He got beat up pretty bad by someone in the tank.. I'm not sure who, because none of the fish are particularly aggressive towards others. The barbs nip occasionally, but nothing bad. He's missing his tail (which is actually healing pretty well) and has some pretty bad bites on his side. The bites aren't looking too good, and one looks like it might be bleeding internally. I can't get pics cause he won't let me get a pic of that side of him. He hasn't got any worse, so I'm hoping he can make a full recovery but we'll see. I've been treating the tank with Melafix.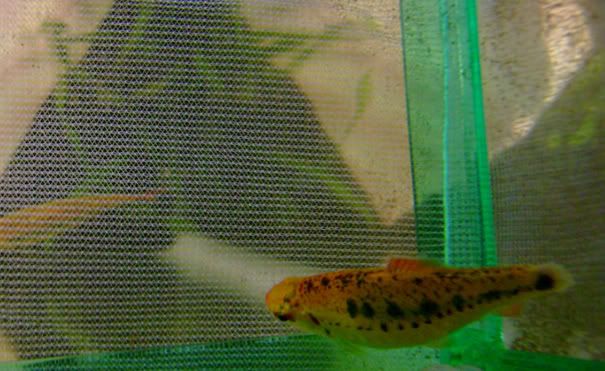 Posting Rules

You may not post new threads

You may not post replies

You may not post attachments

You may not edit your posts

---

HTML code is Off

---